Tori Amos "Live from the Artists Den" DVD Released July 13
Submitted by mike on Thu, 06/10/2010 - 03:04
On July 13, 2010 Artists Den Records will release the Limited Edition DVD "Tori Amos: Live from the Artists Den," featuring a private solo performance by the Grammy-nominated artist for just 100 fans in the Veterans Room of New York's historic Park Avenue Armory. The DVD's release coincides will the nationwide premiere of the second season of "Live from the Artists Den," the hit public television series spotlighting extraordinary artists performing in extraordinary settings, which features Amos's concert in addition to shows by Ringo Starr with Ben Harper, Corinne Bailey Rae, David Gray, and others.  For local listings, visit TheArtistsDen.com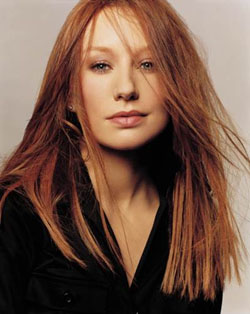 The DVD's special features include two songs not included in the televised broadcast, a 20-minute interview with music journalist Alan Light, a tour of the Veterans Room with Amos, and a 34-page scrapbook containing behind-the-scenes photos and a history of the historic venue.
Tori Amos is one of the most influential and respected artists of the modern era.  The double-digit Grammy nominee has recorded 11 acclaimed studio albums – and gone platinum nearly 20 times – since emerging in the early '90s.
Amos closed 2009 with a special solo show for 100 fans in New York City's Park Avenue Armory, an immense historical landmark built in the late 19th century as both a military facility and a social club.  Described as "Greek, Moresque, and Celtic with a dash of the Egyptian, the Persian, and the Japanese," the Armory's ornate Veterans Room provided a fitting setting for one of the most eclectic and culturally curious artists in music today.
Of playing the unique room, Amos said, "Let's face it: when you're playing in a room that doesn't have a lot of personality, then you have to bring everything yourself.  It's sort of like a bad blind date—you hope the food's good, and if the waitress is entertaining, you'll make it through.  But when you have a magical place, then all of a sudden it's a conversation, and you could be falling in love on your first date."
The DVD features both hits and rare fan favorites spanning Amos' catalogue, from her breakthrough 1991 debut "Little Earthquakes" to her acclaimed 2009 album "Abnormally Attracted to Sin."
The "Live from the Artists Den: Season 2" compilation album is currently available on iTunes and features "Ruby Through the Looking Glass," a rare song Amos played to open this special show.
DVD Track List
1. Ruby Through the Looking Glass
2. China
3. Lust
4. Concertina
5. Virginia
6. Black Dove
7. Wednesday
8. Ophelia
9. Girl
10. Bells for Her
11. Toast
12. Maybe California