Tortuga Music Festival Announces Guy Harvey Conservation Village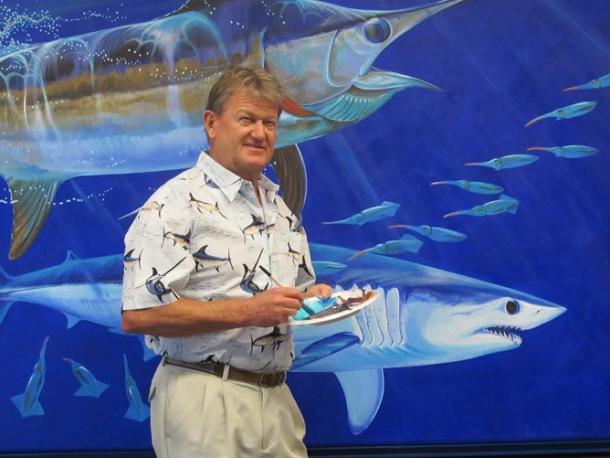 The second annual Rock The Ocean's Tortuga Music Festival, which takes place April 12th and 13th and features an all-star lineup of some of music's hottest acts, serves to celebrate the event's oceanfront setting while raising awareness of issues related to marine conservation and generating support for marine research. In keeping with those goals, the festival is proud to announce that the Guy Harvey Ocean Foundation will present this year's Conservation Village.  
The one-of-a-kind Guy Harvey Conservation Village will host over 20 marine conservation organizations and exhibitions at the festival. Its objective is to provide attendees with information and tools about key conservation and research issues in a fun, learning environment that will complement amazing performances from co-headliners Luke Bryan and Eric Church, along with Hank Williams, Jr., Train, Dierks Bentley, Brantley Gilbert, Sheryl Crow, Billy Currington, Slightly Stoopid, Ziggy Marley, 38 Special, Brett Eldredge, Parmalee, Cole Swindell,  Brett Dennen, Delta Rae, Eric Paslay, Moon Taxi, The Revivalists, White Denim, Frankie Ballard, Brothers Osborne, Chase Rice, , Blackjack Billy, Sons of Fathers and Quaker City Nighthawks.
Dr. Guy Harvey, who is widely recognized today as the world's finest marine wildlife artist and is an active marine conservationist, will once again make a special appearance at this year's festival.
"The Tortuga Music Festival is a terrific event to enjoy some great music," says Dr. Guy Harvey. "However it also provides a unique opportunity for people to learn about challenges facing our oceans and what we are doing to conserve the ocean's critical marine wildlife. Last year, many concertgoers visited the Conservation Village to better understand why our seas are so important. We hope to see many more music fans at this year's 'Guy Harvey Conservation Village.'"
"When I first had the idea to pair music and marine conservation into one event, I never would have imagined that we would have this much 'talent' merging together for the cause," says Rock The Ocean founder Chris Stacey. "The major artists and conservation partners coming together to celebrate and preserve our oceans is simply amazing. Now, having Guy Harvey on board for our second year really puts an exclamation point on our vision."
Guy Harvey Conservation Village exhibits will be interactive and hands-on, allowing patrons to follow live shark tracking, try lionfish recipes, challenge big game fish in a simulator game and see what a sea turtle nest looks like. Organizations and exhibits confirmed for participation in this year's village include Guy Harvey Research Institute, Florida Fishing Academy, Loggerhead Marinelife Center, National Coral Reef Institute, REEF exhibit, Green Gourmets, Tampa Bay Watch, Seagrass exhibit, Sharklet Technologies, Sawfish exhibit, and Sea Turtle Oversight Protection (STOP).
Together, these organizations and exhibits will address key conservation and research issues including: shark finning, overfishing of key species including the bluefin tuna, lionfish invasion, degradation of habitats (including sandy beachfront, water quality and seagrasses), loss of coral reefs, and seafood fraud that both endangers health and costs consumers.
With Florida hosting 90 percent of all sea turtle nests in the Continental United States, STOP additionally works with the festival each year to help protect the three types of turtle species that nest on Fort Lauderdale beach (leatherback, green and loggerhead) by ensuring the turtles and their nests aren't disturbed by concertgoers.
Although only 1 in 1,000 to 10,000 hatchlings survive to adulthood, sea turtles that live in reef systems help play an important role in maintaining a proper ocean and reef ecology by foraging on jellyfish, which can destroy fish populations. Sea turtles also stimulate the regional economy as a major tourist draw to Florida's beaches and reef systems each year.     
Coastal development and loss of habitat due to sea level rise are the largest threats affecting sea turtle nesting habitats around the world. Commercial fishing, aquatic debris (including plastics), boat strikes and poaching are also contributing threats to their survival.
Nesting female sea turtles and their hatchlings are affected by light pollution, which can have a disorienting effect on their navigation. Coastal communities can help sea turtles find their way to the ocean by using low wattage bulbs that are a long wavelength light (amber or red in color) and shielded from the view of the beach.
Last year's inaugural festival drew more than 25,000 music fans from all over the world and raised more than $70,000 from ticket proceeds and donations for the Guy Harvey Ocean Foundation.
Tickets are on sale now at www.tortugamusicfestival.com.