Toubab Krewe Fall 2010 Dates + New Album
Submitted by press on Tue, 10/05/2010 - 05:11
From the ragtime piano tinged opener "Mariama" to the percussion fueled, slide guitar glide of "Gine Fare" to the subtle, inviting African echoes of "Konkoba" to the hypnotic, psychedelic slow burn of "Holy Grail," TK2 reveals Toubab Krewe to be rare innovators in a modern age often too ready to settle for more of what's been. Toubab Krewe is happily an exception to this rule, and those willing to take the journey with them are in for one hell of a cool, exciting ride.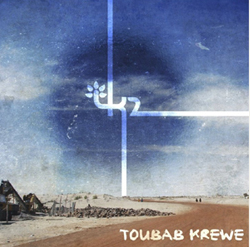 "It's five years later since our last studio album, and we've been doing almost nothing but playing together," says Drew Heller. "We've had a lot of time to further our musical relationships. I feel like this album was recorded at a really perfect time. The last track on the new album is an improvisation that was the very first sounds captured, and other things came out of that initial rush."
CURRENT TOUR DATES:
October 9 - Silk Hope, NC (Shakori Hills Grass Roots Festival)
October 10 - Roseland, VA (The Festy Experience)
October 28 - Memphis, TN
October 29 - Birmingham, AL
October 30 - Mobile, AL
October 31 - New Orleans, LA (Voodoo Experience)
November 5 - Charlottesville, VA
November 6 - Baltimore, MD
November 7 - Washington, D.C.
November 9 - Carrboro, NC
November 10 - Knoxville, TN
November 11-12 - Live Oak, FL (Bear Creek Music Festival)
November 18 - Miami, FL
November 19-20 - Key West, FL
December 1 - Boulder, CO
December 2 - Denver, CO
December 4 - Phoenix, AZ