Tribal Hippie Underground Zone aka the THUGZ
Submitted by mike on Thu, 02/03/2011 - 04:37
Put on your dancin' shoes, open your ears and join the party. Sonoma County's legendary psychedelic dance band, "Tribal Hippie UnderGround Zone" (aka the Thugz) is sure to provide big fun for all with their unique brand of cosmic rock. Over the past decade this multi-faceted band has delighted music fans of all ages and tastes.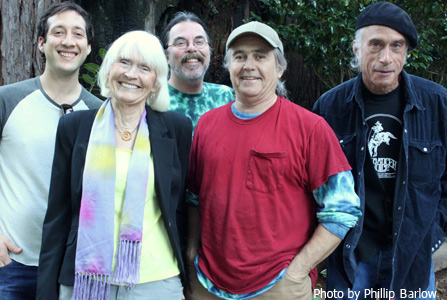 Rock, blues, country, jazz, psychedelic and various world music styles blend together at a Thugz show to bring the positive vibes of the '60's into the 21st century. Informed by the music of the Grateful Dead, Bob Dylan, Beatles, Miles Davis and others the Thugz' original songs and cosmic jams help to create a joyous, communal spirit between band and audience.
The band has a vast repertoire that includes many Dead tunes from all eras as well as interesting originals and covers. The group strives to combine traditional elements with new and creative material; more of a celebration and less of a replication of the Grateful Dead. If you are a Deadhead or music lover in general you will enjoy the Thugz' mixture of classic arrangements and exploratory jams.
A plethora of fine musicians have sat in with the Thugz during their musical excursions including David Gans, Barry Sless, Robin Sylvester, Niina Gerber, Zac Brown, and others.
No two "tribal hippie underground zone" shows are exactly the same but the spirit and love of music making are always present.
--
The Thugz are;
Mike Campbell – guitar, trumpet & vocals
Andre de Channes – guitar & vocals
Ian Favell – drums & vocals
Chris Lushington – bass
Sylvia Murphy – keyboards & vocals