TrueFire.com Unveils Bluegrass Guitar Course by Eric Lambert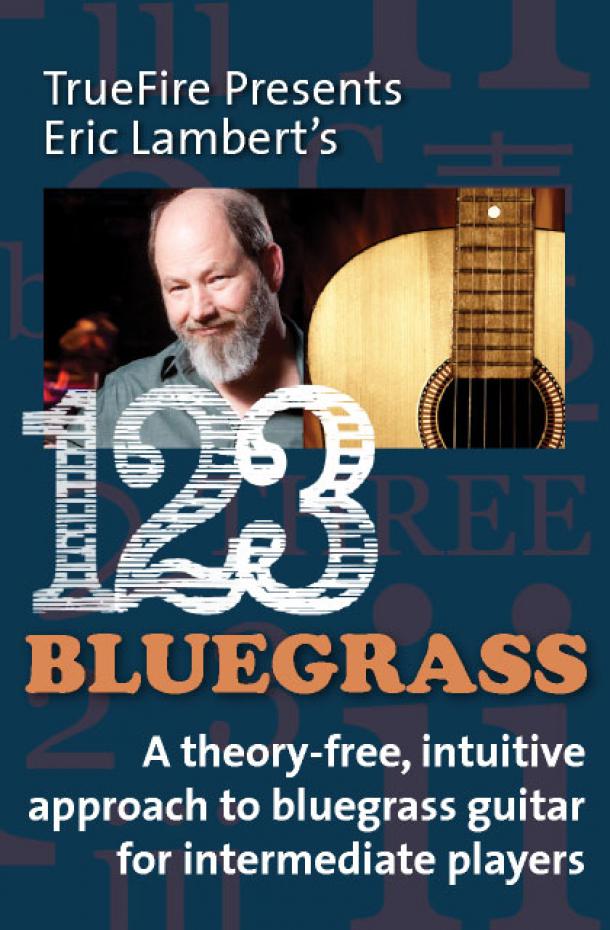 Learn to play the guitar 'bluegrass-style' from world-class guitarist, Eric Lambert, in the comfort of your home, at your own pace, and for less than a single in-person lesson. Presented by TrueFire.com, 1-2-3 Bluegrass is a course designed by Eric to introduce you to the exciting world of bluegrass guitar through a series of easy to understand lessons explaining the use of chord patterns, picking techniques, the capo, the metronome, and some classic bluegrass tunes that you can play at your local jam session. Thanks to modern technology and the provided rhythm tracks, you will also be able to pick together virtually.
If you're new to the bluegrass style of guitar, you'll be pleasantly surprised to know that you don't need to know a lot of chords or have a degree in music theory or even know how to read music for that matter -- it's really quite simple. All you need to know is a few bluegrass techniques, all of which are covered in this interactive video course, and you'll be off and running.
Eric Lambert has organized this course in six easy-to-understand sections. You'll learn everything from rhythm playing and chord voicings to melody playing and soloing, as well as repertoire. Within each of the sections, Eric presents three essential techniques you must know in order to become a proper bluegrass guitarist.
Some of the techniques you'll learn:
Work on chord shapes in G, C, and D - for that bluegrass vibe
Walking the bass - to create energy beneath your chords
Half step dissonance - to get that ol' banjo sound
Hammering thirds - add some real character to your rhythm and solo playing
In the last section, Eric will show you the rhythm parts, the melody, and some soloing for six bluegrass standards. You'll learn how to play Carter Family classic "Wildwood Flower," "Rolling in My Sweet Baby's Arms," "Will The Circle Be Unbroken," and more. He has also included slow rhythm tracks, medium rhythm tracks, and fast rhythm tracks so that you can work yourself up to speed as you go along. You'll also find charts, tabs, and other necessary learning tools to get up and running in this unique style of guitar.
For the past 35 years, Eric Lambert has been professionally teaching music, including the fiery art of flat picking, which is a style he has become known for playing and teaching. "It is the excitement of the style that originally drew me in years ago," he shared. Eric is also an accomplished performing artist with over 40 years of experience with an impressive resume that spans 10 countries as a solo artist and band mate. Some career highlights include playing with Virgil Kane along with Alabama and George Strait, and being apart of bands such as Big Shoulders, Heartsfield, Valerie Smith Band, and Chicago's award-winning Henhouse Prowlers. Recently, he launched his own national-touring band, Eric Lambert & Friends.
However, education continues to be a focal point in Eric's life and is a way for him to give back. "With this new interactive, affordable course anyone with the desire can learn this exciting style of guitar playing," he said. "I'm thrilled to be working with the geniuses at TrueFire. Thanks to their technology and support, my guitar lessons are available to everyone around the world. How awesome is that," he continued enthusiastically. "Knowledge is a gift that is meant to be shared with others."
Download Instantly $19 - http://truefire.com/set_cart.html?add=9672
Order the DVD $29 - http://truefire.com/set_cart.html?add=9671
1-2-3 Bluegrass Feedback:
"My schedule wouldn't allow me to take face-to-face lessons this session, but I have downloaded the 1-2-3 class, and it's the next best thing." --Tom Cramer, Frankfort, IL
"I bought it and love it. Thank you for the great lessons Eric." --George McAvin, Eastvale, CA
"Just a note to let you know how much I enjoy and appreciate the bluegrass lesson you offer on TrueFire. You really have a great teaching style! Hopefully there will be more in the future." -- Ben Fusco, Anthem, AZ