Turbine: Always Turning Out The Good Stuff
In 2005, jammers at the 10,000 Lakes Festival were floored by the power duo from New York City, Turbine. Ryan Rightmire (harmonica, acoustic guitar, vocals) and Jeremy Hilliard (electric guitar, vocals) had audiences awe-struck when they launched into their set. "There was a moment after the first long jam of the set, and no one was making any noise during the song, " recalls Hilliard. "We finished and for a second, we were wondering what was going to happen. Then everyone sort of exploded."
"Everyone was such careful listeners," adds Rightmire. "A lot of times when you're playing at a bar, people are talking. But at a festival like this, everyone is so attentive, and it's just a pleasure to play in that environment."
The comment most people made, including myself, was: How can two people have such a full sound with only two guitars and a harmonica?!  There were bass parts and percussion parts that surprised everyone. But what drew me and others mostly was the variety and quality of the original songs they brought with them.
It was no surprise then that they were invited back last year. By this time, however, Turbine had expanded into a full four-piece band, adding Justin Kimmel on bass and Jason Nazary on drums.  Kimmel also fills in vocally for some really tight three-part harmonies and necessary vocal backup when Rightmire is playing harmonica.  Though the band had only been together a matter of months, they were right on. "They bring their personalities as well as just playing the songs we already had," says Hilliard. "The drummer, Jason Nazary, drives the improvisations a lot to new places. It's much more communicative than people just backing us."  And, Rightmire adds, "We just didn't want to find a couple of guys to back us. We were really looking for people to push us as well. I think we found that."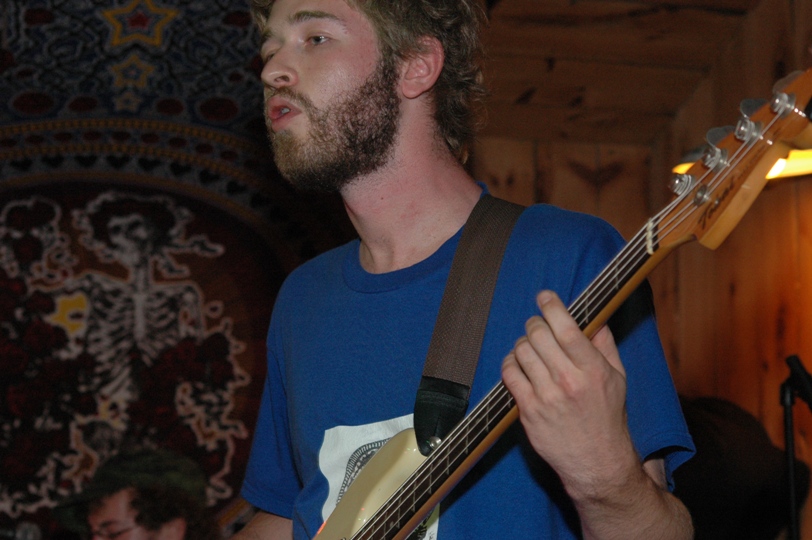 The addition of new band members has completely altered the way the band writes and arranges.  Though they had hammered bass and percussion into their duo arrangements, writing became even more creative.  "It's interesting that the more people you add, you think there's less space to work with because there are more instruments," says Rightmire. "We're kind of getting freed up to do other things because you don't need to worry about holding it down so to speak or trying to cover the drums and bass that aren't there. When they are there, you are kind of freed up to explore."
Hilliard adds, "With the new band, everyone wants to see where we're going to be in a year and what that's going to sound like." That's true. And, the proof is in the new album that will be coming out late this spring, just before festival season. The new album will be the first for the full band and will complement Turbine's duo album, Don't Mind If I Should.
This new album will be an opportunity to see the versatility of what Turbine can do. During the 2006 10,000 Lakes Festival, Turbine not only did a stint on opening night up in the Saloon Stage, but spend the rest of the weekend, playing during lunch in the VIP hospitality tent. The band spent two hours or more entertaining the other musicians, the staff, members of the press, and those fortunate enough to buy VIP tickets. It was a treat to hear their full original repertoire. They did jam rock songs, sea chanties, Irish drinking songs, folk tunes, ballads, spacey jams, Afro beat, and everything in between.
Most impressive was Rightmire's harmonica work.  Using wooden Horner Blues Harps that don't have that plastic sound, he puts them through a microphone with pedals that he helped develop with Frank Sternot, a Chicagoan who developed the traditional microphone most harpists buy.  "It was too bluesy for me," says Rightmire. "So, I sought him out and worked with him to create one that's more like my own sound. You can always add, but you can't take away. At the beginning, you kind of need like a pure tone."
With that pure tone, Rightmire is able to do blues, straight harp, and special effects like spacey electronic sounds. He is even able to make the harmonica sound like a Hammond organ and that a DJ turntablist.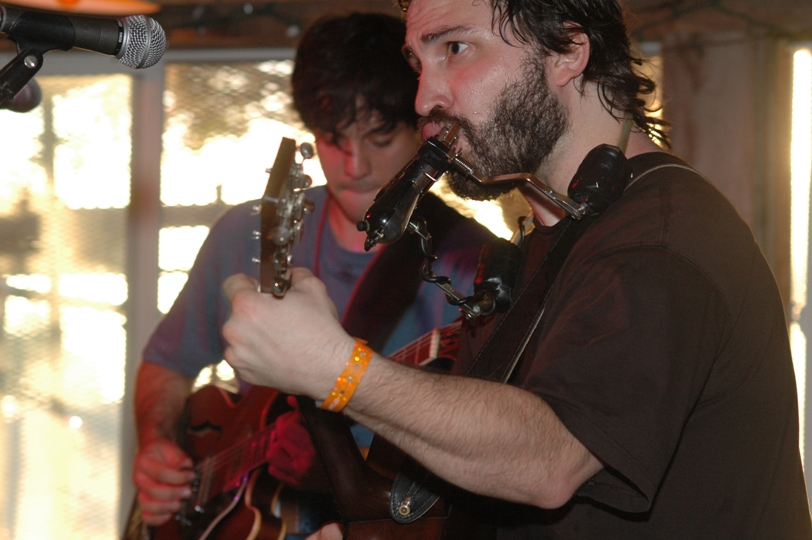 But this isn't the only kind of versatility the band is able to produce. Hilliard and Rightmire recently surprised a bluegrass audience when they were asked to join the Del McCoury Band on stage. When Hilliard brought up his electric, everyone inwardly winced and he was even challenged by a band member. Hilliard then charmed the audience by producing a slick electric fiddle sound coming from his guitar, while Rightmire offered banjo sounds from his harmonica.
Musical skills like these, however, aren't limited to just the original duo. All of the band members have jazz and/or classical roots. Hilliard studied jazz guitar. Rightmire studied piano and French Horn, then moved to acoustic guitar and harmonica. Kimmel and Nazary are also jazz trained but are extremely versatile, even filling in on a reggae song or a country tune.
This year, Turbine will have a new album out, and will begin touring with a new drummer, Eric Johnson. They also will open festival season with a slot at Wakarusa in Kansas in June. Check out some song samples at www.myspace.com/turbine.