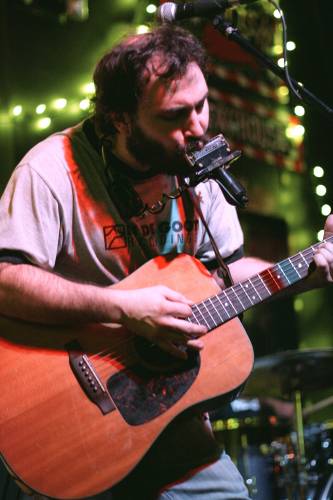 Blue Light City-- the third full length studio recording from psychedelic rock band Turbine debuted at #3 in the Relix / Homegrown Music radio charts and has raised the bar for the band and—possibly, in terms of studio recordings, for the broader jam rock community as a whole. Produced by Grammy-winner John Davis (The Black Keys), Blue Light City evokes the smart groove-pop of '80's bands like INXS and XTC, the psychedelic rock of Flaming Lips and Pink Floyd, the soul-rock of Jimi Hendrix's Band of Gypsies, aspects of prog-rock pioneers Yes and King Crimson and even elements of late 70's era Grateful Dead, in one strangely cohesive record.
The overarching sonic identity of this New York City-based quartet was forged over the last five years, starting when it was a tenacious duo comprised of guitarist / singer and primary songwriter Jeremy Hilliard and harmonicist / rhythm guitarist / singer-songwriter Ryan Rightmire. As a duo, Turbine developed their unique brand of songwriting that was sophisticated, experimental and emotionally direct, yet accessible and danceable. After a few years of this, they realized they needed a rhythm section, brought on bassist Justin Kimmel and drummer Octavio Salman, and began the arduous process of redefining their sound and rebuilding their fanbase, despite having already performed at prestigious festivals like Telluride Bluegrass Festival, Bonnaroo, Gathering of the Vibes, Wakarusa and 10,000 Lakes Festival. Turbine now stands poised to emerge as one of the most forward thinking, musically ambitious bands in their loosely defined scene.
With the rhythm section, Rightmire was able to realize his futuristic vision for the harmonica, which he plays with a neck sling, all the while playing guitar and singing harmonies and leads. Effects and technology have transformed his instrument's traditional role: the keyboards, turntablism, strings and other odd sounds that the compositions call for are delivered by this Hohner-endorsed pioneer of the harp's future.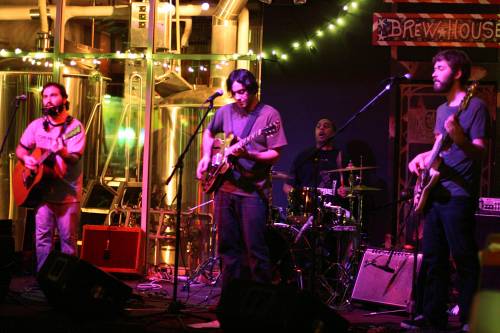 It is common for people stumbling into a Turbine show to be amazed by the spectacle of Rightmire, but as they start to absorb what is going on around them, listeners quickly start to appreciate the passion and intelligence of Hilliard's vocals and lyrics, then find themselves impressed with his intense, fiery guitar work. Underpinning all of this, Kimmel's bass lines help define and punctuate the music, setting-up and pushing grooves forward, driving the bus from the low end in typical prog-rock fashion, while leaving enough room for the nuance of the song structures and the dynamics of Salman's percussive backbeat to shine through. One realizes that this is a real band with real songs and something to say, all delivered in complex and intricately arranged songs that manage to still be accessible and danceable. This band delivers live and in the studio, and they are starting to make their mark on their scene.