UKF Official US Launch Party At Hammerstein Ballroom
Submitted by MAGNUM PR on Thu, 11/29/2012 - 14:25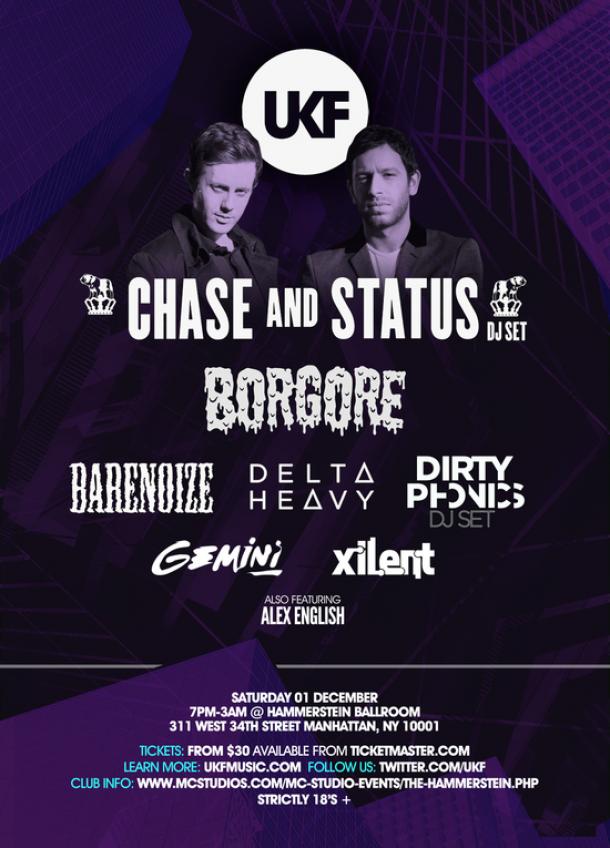 Following the success of a massive 35 date sold-out North American tour with Gemini and Koan Sound at the start of the year, UKF are delighted to announce their first stand alone show in the US at Hammerstein Ballroom in New York City on Saturday December 1. With an all-star line up including Chase & Status (DJ Set), Borgore, Gemini, Delta Heavy, Bare Noize, Dirtyphonics (DJ Set), Xilent, and Alex English, this show will mark the launch of the UKF in the United States and its new business venture in New York.
Chase & Status (aka Will Kennard and Saul Milton) are multi-award-winning, platinum record-selling producers, writers and musicians in their own right. The duo counts Jay Z and Snoop Dogg as fans, as well as drum and bass' finest Andy C, Hype and Pendulum; their tracks enjoy heavy rotation in the hands of dubstep royalty such as N- Type and Skream; and they have each release enthusiastically supported by Radio 1 tastemakers Annie Mac and Zane Lowe. Chase & Status became one of the biggest selling artists in the UK in 2011 selling over 1 million singles in the UK alone, and their album No More Idols did not leave the top 40 for 35 weeks and has now achieved double platinum status.
Asaf Borger aka Borgore, has unquestionably become a household name for those who follow the ever-growing dubstep sound. Music has always been the biggest aspect of his life. Whether it was playing the piano when he was just three years old or graduating from one of the best youth programs in the world as a saxophone major, playing the drums for a deathmetal band or MC'ing alongside Tomba in their live beatbox group, (which later became a dubstep group, Amp) Borgore has dipped his toes into many areas of music.
UKF brings bass music lovers across the globe their fix of the latest tracks, music videos, interviews, events and much more, from the hottest up and coming artists right up to the biggest names in the scene.
UKF was established by Luke Hood in 2009 as a way to celebrate and showcase the very best of bass music and unite its loyal fans. Little did he know just how much of a phenomenon it would become. Today it has long since exceeded its two dedicated bass channels (UKF Dubstep and UKF Drum & Bass) to include three other channels showcasing all manner of electronic flavors.
With a solid global subscriber base of millions, plus two million Facebook fans and tens of thousands of Twitter followers, UKF is the first site of its kind to amass over a billion views across its network. Feeding bass addicts with the latest tracks, videos, interviews and event news from the most exciting up and coming artists right up to the biggest names in the scene, UKF is a one-stop-shop for all things bass… and beyond!
For more information on UKF, visit http://www.ukfmusic.com