Ultraviolet Hippopotamus Winter Tour
Submitted by press on Sat, 02/13/2010 - 19:44
ULTRAVIOLET HIPPOPOTAMUS is an explosive six-piece jam rock band from Grand Rapids, MI with a rapidly growing fan base all over the MidWest and Colorado, as well as online with thousands of listeners nationwide. Recently described by Recoil Magazine as "one of Michigan's most promising bands," UV HIPPO mixes tight funky jams with new dance beats and strange effects for a killer musical experience. The band performs an eclectic array of composed and improvised original material, dancing between genres of funk, jazz, electronica, reggae, bluegrass, and progressive rock.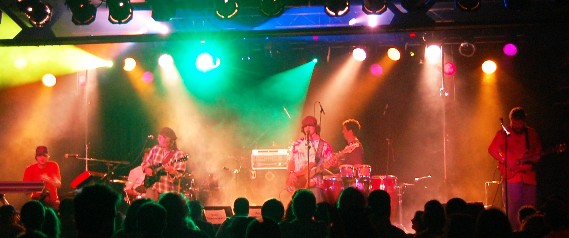 The Marquee Magazine " experiencing UV Hippo live, jam band fans are quickly reminded why they fell in love with thegenre's sound in the first place..."

Detroit Free Press "... music Frank Zappa would be proud of..."

Lansing State Journal "UV Hippo is all the rage these days... and fans all over are hooked."
The word is out, and the band is seeing more and more repeat offenders traveling further distances to develop their MidWest following into a national sensation. With a solid foundation of dedicated fans
leading the way, UV HIPPO is embarking on their Winter 2010 Tour, returning to Pennsylvania and Iowa, performing for the first time in Kentucky and Missouri, spending some time in the MidWest and hitting
Colorado for the third time in nine months. UVH kicks off their Colorado run with back to back shows opening for Garaj Mahal at Hodi's Half Note in Fort Collins and Agave in Avon on February 17th and 18th. This is not the first time these outfits have shared the stage, playing two high energy, insane shows in Kalamazoo and Chicago together at the end 2009. UVH is extremely excited about their time with GM in Colorado, as Fort Collins promises to be a night of true badass-ery!
The Official ULTRAVIOLET HIPPOPOTAMUS Tour Schedule is as follows:
Fri. 1/22 The Winchester Music Hall Cleveland, OH
Sat. 1/23 The Docksider Erie, PA
Thur. 1/28 Bell's Brewery Kalamazoo, MI
Fri. 1/29 The Mad Frog Cincinnati, OH
Fri. 2/5 Mac's Bar Lansing, MI
Fri. 2/12 Cosmic Charlie's Lexington, KY
Sat. 2/13 Kaysan's 5th Down Fort Wayne, IN
Sun. 2/14 Parlor City Pub Cedar Rapids, IA
Tue. 2/16 320 South Breckenridge, CO
Wed. 2/17 Hodi's Half Note w/ Garaj Mahal Fort Collins, CO
Thur. 2/18 Agave w/ Garaj Mahal Avon, CO
Fri. 2/19 Ullr's Winter Park, CO
Sat. 2/20 Winter Park Resort Winter Park, CO
Sun. 2/21 Mountain Sun Brewery Boulder, CO
Mon. 2/22 Sancho's Broken Arrow Denver, CO
Wed. 2/24 Tugboat Steamboat Springs, CO
Thur. 2/25 Tugboat Steamboat Springs, CO
Fri. 2/26 First Street Pub Nederland, CO
Sat. 2/27 Owsley's Golden Road w/ Papadosio Denver, CO
Tue. 3/2 Tres Hombres Carbondale, IL
Wed. 3/3 Gramophone Saint Louis, MO
Thur. 3/4 The Uptowner Charleston, IL
Fri. 3/5 Harrison's Landing Elkhart, IN
Sat. 3/6 Booney's Avon, IN

The Winter 2010 Tour is just the beginning of an ambitious list of new initiatives, long-term goals, and a commitment to responsible touring for UVH this year. After signing with Simon Says Booking Agency and
playing the Rothbury Pre-Party with EOTO in 2009, UV HIPPO is ready for a full plate. In addition to releasing their third full length studio album later in 2010, the band plans on touring both coasts and
everywhere they can in between, including stops on the national festival circuit.
A significant part of the 200-show agenda ULTRAVIOLET HIPPOPOTAMUS has planned for 2010, will be promoting green principles and sustainable touring. An important step in making this goal a reality
is investing in a used diesel shuttle bus and converting the bus to run on veggie oil, obtained through the discarded oil from FastFood joints! Coined, the "Hippopota-bus", this 1995 Ford E-350 Mini-Bus will
greatly reduce tour costs, lessen the band's overall carbon footprint and remove themselves from the global oil crisis. To promote their cause and raise funds, while educating their fans about sustainability,
UVH will launch a new line of organic, recycled clothing and other cool products throughout 2010. All profits from this new green line of clothing will go towards the purchase of the "Hippopota-bus" and
veggie-oil conversion. There will also be a donation jar, a limited edition poster and other sustainable 'Help Hippo Go Green' merchandise available, to support the band's new direction.