Umphrey's McGee Announce New Year's Eve 2014 in Atlanta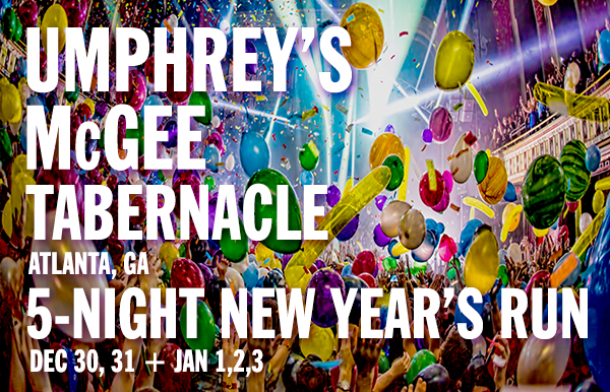 It is Christmas in June because we are announcing the biggest and baddest Umphrey's McGee New Year's run in history! Umphrey's McGee will conclude 2014 and party on into 2015 with a raging five-night residency at the one-and-only The Tabernacle in Atlanta, Georgia from December 30th thru January 3rd. Our umVIP packages are especially crafted for this marathon celebration with an assortment of stellar amenities to offer. The packages will include kick ass seating with private cocktail servers (sections 204 and 206) and early entry every night. Each package also includes an autographed event poster, an exclusive umVIP merchandise item, and much more. And to top it off, we will host an after party with the band Friday, January 2nd at the Cotton Club, just a few steps down from that night's rock show. The party will include food, drinks, music, killer company, and lasting memories.
We are also offering travel packages that include a four- and five-night stay at the world renowned Ritz-Carlton hotel, located just steps away from the venue. They also come with the full umVIP ticket amenities, discounted parking, and free wifi. Full details on the travel packages along with our umVIP only packages are listed below. All packages go on sale Friday, June 20th at 12:00 CT via umVIP ticketing.
Four- or Five-Night Travel Packages include:
Four (4) Nights at The Ritz-Carlton, Atlanta (Check in: 12.31 ; Check out: 01.04)
Five (5) Nights at The Ritz-Carlton, Atlanta (Check in: 12.30; Check out: 01.04)
One to four umVIP tickets to see Umphrey's McGee at The Tabernacle 12.30, 12.31, 01.01, 01.02, 01.03 (Four-night package does not include tickets to 12.30)
UM meet and greet held on 01.02 with cocktails, food, and great company
Access to the umVIP Sections 204 and 206
Early entry to all shows
Signed, Limited Edition New Years event poster
Exclusive umVIP Merch Item
Commemorative umVIP event laminate
MP3 download of all five shows
Dedicated umVIP staff available throughout the weekend