Umphrey's McGee Announces this Fall's First S2 Event in Memphis
Submitted by madison on Wed, 09/15/2010 - 23:13
Umphrey's McGee's Stew Art Series (aka, "S2") has received national media attention and high praise from fans for its innovations in band/fan collaboration and use of interactive technology. Today Umphrey's McGee announces the first of four Fall 2010 installments at Minglewood Hall in Memphis on Friday, September 24th.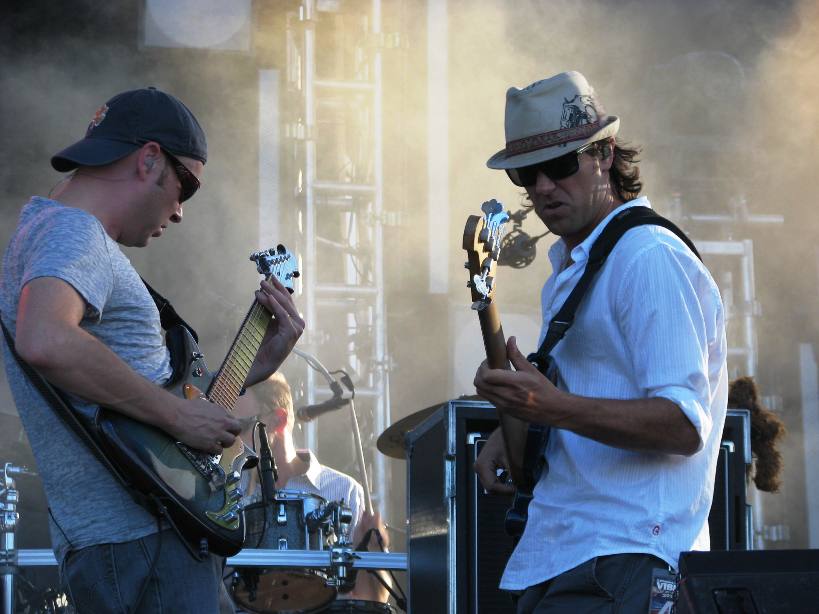 Doors will open at 4:00 pm, with the S2 to start at 4:30 pm. Following the S2, there will be a meet and greet with the band, as well as snacks and drinks available. Tickets are $99 and go on sale this Friday the 17th at Noon ET at www.umphreys.com. Patrons will need a separate ticket to attend that evening's regularly scheduled show.
Presented as individual events before that evening's already schedule show, Umphrey's Stew Art Series is a crowd-sourced improvisation experiment, in which all the music performed by the group on stage is entirely directed by S2 audience members. Check out this S2 video from the inaugural S2 event in Milwaukee.
S2 events have been received with overwhelming enthusiasm and to rave reviews. For S2, sold-out crowds of 50 fans submit their ideas by texting descriptive words, phrases, and pop culture references (pretty much whatever comes to mind), to the Umphrey's Mozes mobile interface. The suggestions are then filtered by the band's long time Sound Caresser Kevin Browning and projected on a screen for the band to digest and turn into the next phase of the jam. The band's music varies stylistically with suggestions ranging from "an afternoon bus ride in Jamaica" to "drinking pina coladas…in a hurricane". As one elated fan commented after a show, "S2 was the coolest thing I have ever been a part of. It's always been a dream of mine to meet the band, and the opportunity to participate in leading the Jam for the band was a dream come true as well." Stay tuned to www.umphreys.com for confirmation on S2 fall events.
Umphrey's McGee's current list of fall tour dates is as follows:
Thursday, September 23 Valarium Knoxville TN
Friday, September 24 Minglewood Hall Memphis TN featuring an S2 event
Saturday, September 25 The Diamond Ballroom Oklahoma City OK
Sunday, September 26 George's Majestic Lounge Fayetteville AR
Tuesday, September 28 El Rey Theatre Albuquerque NM
Wednesday, September 29 Orpheum Theatre Flagstaff AZ
Friday, October 1 The Depot Salt Lake City UT
Saturday, October 2 Knitting Factory Spokane WA
Sunday, October 3 Hardly Strictly Bluegrass Speedway Meadows San Francisco CA
Wednesday, October 6 Arcata Theatre Arcata CA
Thursday, October 7 McDonald Theatre Eugene OR
Friday, October 8 The Showbox Seattle WA
Saturday, October 9 The Wilma Theatre Missoula MT
Thursday, October 21 Mr. Smalls Theatre Millvale PA
Friday, October 22 Kalamazoo State Theatre Kalamazoo MI
Saturday, October 23 House of Blues - Cleveland Cleveland OH
Sunday, October 24 Bluebird Nightclub Bloomington IN
Wednesday, October 27 People's Court Des Moines IA
Thursday, October 28 - Friday, October 29 Canopy Club Urbana IL
Saturday, October 30 - Sunday, October 31 The Pageant St. Louis MO
Wednesday, November 3 - Thursday, November 4 Higher Ground Ballroom South Burlington VT
Friday, November 5 - Saturday, November 6 9:30 Club Washington D.C.
Tuesday, November 9 Jefferson Theater Charlottesville VA
Wednesday, November 10 Legends at Appalachian State University Boone NC
Thursday, November 11 - Friday, November 12 Bear Creek Music & Art Fest Live Oak, FL
Wednesday, December 29, Thursday, December 30, and Friday, December 31 Riviera Theatre Chicago IL
Thursday, January 20 - Monday, January 24 Mayan Holidaze Puerto Morelos MEX