Umphrey's McGee Announces Halloween 2013 Webcast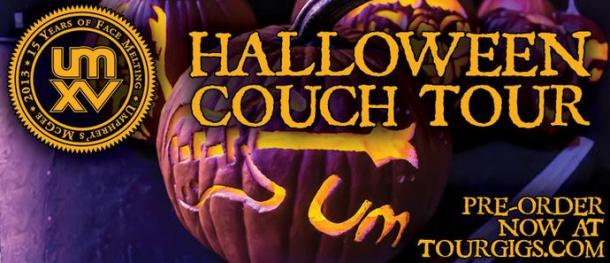 Halloween is upon us, and the band has been vigorously rehearsing musical mash-ups and putting the finalizing touches on production for our weekend-long extravaganza in Milwaukee. Thursday night, Halloween proper, is the "Official Mash-up Night," where fans and the band alike are encouraged to descend upon the historic Riverside Theater in costume. The London Souls, Cosby Sweater and Boombox lend support over the weekend, adding their diverse musical stylings to the stage.
Partake in our annual Pumpkin Carving Contest, and bring your submission to the Riverside between 5-6pm on the 31st. The best pumpkins will be presented as part of the stage decor for the show, and winners will receive an official Umphrey's trick-or-treat bag full of goodies.
Can't make it to Milwaukee? Join us from the comfort of your couch, as we team up with TourGigs to stream and capture all three nights of Umphrey's McGee rock. The full production, multi-cam HD video shoot will be available for live-streaming, and fully mastered versions will be available for download just a few short weeks later. Get the live stream at 50% off when you pre-order the download. Multiple night streams can also be bundled together at a 15% discount.
It gets better. When you pre-order the stream, you'll also gain access to view "the Palladia cut" of Picking Up the Tab--the best of the best of our four-night 2012 NYE run at the historic Tabernacle in Atlanta, Georgia. As always, pants optional.