Umphrey's McGee Announces more 15 Year Anniversary Dates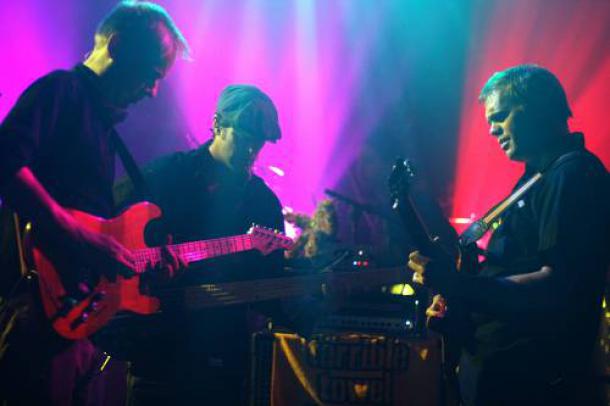 It is mighty frigid around these parts right now, and this winter chill has Umphrey's McGee craving some sunshine. UM is getting balls deep in the sunshine state this April, as well as returning to Stubb's for our third annual 4/20 show in Austin, TX. Tickets are on sale now through UM Ticketing.
Have you made your Mardi Gras plans yet? Join us in St. Louis as we take the Pageant by storm for two nights of face melting rock. Kick it up a notch with umVIP and leave all the planning to us. DKNG has created a stellar poster to commemorate these shows. Want to make sure you get one? Pick up a poster subscription series for ALL the prints from 2013 tour (or a umVIP package for St. Louis, which includes a poster signed by all six members of Umphrey's McGee.)
sUMmer school 2013 is open for enrollment! We've teamed up with Music Masters Camps to bring you round two of an experience unlike any other for the musician and music fan alike. Students learn the ropes directly from members of Umphrey's McGee a intimate setting with daily workshops, nightly concerts, private lessons and more from beautiful upstate New York.
Finally, an enormous thanks to those who joined us in New York, or tuned in from home this past weekend, to join us for our 15 Year Anniversary throw down. To the best fans in the world: THANK YOU.
Umphrey's McGee
January
1.23 Ziggy's Rock House, Winston-Salem, NC (w/ Papadosio)
1.24 The Fillmore, Charlotte, NC (w/ Papadosio)
1.25 The Ritz, Raleigh, NC (w/ Papadosio)
1.26 The National, Richmond, VA (w/ The Mantras)
1.30 Tennessee Theater, Knoxville, TN
1.31 Buster's, Lexington, KY
February
2.1 Orbit Room, Grand Rapids, MI (w/ Greensky Bluegrass)
2.2 The Fillmore, Detroit, MI (w/ Greensky Bluegrass)
2.6 The Venue, Fargo, ND
2.7 First Avenue, Minneapolis, MN
2.8 The Pageant, St. Louis, MO (w/ Mike Dillon Band) umVIP
2.9 The Pageant, St. Louis, MO (w/ Mike Dillon Band) umVIP
2.10 The Bluebird, Bloomington, IN
2.14 Metropolitan Theatre, Morgantown, WV
2.15 LC Pavilion, Columbus, OH (w/ Mike Dillon Band)
2.16 Orpheum Theater, Madison, WI (w/ Mike Dillon Band)
2.17 Canopy Club, Urbana, IL
March
3.6 Belly Up, Aspen, CO SOLD OUT
3.7 Belly Up, Aspen, CO SOLD OUT
3.8 The Depot, Salt Lake City, UT (w/ The Bright Light Social Hour)
3.9 Wilma Theatre, Missoula, MT (w/ The Bright Light Social Hour)
3.10 Emerson Cultural Center, Bozeman, MT (w/ The Bright Light Social Hour)
3.14 The Neptune, Seattle, WA (w/ The Bright Light Social Hour)
3.15 McDonald Theatre, Eugene, OR (w/ The Bright Light Social Hour)
3.16 The Fox Theatre, Oakland, CA (w/ The Bright Light Social Hour)
3.17 The Montbleu Resort, Stateline, NV (w/ The Bright Light Social Hour)
3.21 House of Blues, Las Vegas, NV (w/ The Bright Light Social Hour)
3.22 House of Blues, Los Angeles, CA (w/ The Bright Light Social Hour) umVIP
3.23 House of Blues, Los Angeles, CA (w/ The Bright Light Social Hour) umVIP
3.24 McDowell Mountain Music Festival, Phoenix, AZ
April
4.10 Music Farm, Charleston, SC
4.11 Freebird Live, Jacksonville, FL
4.12 Plaza Theater, Orlando, FL
4.13 Jannus Live, St. Petersburg, FL
4.17 George's Majestic, Fayetteville, AR
4.18 George's Majestic, Fayetteville, AR
4.19 House of Blues, Dallas, TX
4.20 Stubb's, Austin, TX