Umphrey's McGee & Galactic Present: Red Rocks & Blue July 4th Weekend
Submitted by press on Sun, 03/21/2010 - 19:07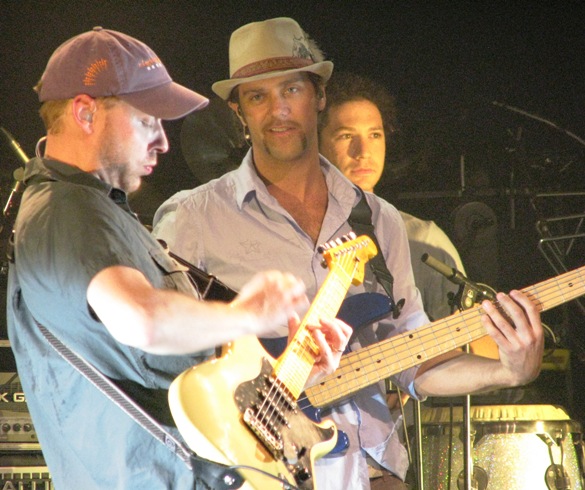 Celebrate Independence Day Weekend with Umphrey's McGee and Galactic's Red Rocks & Blue extravaganza on Saturday, July 3rd in Colorado. We'll join forces atRed Rocks Amphitheatre for a long night of music with a heavy dose of reggae classics from the The Wailers. Galactic will be joined special guest Cyril Neville (of the Neville Brothers Band). Look for more exciting info in the coming weeks in addition to the many surprises planned for the show. In addition to the Red Rocks & Blue main course, both bands will perform intimate shows at theGothic Theatre, with Galactic on Friday, July 2nd and Umphrey's McGee on Sunday, July 4th.
Umphrey's McGee & Galactic want you to celebrate your freedom of choice. Here's your chance to vote for a song that BOTH bands will play together at their July 3rd Red Rocks show. That's right, both Umphrey's McGee and Galactic will collaborate to play the winning song from the choices below. So exercise your rights, vote today, and join us in Colorado July 2-4 for Red Rocks & Blue! Forward this on to anyone you know who loves freedom and live music.
This will be a 4th of July weekend that is really a reason to celebrate your freedom. This is the first time that Umphrey's McGee will close the show under the stars at Red Rocks. We have a chance to be a part of history, so let's sell out Red Rocks! Pre-sale packages for the Red Rocks/Gothic Theatre shows will begin this Saturday, March 20th at NOON MT via UM TIcketing. Pre-sale includes discounted 2 and 3 day packages, and VIP tickets. Public on-sale begins Saturday, March 27th at 10 AM MT. Stay tuned for more exciting additions and announcements surrounding Red Rocks & Blue. We hope to see you in Colorado.Go here for more info!