Upcoming Deerhoof Tour Dates + New CD
Submitted by mike on Wed, 11/17/2010 - 02:37
Remember what it was like to turn 16? No one could tell you what to do. You were a force to be reckoned with -- filled with the undeniable feeling that you could take on anything and win.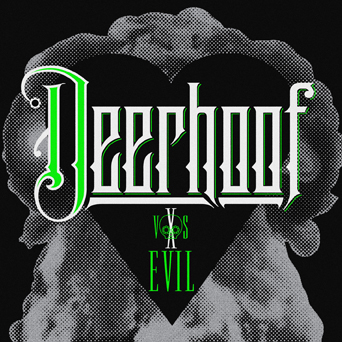 Deerhoof has now reached that fateful age and by rites it's their turn to go out and challenge the world. And so, right before they began recording, Greg Saunier, Ed Rodriguez, John Dieterich, and Satomi Matsuzaki just up and split from San Francisco (the only home they've ever known as a band) and left behind all notions of what a "Deerhoof record sounds like."
Self-recorded, mixed, and mastered in rehearsal spaces and band members' basements with no engineers or outside input, Deerhoof vs. Evil dresses up Deerhoof's well-known recklessness in a newfound elastic groove -- one flled with big-hit choruses and exuberantly unfamiliar colors.
The musical equivalent of hormones raging out of control, the record explodes out of the speakers with its gawky triumph and inflamed sentimentality.
This is Deerhoof's ode to their own adolescence. This is Deerhoof vs. Evil.
--
Deerhoof vs. Evil
1. Qui Dorm, Només Somia
2. Behold a Marvel in the Darkness
3. The Merry Barracks
4. No One Asked to Dance
5. Let's Dance the Jet
6. Super Duper Rescue Heads !
7. Must Fight Current
8. Secret Mobilization
9. Hey I Can
10. C'Moon
11. I Did Crimes for You
12. Almost Everyone, Almost Always
Deerhoof vs. Evil will be released January 25, 2011 on Polyvinyl Record Co. It will be available on cassette from Joyful Noise.  It will also be released by ATP (UK) on January 24, 2011, P-Vine (Japan) on January 6, 2011, and Polyvinyl Record Co. (Europe).
--
ON TOUR
dec 05 - Minehead, UK - All Tomorrow's Parties (Curated by Godspeed You! Black Emperor)
jan 27 - Sacramento, CA - Harlow's (w/ Nervous Cop)
jan 28 - San Francisco, CA - Great AMerican Music Hall (w/ Nervous Cop, Ben Butler and Mousepad)
jan 29 - Los Angeles, CA - Echoplex (w/ Nervous Cop, Ben Butler and Mousepad)
feb 01 - Austin, TX - Mohawk (w/ Nervous Cop, Ben Butler and Mousepad)
feb 02 - Dallas, TX - South Side Music Hall (w/ Nervous Cop, Ben Butler and Mousepad)
feb 03 - Memphis, TN - The Hi Tone (w/ Nervous Cop, Ben Butler and Mousepad)
feb 04 - Nashville, TN - Mercy Lounge (w/ Nervous Cop, Ben Butler and Mousepad)
feb 05 - Athens, GA - 40 Watt (w/ Nervous Cop, Ben Butler and Mousepad)
feb 06 - Raleigh, NC - King's (w/ Nervous Cop, Ben Butler and Mousepad)
feb 07 - Washington, DC - 9:30 Club (w/ Nervous Cop, Ben Butler and Mousepad)
feb 08 - Brooklyn, NY - Ridgewood Masonic Temple (w/ Nervous Cop, Ben Butler and Mousepad)
feb 10 - Cambridge, MA - Middle East (w/ Nervous Cop, Ben Butler and Mousepad)
feb 11 - Philadelphia, PA - Theatre of Living Arts (w/ Nervous Cop, Ben Butler and Mousepad)
feb 12 - Pittsburgh, PA - Altar (w/ Nervous Cop, Ben Butler and Mousepad)
feb 14 - Pontiac, MI - The Crofoot Ballroom (w/ Nervous Cop, Ben Butler and Mousepad)
feb 15 - Chicago, IL - Bottom Lounge (w/ Nervous Cop, Ben Butler and Mousepad)
feb 16 - Madison, WI - High Noon Saloon (w/ Nervous Cop, Ben Butler and Mousepad)
feb 17 - Minneapolis, MN - Triple Rock Social Club (w/ Nervous Cop, Ben Butler and Mousepad)
feb 18 - Iowa City, IA - Blue Moose (w/ Nervous Cop, Ben Butler and Mousepad)
feb 19 - Omaha, NB - Waiting Room (w/ Nervous Cop, Ben Butler and Mousepad)
feb 21 - Denver, CO - The Marquis (w/ Nervous Cop, Ben Butler and Mousepad)
feb 25 - Seattle, WA - Neumo's (w/ Ben Butler and Mousepad)
feb 26 - Portland, OR - Holocene (w/ Ben Butler and Mousepad)
mar 14 - New York, NY - JapanNYC Festival at Le Poisson Rouge (w/ Ichi)
jul 11 - London, UK - Performing Milk Man at Alexandra Palace (w/ The Flaming Lips performing The Soft Bulletin and Dinosaur Jr performing Bug)