Upcoming DSO 2010 Dates & News
Submitted by press on Thu, 05/06/2010 - 23:12
Come dance with us this summer as we cruise along on our upcoming summer tour. New dates have been added to the first leg, including a stop at Otto's in Deklab, IL, State College, PA and Taps Summerstage in Big Flats, NY. Following a few weeks off after the first leg of the summer tour the second round of summer shows will kick off in grand fashion at Gathering of the Vibes followed by shows in Utica and Buffalo, plus a stop in Newark, OH to round out the first weekend. From there its eastward bound to Dewey Beach, DE, Atlantic City and Englewood, NJ before dropping in to Musikfest in Bethlehem, PA. The final run of summer shows kicks off with Party in the Park in Rochester, NY, Bears Picnic in Laurelton, PA and finishes off in Burlington, VT at the Lake Champlain Maritime Festival.
Check out our Tour Dates Page for complete details.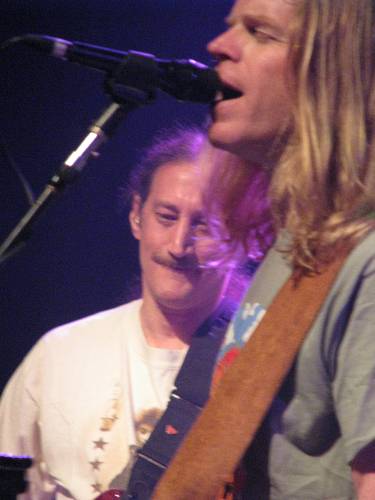 Spring Tour
Let the Brotherly love flow as the Seeds of Light Tour Kicks off at the Electric Factory in Philadelphia on May 20. From there it's off to Glen Allen, VA, Montclair, NJ and Ashburn, VA. After a couple days off cruising up I-95 its on to Providence, RI and Tarrytown, NY before a two night stand at the Hampton Beach Casino in NH followed by a stop at the Mighty High Mountain Fest in Tuxedo, NY with From Good Homes, NRPS and more... Rolling on from there its onward to Stamford, CT before stops in Brooklyn and Westbury, NY and a tour finale at Mountain Jam with Govt. Mule, Levon Helm & Friends, Allison Krauss and many many more!
Check out our Tour Dates Page for complete details.
Gratefulfest - Photo Contest
As Spring turns to Summer and we start hitting some of the great outdoor events around the country we want to invite you to share your favorite Gratefulfest memories with us. Send your favorite photo of Dark Star from any Gratefulfest to brett@darkstarorchestra.net for a chance to win tickets to Gratefulfest 12 (Grand prize) or a merchandise package (Runners-up). As you share your memories with us we will be involved in making new ones at many great festivals this summer.
Mighty High Mountain Festival
Mountain Jam
Summerfest
Gratefulfest
All Good Music Festival
Gathering of the Vibes
Lake Champlain Maritime Festival
In other Gratefulfest news, we will be performing a special 'Sound Check Party Set' on Thursday, July 1st. Join us one night early as we warm up the stage and get 4th of July Weekend off to a grand start.
TOUR DATES

DATE
VENUE
CITY
DSO TICKETS
Seeds Of Light Tour
05/20

Electric Factory

Philadelphia, PA

05/21

Innsbrook Pavillion

Glen Allen, VA

05/22

Wellmont Theater

Montclair, NJ

TICKETS

05/23

Belmont Country Club

Ashburn, VA

05/26

Lupos Heartbreak Hotel

Providence, RI

TICKETS

05/27

Tarrytown Music Hall

Tarrytown, NY

05/28

Hampton Beach Casino

Hampton Beach, NH

TICKETS

05/29

Hampton Beach Casino

Hampton Beach, NH

TICKETS

05/30

Mighty High Mountain Fest

Tuxedo Park, NY

06/02

Palace Theater at the Stamford Center

Stamford, CT

TICKETS

06/03

Music Hall of Williamsburg

Brooklyn, NY

TICKETS

06/04

Theatre At Westbury

Westbury, NY

TICKETS

06/05

Mountain Jam Festival

Hunter, NY

Rock My Soul Summer Tour
06/24

Minnesota Zoo Weesner Ampitheater

Apple Valley, MN

TICKETS

06/25

Simon Estes Ampitheater

Des Moines, IA

TICKETS

06/26

CEFCU Stage

Peoria, IL

06/27

Park West

Chicago, IL

TICKETS

06/29

Otto's

Dekalb, IL

TICKETS

06/30

Summerfest

Milwaukee, WI

07/02

Gratefulfest 11

Garretsville, OH

TICKETS

07/03

Gratefulfest 11

Garretsville, OH

TICKETS

07/04

Gratefulfest 11

Garretsville, OH

TICKETS

07/07

Veteran's Park Ampitheater

Springfield, OH

07/08

All Good Music Festival

Masontown, WV

TICKETS

07/10

State Theatre

State College, PA

TICKETS

07/11

Tags Summerstage

Big Flats, NY

07/29

Gathering Of The Vibes

Bridgeport, CT

TICKETS

Just Announced!
07/30

Saranac Brewery

Utica, NY

TICKETS

07/31

Town Ballroom

Buffalo, NY

TICKETS

08/01

Midland Theatre

Newark, OH

TICKETS

08/03

Harris Riverfront Park Amphitheater

Huntington, WV

08/05

Bottle and Cork

Dewey Beach, DE

TICKETS

08/06

Hilton Atlantic City

Atlantic City, NJ

TICKETS

08/07

Bergen PAC Theatre

Englewood, NJ

TICKETS

08/09

Zoellner Arts Center

Bethlehem, PA

08/12

Party in the Park

Rochester, NY

08/13

Bears Picnic

Laurelton, PA

08/15

Lake Champlain Maritime Festival

Burlington, VT

TICKETS


Jeff Mattson joins us on lead guitar for the above dates