Ursa Minor Announces New Release & Show
Submitted by mike on Mon, 05/09/2011 - 20:49
Fronted and founded by New York singer/writer Michelle Casillas, Ursa Minor has become a mainstay in NYC's indie rock scene. The band delivers a timeless mix of vocal driven pop-rock with a primal rhythmic undercurrent; sharp and urban, broad and free.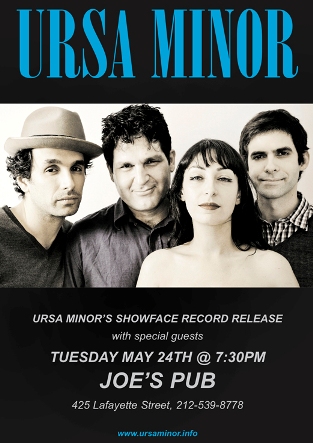 Ursa Minor's
debut LP
Silent Moving Picture
was released by
Sonic Youth's Steve Shelley
, on
Smells Like Records
. It was a deep and darker picture, slow bumps in the night and big spaces, featuring
Casillas'
swampy electric piano and shuddering vocals.
Ursa Minor
is a band of improvisers, grown from downtown roots. Over many years of live performances and writing, they have pursued their artistic bent without compromise, and coincidentally become a source of naturally catching melodies and themes of a broader life.
From Beaconpass: "This Spring will see the arrival of Ursa Minor's follow up, SHOWFACE.  The sound is often bigger, louder, more pugnacious: this is the sound of a band playing whatever turns them on. Live, Ursa Minor has been known to take the Violent Femmes' sweet ballad "Please Do Not Go" and turn it into a smoldering reggae slow jam, somewhere between Blondie's version of "The Tide is High" and Patti Smith's "Birdland."  Singer Michelle Casillas and her band can wring every drop of feeling out of a song, whether it's loud or lowdown, sweet or seething." Many of their peers, some of New York's most celebrated innovators, are often spotted at their shows, including Norah Jones, Marc Ribot, Joan As Police Woman, and Bill Frisell.
SHOWFACE (Anthemusa Records) was produced by Tony Scherr (Bill Frisell, SexMob, Norah Jones, Lounge Lizards, Feist), who is also featured on guitar. Bass whiz Rob Jost (Imogen Heap, Bjork) and NY heavy hitter Robert DiPietro (Norah Jones, Josh Rouse) equally create the sound, contribute songs of great depth and strength, and sing harmony. Special guests include Chris Brown (Joan As Police Woman, Barenaked Ladies, Abrams Brothers) on organ, and Jim Campilongo (Martha Wainwright, Teddy Thompson) and Teddy Kumpel (Rickie Lee Jones) on guitars.
Ursa Minor
kicks off their new release, 
SHOWFACE
, at 
NYC's Joe's Pub
,
Tuesday,
May 24th
at 7:30pm!