Von Ehrics: Two Foot Stomp
Submitted by abrina on Tue, 08/30/2011 - 02:57
Von Ehrics newest CD, Two Foot Stomp, is an up and down ride filled with Punkabilly drive and an authentically Texas flavor. Songs like the first single, "Lord I Pray" are new, refreshing, and fun while other like "Rock and Roll" fall a little flat in energy and creativity. The album is an overall success in authenticity, with a real feeling that you could stumble across the Von Ehrics playing around town in Denton, the funky college town music hub of North Texas where Two Foot Stomp was recorded. The album is also successful in screaming "if you think this is good, our live shows are 100 times better".  I am convinced, and definitely will be buying a ticket next time these boys roll through Colorado.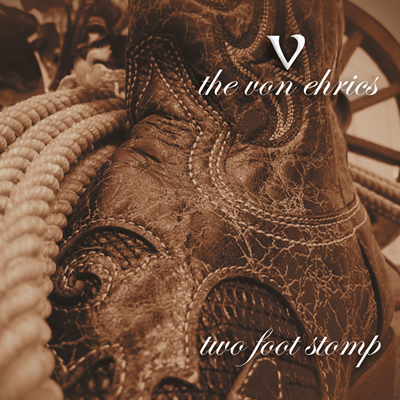 The Highlights:
"Lord I Pray", the album's first single, is also it's height of creativity, combining gospel, thrashy rock guitar, and a hyperactive drum set. "Lord I Pray" is soulful and cynical at the same time. The single is a satirical reflection on consumerism, but avoids a "preachy" feel for a rather funny one as lead singer Robert Jason Vandergrift prays for material good while being back up by a full gospel choir.
"Down the Road Tonight" also shines on the album. The song is reminiscent of REM's "It's the End of the World as We Know It". That is, if the whole world existed in Texas. You could probably take the lyrics and make them into a scavenger hunt in downtown Austin. Overall it's super fun.
"Goodbye/The Ride" is a fun, biting little break up song. Vandergrift sings in sweet and slow ballad voice, which we soon learn is totally ironic:
"It's a beautiful night,
the stars are all bright
I've got the moon on my left
and my girl on my right
things are changing tonight
she can kiss my ass goodbye"
then the speedy drummer kicks and one gets a feel of how the guys really feel. I always love a fun break up song.
The guitar lines are a great highlight throughout the album. Just listening to the things Gabe Aguilar (drums) and Clayton Mills (guitar) make up is one of the best parts of the album.
The Not-so-Great:
"Rock and Roll" is a halfhearted cry for what else, rock and roll. I'm not really that convinced, based on this song that the band believes in the spirit of rock 'n' roll. The Von Ehrics take lyrics that belong in a song like Joan Jett's "I Love Rock N Roll" and play them with the enthusiasm of Neil Young's "Hey Hey, My My".
It sounds like the guys wanted a Beastie Boys' "You Got to Fight for Your Right to Party", but were just kind of tired or hung over or something that day.
"Downtown" is another one of the tunes that is missing the party soul. Maybe the song is much better live, at the actual party. Though the song is low energy, guitarist Clayton Mills picks it up with an exciting solo.
"Texas" (When I Die) is the albums only successful anthem, but it really gets the job done.  It's not a call to rock out or party hard, as the boys attempted in other songs, but an anthem for Texas; the state that encompasses of both of the previous. "Texas" succeeds where some of the other attempts on the album failed in my opinion because Texas is very unique to the Von Ehrics. You can hear conviction in their voice as they sing "when I die, let me go to Texas".
"Texas" is the true call of Two Foot Stomp , and really ties the album together as its last track. Two Foot Stomp is a call to this: party, rebel, dance around, stomp your feet, and do it all in Texas.  I am totally in support of it!