Waka Winter Classic Announces 16-Stop Tour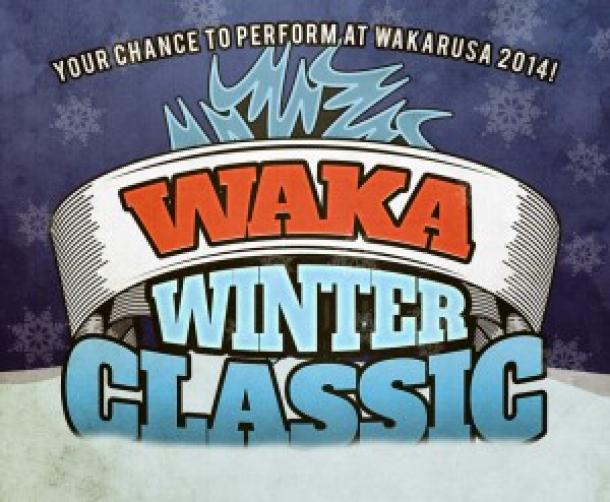 Wakarusa Music Festival is excited to announce the eighth annual Waka Winter Classic! The tour will travel through sixteen cities in ten states, searching for the best musical talent to play at the 2014 Wakarusa Music Festival in Ozark, AR on June 5-8, 2014.  Waka Winter Classic will begin in Cain's Ballroom in Tulsa, OK on January 9th and will continue through the South, hitting numerous iconic venues along the way including Trees in Dallas, Antone's in Austin, Cervantes' in Denver and The Double Door in Chicago.  The tour will wrap up at the renowned New Earth Music Hall in Athens, GA on February 22nd.
Artists and musicians can sign up through ReverbNation.com and up to five artists will be chosen to perform in each city.  These bands will be chosen based on Talent, Musicianship, Draw and Marketability.  The winning band for each contest will ultimately be decided by tallying audience votes at the end of the night, will win a cash prize, and will play for over 20,000 fans at Wakarusa Music Festival.
Wakarusa Music Festival is a grassroots festival nestled in the Ozark Mountains of Arkansas where the beauty of nature synchronizes with the euphoric sounds of live music.  This summer will mark the eleventh year of Wakarusa and the sixth year at the picturesque Mulberry Mountain near Ozark, Arkansas.  Wakarusa has been graced by hundreds of world-class artists and continues to stir the musical interests of folks from all fifty states and beyond!
For more information on Waka Winter Classic and Wakarusa Music Festival, please visit the website at www.wakarusa.com.
Waka Winter Classic Dates:
Jan 9, 2014- Cain's Ballroom- Tulsa, OK
Jan 10, 2014- Trees- Dallas, TX
Jan 11, 2014- Antone's- Austin, TX
Jan 16, 2014- George's Majestic- Fayetteville, AR
Jan 16, 2014- The Outland- Springfield, MO
Jan 18, 2014- Sticky Fingerz- Little Rock, AR
Jan 23, 2014- Hodi's Half Note- Fort Collins, CO
Jan 25, 2014- Cervantes'- Denver, CO
Feb 1, 2014- Vaudeville Mews- Des Moines, IA
Feb 1, 2014- The Bottleneck- Lawrence, KS
Feb 6, 2014- Double Door- Chicago, IL
Feb 8, 2014- Mojo's- Columbia, MO
Feb 13, 2014- Old Rock House- St. Louis, MO
Feb 15, 2014- Bourbon Theatre- Lincoln, NE
Feb 20, 2014- Workplay- Birmingham, AL
Feb 22, 2014- New Earth Music Hall- Athens, GA