We Are Wolves: April U.S. Tour Dates & SXSW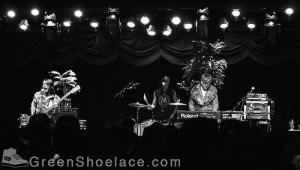 We Are Wolves have announced a new run of U.S. tour dates in April. The tour, which follows their previously announced Canadian shows in support of fellow lupine-monikered Wolf Parade, will take them from The Echo in Los Angeles, CA, on April 8th and up the west coast to The Vera Project in Seattle, WA, on April 13th. The band will then head back eastward through Canada on the Pop Montreal-sponsored POP OFF! tour, which will also make stops at 7th Street Entry in Minneapolis, MN, and Subterranean in Chicago, IL, on April 21st and 22nd, respectively.
The lovably sonically ferocious dance/rock/electro trio is also set to play three times during this year's SXSW festival in Austin, TX, including a headlining slot at M for Montreal's March 18th showcase at Paradise. Full itinerary is below.
We Are Wolves tour dates:
MAR. 5 MONTREAL, QC CONTEMPORARY ART MUSEUM
MAR. 6 SHAWNIGAN, QC TROU DU DIABLE
MAR. 13 SAINT-DONAT-DE-RIMOUSKI, QC MONT-COMI
MAR. 18 AUSTIN, TX PARADISE
(M for Montreal showcase; 1am)
MAR. 19 AUSTIN, TX GUEROS (set time TBA)
MAR. 21 AUSTIN, TX ENCORE
(Obscure Magpie Party, set time TBA)
APR. 1 QUEBEC, QC IMPERIAL*
APR. 6 KINGSTON, ON THE ALE HOUSE*
APR. 7 TORONTO, ON PHOENIX CONCERT THEATRE*
APR. 8 LOS ANGELES, CA THE ECHO
APR. 9 VISALIA, CA THE CELLAR DOOR
APR. 10 SAN FRANCISCO, CA BOTTOM OF THE HILL
APR. 12 PORTLAND, OR ROTTURE
APR. 13 SEATTLE, WA THE VERA PROJECT
APR. 15 VANCOUVER, BC THE BILTMORE CABARET**
APR. 16 KAMLOOPS, BC HEROES PUB**
APR. 17 CALGARY, AB THE REPUBLIK**
APR. 18 EDMONTON, AB PAWN SHOP**
APR. 19 SASKATOON, SK AMIGO'S**
APR. 20 WINNIPEG, MB ROYAL ALBERT HALL**
APR. 21 MINNEAPOLIS, MN 7TH STREET ENTRY**
APR. 22 CHICAGO, IL SUBTERRANEAN**
APR. 23 LONDON, ON CALL THE OFFICE**
APR. 24 TORONTO, ON THE GARRISON**
MAY 15 LYON, FR NUITS SONORES
* in support of Wolf Parade
** the POP OFF! tour with Parlovr