Wendy Burch Steel | CD Release Party | Preview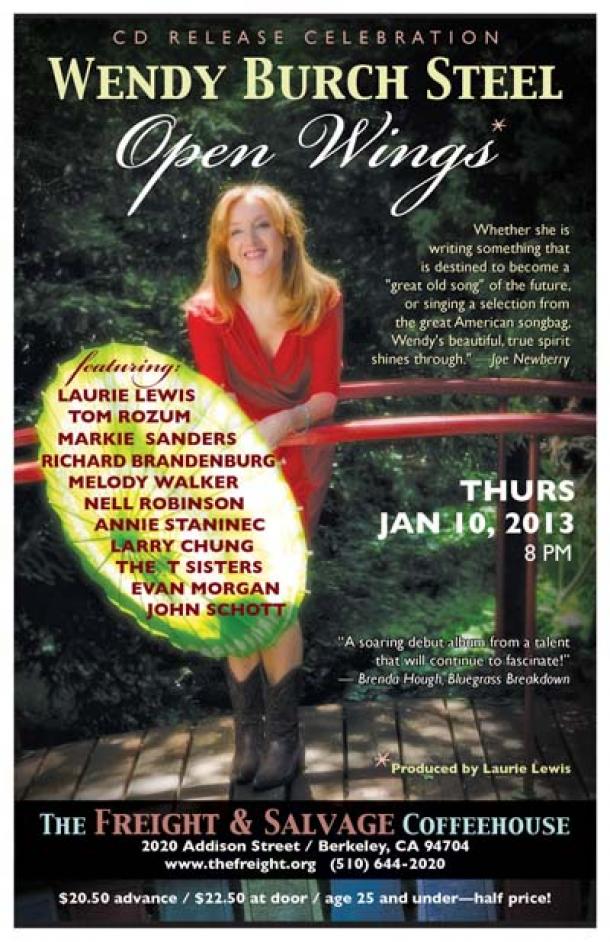 Though it's barely a week into January, the 2013 music festival rumors are plentiful. While the Bay Area's biggest free festival, Hardly Strictly Bluegrass, may seem far off (October 4-6, in Golden Gate Park), area residents don't have to look too far down the street for someone to help them pass the time.
On Thursday, January 10, Oakland native Wendy Burch Steel is holding a release party for her debut CD Open Wings at Berkeley's Freight and Salvage Coffeehouse. Wendy, who was raised in a musical family, dabbled in poetry before turning her focus onto music with the help of Grammy winner Laurie Lewis. Wendy and Lewis brought some impressive artists to play on the album, some of who will be joining her at Freight and Salvage—including Bay Area bluegrass veterans and Laurie Lewis collaborators Tom Rozum and Markie Sanders.
The Northern California Bluegrass Society recently nominated Wendy for Best Female Vocalist. Her sound, a combination of bluegrass and gospel, is refreshing, and complemented easily by the multitude of string instruments present on Open Wings—from fiddle to mandolin to banjo to string bass. The inclusion of these instruments marks the album instantly as bluegrass, but Wendy retains emotional control throughout, varying her vocal tone to make way for hints of soul, jazz, gospel, and folk.
While the tempos of her songs are fast-paced and upbeat, the subject matter isn't always: "Your Sweet Hand" is a song Wendy wrote about meeting up with her late husband. Despite heart-breaking lyrics such as, "You were my shining sun / I want to meet you when I'm dying..." you can hear Wendy's smile as she's singing. The rhythmic, impassioned nature of her voice carries through even while singing about the darkest of subjects. In "Happy Song Blues," where Wendy sings, "I got the blues for you baby; I get the blues most every day / I keep on trying to write a happy song, but my songs keep coming out this way," she can't keep the dark edge out of her voice—but the captivating fiddle and enticing string bass line make having the blues sound pretty damn enjoyable.
Freight and Salvage Coffeehouse is located at 2020 Addison Street in Berkeley, CA. Kick your feet up, close your eyes, and escape to musical bliss. You can purchase tickets here.