The Wheel | A Musical Celebration of Jerry Garcia
On December 4th, the musicians bring us full circle in a tribute to Jerry Garcia's musical legacy. Join us as we come together to celebrate the music and where it will take us next.  Join the Rex Foundation for a one-of-a-kind evening to celebrate the music and the musicians, and to help us cover just a little more ground.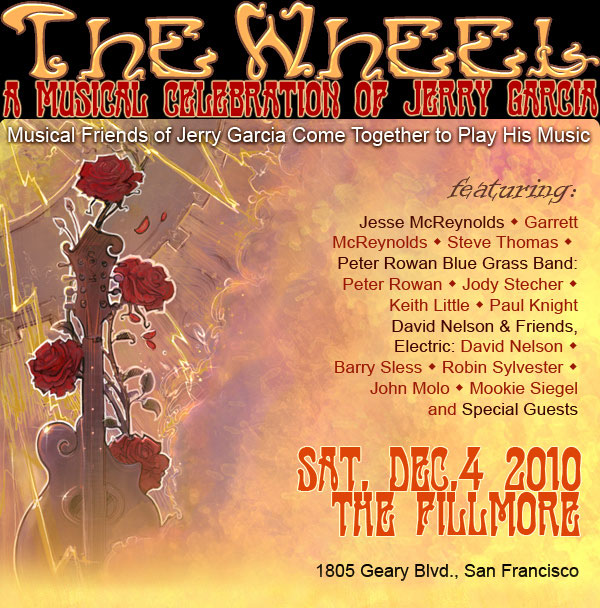 Set up in festive cabaret style with reserved seating on the floor, The Fillmore, with its beauty and iconic connection to Jerry Garcia and the Grateful Dead, sets the stage for this special occasion.  At the pre-concert reception, enjoy hearty finger foods and beverages as you reconnect with friends and family. Your generous reception/concert ticket purchase of $150 or $500, of which all but $70 is a charitable contribution, will fund Rex Foundation grant making, and you'll receive a print of the event poster designed by Cory and Catska Ench.
--
In 1962, Jerry Garcia began playing the banjo and exploring bluegrass music, forming a band called the Hart Valley Drifters that included David Nelson on guitar. In 1964, Jerry and his pal Sandy Rothman packed up a tape recorder and took off for the American South on a bluegrass pilgrimage, especially wanting to see "Jim and Jesse" (McReynolds), of Dothan, Alabama. Jerry was delighted to see them perform and get Jesse's autograph, and he held Jesse's mandolin playing and music in high esteem for many years. Jim and Jesse went on to legendary status in the bluegrass world, with more than 45 years at the Grand Ole Opry, Grammy nominations and awards, and membership in any Hall of Fame that means anything to this music.
Meanwhile, in 1969, as the Grateful Dead released Aoxomoxoa, they also turned to their own musical roots. Jerry, wanting to play his new pedal steel guitar, reconnected with old friend John "Marmaduke" Dawson and with Nelson, forming New Riders of the Purple Sage. As the Grateful Dead continued to evolve, in 1973 he formed another bluegrass band, Old and in the Way, with David Grisman, John Kahn, Peter Rowan and Vassar Clements.
Fast forward to today: David Nelson and Friends fire up fans with their electric sounds, and the New Riders play their past favorites along with new songs written by David and Robert Hunter. Grammy Award winner and five-time Grammy nominee Peter Rowan is a bluegrass singer/songwriter whose career spans over five decades; his continuous stream of original recordings, collaborative projects and tours has garnered a devoted, international fan base.
Now Jesse has just released Songs of the Grateful Dead - A Tribute to Jerry Garcia and Robert Hunter. Collaborating on this special album of 12 classic Dead songs, from Black Muddy River and Ripple to Franklin's Tower and Standing on the Moon, is none other than David Nelson. And, to top it off, there's a brand-new McReynolds-Hunter tune called Day by Day. Check out the music and get a sampling of Jesse McReynolds' talents here.
--
Reception, Food and Premium Seating Concert Tickets
(All but $70 is tax deductible)
Includes Drinks, Hearty Finger Food and Event Poster
 -
Lightning: $500.00 - Reserved Front Floor Seating
Thunder: $150.00 - Reserved Floor Seats
 -
6:00 - 7:30 p.m. Reception
7:30 p.m. Doors Open for Concert
8:00 p.m. Music Begins
Reception/Concert Tickets available through the Rex Foundation website or call (415)-561-3135 and through GDTS,TOO