"When You're Strange: A Film About the Doors" @ Boulder Theater
Submitted by mike on Mon, 04/19/2010 - 20:00
Following a prestigious festival run, WHEN YOU'RE STRANGE: A FILM ABOUT THE DOORS, has been featured at the Sundance, Berlin, Deauville and San Sebastian Film Festivals and most recently played to sold-out shows at the Santa Barbara Film Festival.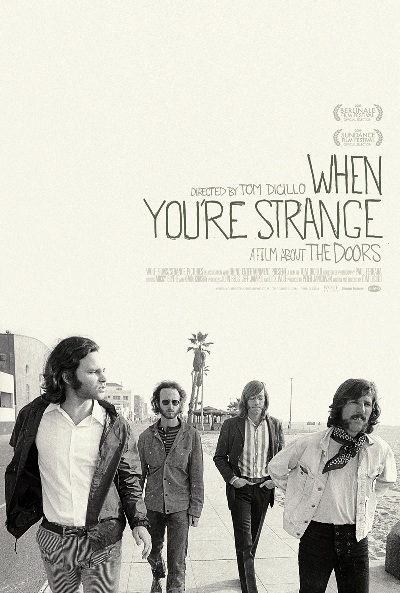 Produced by Wolf Films/Strange Pictures, in association with Rhino Entertainment, and released by Abramorama, the 90-minute film is the first feature documentary about
The Doors
. 
WHEN YOU'RE STRANGE
uncovers historic and previously unseen footage of the illustrious rock quartet and provides new insight into the revolutionary impact of its music and legacy.  Directed by award-winning writer/director
Tom DiCillo
and narrated by
Johnny Depp
, the film is a riveting account of the band's history.
Said Depp, "Watching the hypnotic, hitherto unreleased footage of Jim, John, Ray and Robby, I felt like I experienced it all through their eyes. As a rock n' roll documentary, or any kind of documentary for that matter, it simply doesn't get any better than this.  What an honor to have been involved.  I am as proud of this as anything I have ever done."
The film reveals an intimate perspective on the creative chemistry between drummer John Densmore, guitarist Robby Krieger, keyboardist Ray Manzarek and singer Jim Morrison — four brilliant artists who made The Doors one of America's most iconic and influential rock bands. Using footage shot between the band's 1965 formation and Morrison's 1971 death, WHEN YOU'RE STRANGE follows the band from the corridors of UCLA's film school, where Manzarek and Morrison met, to the stages of sold-out arenas.
Wednesday May 19, 8pm
Boulder Weekly Films presents
WHEN YOU'RE STRANGE: A FILM ABOUT THE DOORS
GA / All Ages / $10.00