Will Hoge Releases "The Living Room Sessions"
Submitted by mike on Wed, 09/29/2010 - 01:59
Critically-acclaimed Nashville rocker Will Hoge is releasing an EP aptly titled THE LIVING ROOM SESSIONS on Ryko on Oct. 12 and will be joining Shinedown on tour throughout November and December.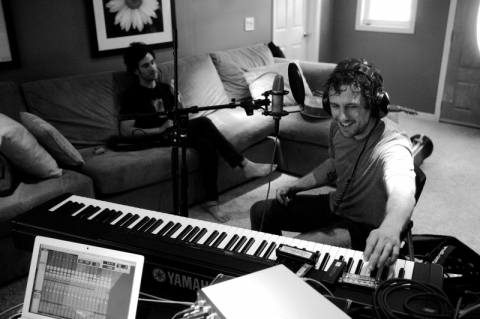 The six-song acoustic EP was recorded in only two days in Hoge's living room and features stripped-down versions of essential songs ("Long Gone," "Favorite Waste of Time," "Goodnight/Goodbye," "Too Late Too Soon" and "Even If It Breaks Your Heart") from his latest album, THE WRECKAGE, and the fan favorite, "All Night Long," from Hoge's 2003 album,  BLACKBIRD ON A LONELY WIRE.
"I like acoustic recordings that try to be different from the album versions," says Hoge.  "We just got together and camped out at my house for a couple of days… it's not a home studio, no real fancy set-up or multi-tracking.  The console was a laptop on a card table, and that same table also served simultaneously as the keyboard stand. There were no real overdubs or re-dos or pitch correct.  We just did it 'til we liked it and let it be…not out of laziness, it just seemed to fit."
Hoge, the relentless road warrior, kicked-off his headlining tour last weekend in Nashville, which will continue through October.  He'll then join rockers Shinedown on their "Anything & Everything" tour kicking-off Nov. 4 in Tampa, Fla. and wrapping up in New Orleans, La. on Dec 9.  The tour spans over 25 major cities throughout the Midwest, Southeast and Northeast regions of the United States.  More dates will be announced shortly.
THE LIVING ROOM SESSIONS TRACK LISTING:
1.       Long Gone (Acoustic version)
2.       Favorite Waste of Time (Acoustic version)
3.       Goodnight / Goodbye (Acoustic version)
4.       Too Late Too Soon (Acoustic version)
5.       Even If It Breaks Your Heart (Acoustic version)
6.       All Night Long (Acoustic version)
TOUR SCHEDULE:
10/6                 Memphis, TN                Hi-Tone
10/7                 Louisville, KY                Headliner's Music Hall
10/8                 Iowa City, IA                 Gabes
10/9                 Toledo, OH                   Headliners
10/10               Chicago, IL                   Lincoln Hall
10/13               Knoxville, TN                The Square Room
10/14               Newport, KY                 The Southgate House
10/15               Columbus, OH              The Basement
10/16               Akron, OH                     Tangiers
10/17               Lexington, KY               Cosmic Charlies
10/20               Athens, GA                   40 Watt Club
10/21               Atlanta, GA                   Vinyl
10/22               Johnson City, TN          Chrome
10/23               Greenville, SC              The Handlebar
11/04               Tampa, FL                     David A. Straz, JR. Center for the Performing Arts*
11/05               Charleston, SC             Charleston Music Hall*                           
11/06               Chattanooga, TN          Trivoli Theatre*                                                   
11/08               Richmond, VA               The National*                                                                 
11/09               Charlotte, NC                The Fillmore Charlotter*                                                  
11/10               Washington, DC            Warner Center*                                                              
11/12               Hampton Beach, NH     Hampton Beach Casino Ballroom*                                   
11/13               Northampton, MA          Calvin Theatre & Performing Arts Center*                          
11/15               Albany, NY                    The Egg*                                                                       
11/16               Scranton, PA                 The Weinberg Theatre*                                                   
11/18               Westbury, NY                Theatre at Westbury*                                                     
11/19               Montclair, NJ                 Wellmont Theatre*                                                          
11/20               Atlantic City, NJ             Showboat Hotel & Casino*                                              
11/22               Wilmington, DE             Grand Opera House Wilmington*                                     
11/23               Youngstown, OH           Powers Auditorium*                                                        
11/24               Saginaw, MI                  DOW Event Center – Heritage Theatre*                           
11/26               Davenport, IA                Adler Theatre*                                                                
11/27               Minneapolis, MN           State Theatre*                                                               
11/29               Indianapolis, IN             Murat Theatre*                                           
11/30               Milwaukee, WI              The Riverside Theatre*
12/04               Springfield, MO            Gillioz Theatre*   
12/06               Tulsa, OK                     Osage Million Dollar Elm Casino*
12/09               New Orleans, LA          House of Blues*
* w/ Shinedown