Win a chance to play w/ Floodwood (featuring Al & Vinnie from moe.)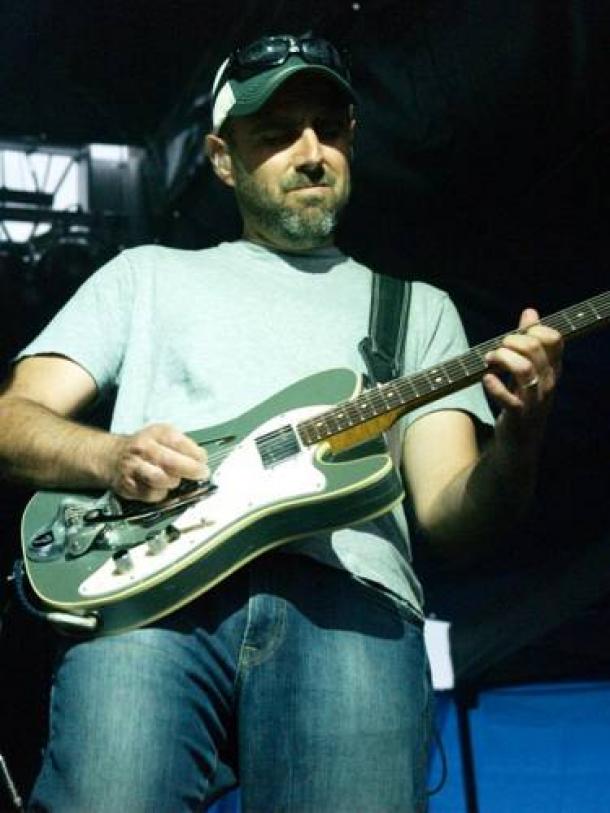 Floodwood is a new, progressive americana string rock band hailing from Upstate, NY. Its members are veteran musicians who've performed on stages around the world over the last 20 years. They breathe fresh life into timeless acoustic music & play with the dexterity & chops of seasoned pros.  Floodwood will set out on tour later this month, followed by the release of their debut album slated to drop this Fall.
Al Schnier & Vinnie Amico, not only play together in the premier jamband, moe., but they've also spent over 10 years recording & touring with the Americana group Al & The Transamericans. Likewise, Jason Barady spent over 10 years recording & touring with the Bluegrass group Wooden Spoon from Taos, until returning to his hometown in central, NY. Nick Piccininni is a largely self taught violinist, who learned his bluegrass chops the old fashioned way - in festival picking circles & Bluegrass Festivals. He's an award winning banjo player & fiddler in high demand on the bluegrass circuit, who also spent 2 years on the road w/ The Abrams. Bass player, Zachary Fleitz is a Berklee Graduate & Hypnotic Clambake alumnus. Zach joined forces w. Wooden Spoon & has played w. J & Nick for the last few years.
KICKSTARTER
A note from the band...
We are excited to record these new tracks and share them with you.  We are just now putting the finishing touches on this album, and we cannot wait to get these songs out to the world and radio.   It takes a lot of money to do this, and we want to make sure we do it the RIGHT way.  We have taken the last month and invested a lot in the recording, and now we have to go through mastering, manufacturing, and promoting this record so that with your support, we can get the word out on the band and the music!   The momentum that these songs and this album has is already showing some amazing results, here are the tour dates we have already, with a lot more to come!
The Pick One to Pick One Contest - Play with Floodwood:
Want to come 'pick' on a tune live in concert with Floodwood? All you have to do is make a donation (starting at $10) to the Kickstarter project and you will automatically be entered for a chance to 'pick one' with the band! 
You don't have to be a pro to take advantage of this opportunity!  Whether is whistling, hand clapping, shredding on the guitar, we want you to join us! So donate now for this opportunity of a lifetime.
For more info on the full campaign, and to donate, go here: http://kck.st/13ffTCd
--
ON TOUR
Aug 17, 2013 - Scranton, PA @ Montage Mountain - Peach Festival w/ Allman Brothers, Bob Weir and Ratdog, The Black Crowes
Aug 31, 2013 - Troy, OH @ Troy Memorial Stadium - Gentlemen of the Road w/ Mumford and Sons
Sep 6, 2013 - Cleveland, OH @ Beachland Ballroom & Tavern
Sep 7, 2013 - Ferndale, MI @ The Magic Bag w/ Dragon Wagon
Sep 8, 2013 - Manteno, IL @ Camp Shaw Waw Nas See - Shoe Fest w/Cornmeal, Drew Emmitt Band
Sep 10, 2013 - Columbus, OH @ Woodlands Tavern w/ Blue Moon Soup
Sep 11, 2013 - Pittsburgh, PA @ The Rex Theater  w/  Rumpke Mountain Boys, David Gans
Sep 13, 2013 - Ithaca, NY @ The Haunt  
Sep 14, 2013 - Utica, NY @ Utica Music & Arts Festival w/ Puddle of Mudd, Giant Panda Guerrilla Dub Squad, Kung Fu
Sep 17, 2013 - Portland, ME @ Port City Music Hall w/ Leftover Salmon
Sep 18, 2013 - South Burlington, VT @ Higher Ground  w/ Leftover Salmon
Sep 19, 2013 - Brooklyn, NY @ Brooklyn Bowl w/ Leftover Salmon
Sep 27, 2013 - Buffalo, NY @ Town Ballroom w/ moe.
Oct 10, 2013 - Saratoga Springs, NY @ Putnam Den - w/ Keller Williams Solo
Oct 11, 2013 - New Haven, CT @ Toads Place w/Keller Williams Solo
Oct 12, 2013 - Norfolk, CT  @ Infinity Hall w/Keller Williams Solo