Wyebrook Farm to host Annual Fest Headlined by Jesse McReynolds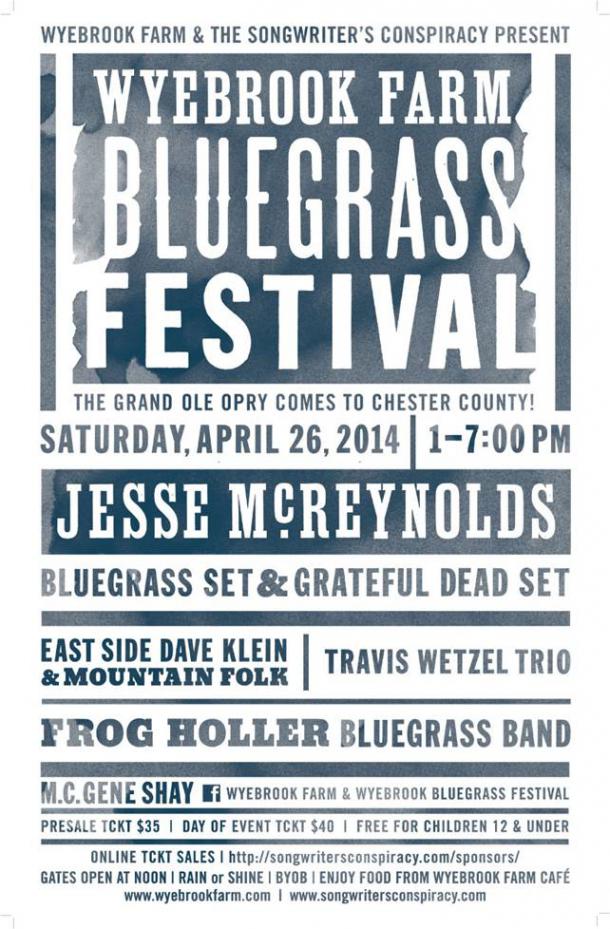 On Saturday, April 26, owner Dean Carlson will host his first Bluegrass Festival at Wyebrook Farm (150 Wyebrook Road, 610-942-7481), an exciting all-day celebration of live music at one of the region's most stunning outdoor settings.  From 12 noon until 7 p.m., musical guests will perform on the lawn between the pond and The Cafe at Wyebrook Farm, culminating in a performance from International Bluegrass Music Hall of Honor inductee Jesse McReynolds. 
Ticketholders will enjoy seven hours of live music, plus pay-as-you-go, farm-fresh eats from The Cafe at Wyebrook Farm, which will open for the season on the day of the festival, and interactive hayride tours of the property, making it a perfect kick-off to the summer.  Prices will range $35 in advance, to $40 day-of and children under 12 are free.
"Hosting large-scale events at the farm has long been a dream of mine, and I can't think of a better way to start than with hours of fun, lively music on a gorgeous spring afternoon," says Carlson, a hands-on farmer who opened the 355-acre oasis of sustainable agriculture in 2012 after months of restoration. "Our beautiful grounds will set a memorable backdrop, and our on-site Cafe guarantees that our guests will enjoy a lively concert and also a hearty, satisfying meal of sustainably raised, responsibly produced food – it's basically my idea of a perfect spring day, and I can't wait to share it with our guests!"
In addition to the headlining performance from Jesse McReynolds, guests will enjoy the sounds of such artists as Dave Klein and Mountain Folk, Travis Wetzel Trio and Frog Holler Bluegrass Band.  Food and drink stations on the lawn will include a barbecue cart, char-grilled burgers and a limited menu of dishes from The Cafe, the first look at this season's menu of farm-fresh fare prepared by a rotating roster of talented local chefs and featuring Wyebrook poultry, pork and beef alongside other area farmers' artisanal cheeses and sustainably raised produce.  The entire concert will be BYOB, allowing guests to enjoy their favorite local wine or craft beer along with the food and non-alcoholic beverages available for purchase throughout the day.
Jesse McReynolds, also known as "Mr. Mandolin," is a legend in the world of bluegrass music.  A multi-instrumental wizard whose cross-picking and split-string techniques have influenced countless other musicians, he has recorded more than 50 albums.  His enormous repertoire includes everything from bluegrass and country to gospel, pop, rock and even show tunes.  The five-time Grammy-nominated artist earned a National Endowment for the Arts National Heritage Fellowship Award in 1997, for his contributions to American music, along with his brother and musical partner, Jim.  Today, he performs everywhere from the Grand Ole Opry to Wyebrook Farm.
Wyebrook's expansive, bucolic pastures will be open to guests throughout the day, allowing them to explore the stunning grounds on foot or via guided hayride with the staff and visit with the heritage-breed cows, pigs and chickens while they enjoy the fresh air and live bluegrass tunes.  The day's four artists represent some of the best in contemporary and local bluegrass, and the festival is a rare opportunity for fans to see them all in one place – made even more special by the on-site eats from Carlson's team at The Cafe.  The Wyebrook Farm Bluegrass Festival is sure to be as much fun for local visitors interested in exploring the farm and seeing the animals as it is for faithful music lovers or devotees of responsibly sourced, environmentally sound food and drink.
The Cafe at Wyebrook Farm will officially open again for the season during the Bluegrass Festival, serving sandwiches, salads and more.  Guests order through a barn window, and then enjoy their meal in the courtyard area at picnic tables with panoramic views of the farm's idyllic pastures.  The Cafe is open Thursday, Friday and Saturday from 11 a.m. until 3 p.m. and on Sundays from 9 a.m. until 3 p.m. for brunch. 
Wyebrook Farm's cows, pigs and chickens thrive in a free-range environment without the use of pesticides, antibiotics or growth hormones.  Cattle breeds, including Devon and Red Angus, live on a diet of grass and legumes; Carlson evaluates their rib eye for superior quality using an ultrasound machine.  Pigs, including Ossabaw, Old Spot, Berkshire and Tamworth, are bred for their skill at foraging and incomparable taste, resulting in more flavorful pork that bears little resemblance to that raised on industrial farms.  Wyebrook chickens live almost their entire lives on pasture, with portable coops that are moved daily to fresh grass.
Wyebrook Farm offerings change throughout the year, based on availability, with the best interests of the animals and their environment in mind.  Featured selections, as determined by the natural constraints of traditional farming, include everything from just-laid eggs to a wide variety of meats, including popular cuts such as Rib Steaks, New York Strip, Pork Chops and Chicken Breast, as well as specialty cuts such as Oxtail, Pig's Ear and Chicken Liver. 
Since Carlson purchased Wyebrook Farm in March 2010, he has worked on extensive renovations to the property's stone houses and barns.  He also initiated several eco-conscious improvements to the buildings and farm equipment, including:  over 50Kw of solar panels that provide much of the farm's electricity;  the conversion of cooking oil into biodiesel to power the tractors and other vehicles;  and a rainwater capture system that feeds a pond, which provides irrigation for the apple orchard and other landscaping.  Today, the formerly foreclosed land, once slated for a 100+ house residential development, is a vibrant example of how grassroots agriculture can re-energize a community and lead the way for residents and visitors alike to make healthier choices in their diets.
For more information about the Bluegrass Festival or The Cafe at Wyebrook Farm, please call (610) 942-7481 or visit www.wyebrookfarm.com.  Advanced tickets can be purchased at www.songwritersconspiracy.com. Guests should also follow the farm on Twitter (@WyebrookFarm) and Instagram (@WyebrookFarm) and "like" them on Facebook.