Yoko Ono To Release "Wouldnit (I'm A Star)" The Remixes
Just in time for the balmy, dog days of summer, YOKO ONO delivers another sweltering dancefloor juggernaut with the release of "WOULDNIT" (I'M A STAR). The explosive single finds the avant-garde pioneer, once again, holding sway with discerning DJs, clubbers and tastemakers worldwide who've propelled her to the top of Billboard's club charts nestled comfortably alongside mainstream and electronic pop heavyweights like LADY GAGA, KATY PERRY, RIHANNA, KYLIE MINOGUE, SCISSOR SISTERS, KE$HA, TAIO CRUZ and GOLDFRAPP.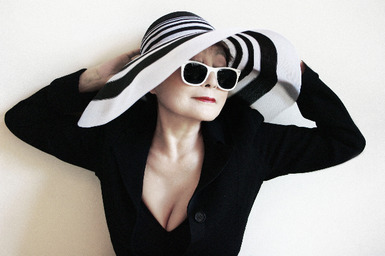 "WOULDNIT" (I'M A STAR) is the latest release from ONO's acclaimed remix series, which has paired the iconoclast with an impressive cast of innovative collaborators (FLAMING LIPS, ANTONY AND THE JOHNSONS, PET SHOP BOYS, BASEMENT JAXX, SPARKS, PEACHES, CSS, and Oscar winning composer CRAIG ARMSTRONG) and spawned 6 #1 dance singles to date including "GIVE ME SOMETHING", "I'M NOT GETTING ENOUGH", "GIVE PEACE A CHANCE", "NO NO NO", "EVERYMAN / EVERYWOMAN" and the seminal "WALKING ON THIN ICE".
"WOULDNIT" (I'M A STAR) has been blazing up the BILLBOARD HOT DANCE CLUB PLAY CHART since its debut five weeks ago entering at #32* with a bullet (Issue Date: 08/07/2010). It quickly ascended to the #24 power pick (Issue Date: 08/14/2010), and is currently in the Top Ten at #8* with a bullet (Issue Date: 09/04/2010)!
Originally appearing in 2 different settings, one on YOKO's LP BLUEPRINT FOR A SUNRISE and the other on her IMA collaboration RISING, the bluesy reflection has been retooled into a surging motivational anthem for anyone with the courage and conviction to re-make themselves, follow their dreams and aspire to greatness regardless of obstacles.
It's classic ONO: unfettered and defiant.
Featuring potent, modern reinventions from established dance music stalwarts DAVE AUDE, RICHARD MOREL, RALPHI ROSARIO and leftfield, New York techno / house producer ROB RIVES (aka FLOPPY SOUNDS / PHANTOM POWER), along with newcomers DJ YIANNIS, DENNY TSETTOS, EMJAE (aka MATTHEW JOHNSON of Boston-based duo, NIGHTRIDERS), M-DEEP and TIMMY LOOP, the single is a tour-de-force and easily one of ONO's most immediate remix offerings to date.
It's unbelievable that at 77 years young, the alt-rock matriarch is as inventive and prolific as ever.  Nearly 5 decades since first bursting onto the unsuspecting art and music worlds with her forward-thinking works, Yoko continues to evolve and thrive – both inside and outside the margins – still dreaming, pushing boundaries and challenging the status quo with her own unique and uncompromising artistic vision.
It's been quite a storied journey with many more exciting moves to unfold.
"WOULDNIT (I'M A STAR)" will be released later this month as a digital green release (no materials used or abused) on MIND TRAIN / TWISTED Records.