Zach Deputy Celebrates Another Day
On his upcoming release Another Day, soul-singer and guitarist Zach Deputy-- with the help of Grammy-winning producer Scott Jacoby-- taps into the spirit of Al Green, Taj Mahal and Stevie Wonder, creating a soulful rhythm and blues album rich with ballads and mid-tempo songs. The record will appeal to fans of contemporary artists like Jack Johnson and Amos Lee, while retaining a classic sound and feel. Full of hope and anticipation of the promise of another day, a new day, it is a pivotal point in the career of a touring musician heretofore known as a master of live looping and a staple in the grass-roots club and festival circuit.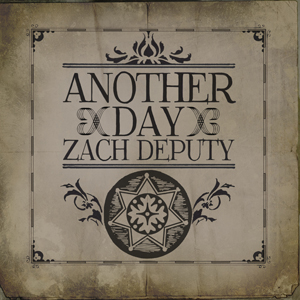 An appropriately titled album, Another Day is truly an album in the classic sense— a collection of songs that come from the same time and place, inspired by the same muse. Reflective and introspective, it provides a glimpse at the soul of an artist and the depth of a songwriter. As a boy, the music of Zach Deputy's Puerto Rican, Cruzan and Irish heritage was cooked up in the South Carolina heat. The Calypso rhythms and folk songs of St. Croix competed with the R&B / soul of pioneers like James Brown and Ray Charles for space on the family stereo. As Zach honed his craft, a unique hybrid of these influences emerged, ultimately creating the signature Zach Deputy sound-- what he calls "Island-infused, Drum 'n' Bass, Gospel-Ninja-Soul" that has made him a hot up-and-coming artist. However, this is the one-man-band sweaty dance party side of the coin. That same gumbo of influences has the humid, sultry, quieter side, too. This is the side of the slow dances... the bodies pressed close together and the quiet voices whispering in each other's' ears. Another Day is a warm, mellow album, one that is perfect for after hour soirees... and if Zach Deputy is about sunshine,Another Day is about sunsets.
Best described as soulful rhythm and blues, Another Day features 11 original tracks produced with Grammy award winning Scott Jacoby over just 5 days in Mission Sound Recording in Brooklyn, NY. To handle the ever-present Latin, Caribbean and African elements in Zach Deputy's backbeat and place them in the contemporary soul / pop format of the songs, Jacoby tapped Graham Hawthorne (Aretha Franklin, Harry Belafonte, Paul Simon, David Byrne) for the drum kit. Bassist Al Carty came into the studio after having played four church gigs that day. Despite the list of artists he has recorded or toured with (Lou Reed, De La Soul, Carrie Underwood, Gavin DeGraw), the church gigs alone proved that Jacoby was on the mark with this choice for the low end. Zach Deputy is, after all, a soul singer whose music is underpinned by Gospel as much as by any other musical idiom. Equally at home in the Gospel tradition, pianist / organist Will Buthod (Jay-Z, Fat Joe, Alicia Keys, The Harlem Gospel Choir) completed the studio trio that fleshed out Zach's vision for the recording-- a vision made real by Jacoby's pitch perfect choice of accompanists. These four accomplished professionals met for the first time on the first day of recording and worked as if they were old friends with a common purpose.
Another Day will hit the streets on September 27th following four shows in two days at the Rockwood Music Hall in New York City. The event will kick off a full-scale national tour with dates booked throughout the country. For ticketing and performance information check out www.zachdeputy.com.
--
ON TOUR:
8/5/2011              Camp Creek Festival - Oxford, Maine
8/6/2011              Naukabout Festival -  East Falmouth, Cape Cod,  Massachusetts
8/9/2011              Songs at Mirror Lake Music Series - Lake Placid, New York
8/10/2011            The Westcott Theater - Syracuse, New York
8/11/2011            Southpaw - Brooklyn, New York
8/12/2011            Ocean Mist- South Kingstown, Rhode Island
8/13/2011            The Royal Family Affair at Stratton Mountain - West Wardsboro, Vermont
8/13/2011            Club Helsinki - Hudson, New York
8/16/2011            Divan Orange - Montreal, Quebec
8/17/2011            Kirkland Arts Center - Clinton, New York
8/18/2011            Bella Terra Festival at Gardner's Field -  Stephentown, New York
8/19/2011            Trenton Social Courtyard - Trenton, New Jersey
8/20/2011            Camp Barefoot - Bartow, West Virginia
8/21/2011            Great Bay Music Festival- Dover, New Hampshire
8/24/2011            The Otter House- Fredericksburg, Virginia
8/25/2011            The Jewish Mother- Virginia Beach, Virginia
8/26/2011            Outer Banks Brewing Station - Kill Devil Hills; North Carolina
8/27/2011            Blarney Stone's Pub and Music Hall- Myrtle Beach, South Carolina
8/29/2011            Big Bamboo Cafe - Hilton Head, South Carolina
9/8/2011              8 x 10 - Baltimore, Maryland
9/9/2011              Appalachian Brewing Company - Harrisburg, Pennsylvania
9/13/2011            Rockwood Music Hall (Stage 2) - New York, New York
9/14/2011            Rockwood Music Hall (Stage 2) - New York, New York
9/15/2011            The Met Cafe at Hope Artiste Village - Pawtucket, Rhode Island
9/16/2011            Wormtown Music Festival-Camp Kee Wanee - Greenfield, Massachusetts
9/17/2011            Wormtown Music Festival-Camp Kee Wanee - Greenfield,  Massachusetts
9/21/2011            Bayou Bill's - Valdosta, Georgia
9/22/2011            Blackwater Music Festival at Spirit of the Suwanee Music Park - Live Oak, Florida
9/23/2011            Skipper's Smokehouse - Tampa, Florida
9/24/2011            Culture Room - Fort Lauderdale, Florida
9/25/2011            Beachside Tavern - New Smyrna Beach, Florida
9/28/2011            Handlebar - Pensacola, Florida
9/29/2011           New Earth Music Hall - Athens, Georgia
9/30/2011           Matilda's Art Gallery and Music Venue - Alpharetta, Georgia
10/1/2011           The Emerald Lounge - Asheville, North Carolina
10/6/2011           Gnat's Landing - Statesboro, Georgia
10/11/2011         Woodlands Tavern - Columbus, Ohio
10/12/2011         The Castle Theatre - Bloomington, Illinois
10/13/2011         Red Sky Lounge - Mankato, Minnesota
10/14/2011         Cabooze - Minneapolis, Minnesota
10/15/2011         The Aquarium - Fargo, North Dakota
10/18/2011         The Zebra Cocktail Lounge - Bozeman, Montana
10/19/2011         Top Hat Lounge - Missoula, Montana
10/20/2011         Tractor Tavern - Seattle, Washington
10/21/2011         Berbati's Pan -  Portland, Oregon
10/22/2011         Humboldt Brews - Arcata, California
10/25/2011         Lost on Main - Chico, California
10/26/2011         The Mint - Los Angeles, California
10/27/2011         Winstons - San Diego, California
10/28/2011         Marilyn's on K - Sacramento, California
10/29/2011         The Independent - San Francisco, California
10/30/2011         The Underground - Reno, Nevada
12/30/2011         TheBond-Fire Art and Music Festival - Groveland, Florida