Zambia & Victoria Falls
Submitted by mike on Thu, 06/17/2004 - 06:00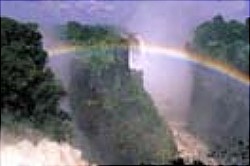 I'm glad I wrote already about the first part of our trip, since there is so much to tell from the second part!  (If you didn't get the first message about Malawi, let me know & I'll send it to ya.) Our journey continued on Saturday the 27th when we boarded a bus in the afternoon for Lusaka, Zambia.  After 13 excruciating hours we arrived in Lusaka at dawn and a few hours later boarded another bus to Livingstone for antoher 7 hour ride, and needless to say our assess were sore!  Throughout the next few days, we recovered and thankfully realized the pain and exhaustion was more than worth it!  In Livingstone we stayed at a super great backpacker hostel called Fawlty Towers, which is owned by a British guy and named after a place in a Monty Python movie.  Thier motto is "It's really not that fawlty, and there's not many towers, but it is perhaps one of the best backpackers in the world." and I would agree with that!  It's certainly the best hostel I've ever stayed in!  It was open and airy with a beautifully landscaped garden patio around the pool, big cushy couches in the main room with satelite TV and internet as w ell as other exquisitely decorated quiet rooms to hand out in, kitchen facilities, dorms, family rooms, doubles, and they allow camping, AWESOME showers, a super friendly staff to help with booking activities, and the best part was it was only $6 a night to stay there! ($8 without Peace Corps discount, and more if you want a private room.) We had lots of time just to chill there, and immensely enjoyed every minute of it!
The first day in Livingstone we walked around town, took in the sights and shopped at the local craft market (bought lots of cool stuff for YOU ALL ).  The second day we went on a walking safari in Livingstone National Park.  When we first pulled in, we encountered 3 bachelor elephants close to the road (I got some great pictures for ya, Vic!) and lucklily we were still in the vehicle otherwise we would have not have been able to be so close.  From the vehicle, we also saw just the tips of hippo heads in the river.  (Unfortunately they are only active at night!)  Then with two armed guards (the guide with a rifle the other with an AK-47) we set out on our walk through the park and came within close range of crocodiles, giraffes, waterbuffalo, wildebeasts, zebras, impala, waterbuck, and other cool creatures like foam frogs, dung beetles and ve lvet mites. The highlight was coming within about 10 yards of 3 rhinoceri (rhinoceruses?), Africa's most endangered animal. These 3 (1 bull and 2 cows) were reintroduced to the park along with 2 others (who died last year) several years ago yet they have not had any offspring and their population as a whole in Africa continues to decline.  They are surprisingly a very docile animal and were mostly dozing while we were near them, hence the reason why we were able to get so close.  The other animals in the park have become accustomed to being protected and do not see humans as a threat, so on several occassions they just stood and stared at us while we stood and stared at them!
The third day, New Year's Eve Day, was absolutely the best day of the trip, spent at Victoria Falls.  WOW is it AMAZING!  Maybe the fact that it's one of the Seven Wonders of the World will help to begin to explain how absolutely AMAZING it is!  What stuck me the most, besides the sheer force and pounding loudness of the water, was the incredible intense colors of the contrasting blue sky, white clouds, dark brown rock, vibrant green plant life, and of course the multiple RAINBOWS in the mist!  We were there just at the beginning of the rainy season so the water level was low, but there were many advantages to this.  One was we were actually able to SEE the falls.  During it's peak the falls can not even sometimes be seen because the mist is so thick!  Another advantage was we were able to rock hop and wade across the top!  (With a guide to direct and assist us across the trecherous parts with the falls rushing down just a few meters away.)  We were able to stand right on the edge and see the falls from view points (such as straight down) that very few people get to see (you would have loved it Vic!).  We also were lucky to be able to swim in a pool on the side of the falls called Angel's Armchair.  Never did I imagine in my life hanging out in my underwear with a bunch of strangers in a cliffside pool on the edge of Victoria Falls!  In the pool you could shower under the falls coming into the pool or swim to the other side and hang over the cliff to wave down to the people rafting.  We felt very lucky to be there and it was an unforgettable experience!
New Year's Eve was an international one; we just stayed in at the hostel and cooked up a big feast and drank several bottles of wine with another PCV from Malawi, a sweet young chap from South Africa, and a kayaker from France.  Later we were joined by a German family with two teenage sons, an American family with 2 twenty-somethings and an Irish boyfriend, and a pool full of drunk and naked British women!  Kwa heri 2003, Karibu 2004!
On New Year's Day we boarded a bus to Lusaka, where we stayed one night in a really seedy hostel (definitely a few steps down from Fawlty Towers), but there we were lucky to meet a British/Tanzanian couple selling cheap first class tickets on the train leaving the next day to Tanzania.  So we took the train back, which we originally ruled out of our travel plans due to the extra time and expense versus the bus.  But it was really enjoyable and from now on, whenever I have the extra time I will much prefer to take the train!  The views, especially in Tanzania were incredible, passing 2 through 2 mountain ranges and 2 wild game parks. The train ride was 44 hours, and I arrived in Dar yesterday.
Travelling to Zambia has inspired me to travel more in Africa, but I'd like to do it when I have a larger budget to work with and can afford to do things like white water raft on the Zambezi (said to be the BEST white water rafting in the world!) which we very much wanted to do on this trip but could not due to the cost ($95).  We also would have liked to see the rest of the Falls from the Zimbabwe side, which was also cost prohibitive due to having to buy a $55 visa.  A great trip to do someday would be to arrive at Victoria Falls in Zimbabwe after trekking up through Botswana and Namibia, and first touring the Cape Winelands and spending time in Cape Town.  $$$$$  Someday..