There are vast depths to singer/songwriter Steve Earle. Not only is he one of the best creative writers in music, having received thirteen Grammy nominations and winning two for Best Contemporary Folk Album, but he writes soundtracks for movies and television (P.S. I Love You, Brokeback Mountain, Pay It Forward, The Horse Whisperer, G.I. Jane, Dead Man Walking, and many more). He's also an actor, having appeared regularly in the HBO prison drama The Wire, and he paints a little, too.
Earle ran his own record label for a few years. "I started a label called E Squared with a friend of mine named Jack Emerson right after I got out of jail in 1995," Earle said in a recent phone conversation. "I recorded for that label with one distribution scheme or another till about three years ago when Jack passed away.... Just having a record label kind of got to be anti art. It got to be sort of like owning a pickup truck and everybody calls you to help them move. I was just so busy trying to keep all that going I felt like I didn't have time to concentrate on what I do." He now records with New West Records.
He's been working on a novel for the past six years, hoping to get that magnus opus done in the next few months. He did finish a book of haiku, a full year's worth of little gems, written one-a-day from wherever he was on the planet. He also published a collection of short stories called Doghouse Roses. In eleven stories, he told the tales of people struggling with drugs, trying to make it in the music industry, or living nightmares in Vietnam. Unfortunately, the literary world raked these human portraits over their ivory tower braziers. Earle never intended to create great art, just human art. And, he's been doing that for decades through multiple artistic genres.
"There's not as much difference as people would think between the job of writing and singing a song or acting or writing a book or a play," Steve Earle said. "The jobs aren't that far apart." Each one, calls upon the artist to walk in someone else's shoes to convey the story. "Some people get confused about that," he said, "but it is the way I approached doing it....That's the job. For me, it always has been."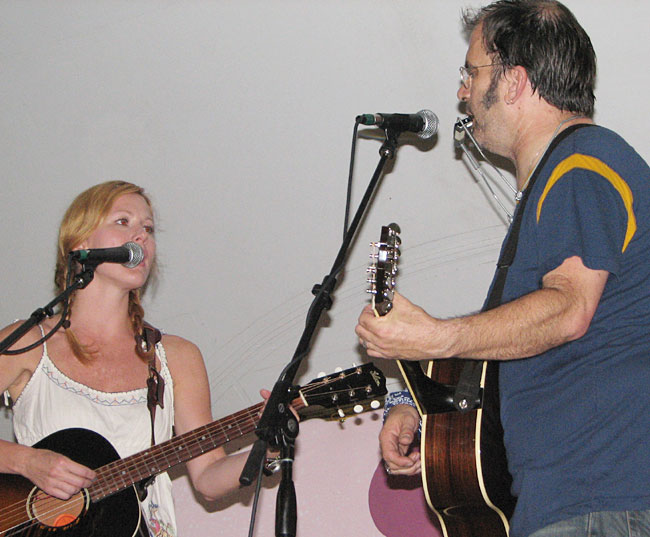 Earle has the uncanny ability to create unforgettable characters, especially in his songs. Responding to a rough cut of the film Dead Man Walking that screenwriter/director Tim Robbins sent him, Earle wrote a gut-wrenching song about a prison guard called "Ellis Unit One." "In The Horse Whisperer, I wrote a song based on the character as I saw it," Earle said, referring to the Robert Redford character, Tom Booker, who had finesse with people as well as horses. "I actually put words into the mouth of one of the characters in the movie."
However, that ability to get inside a character once caused media to vilify him. When "John Walker's Blues," which he wrote in 2002 about the young man who came to be known as the American Taliban, started hitting radio stations, it sent a shock wave throughout the country, with some stations refusing to play it and causing talking heads to smack their mouths in a media frenzy. Yet, anyone who actually listened to the song understood that Earle wasn't being un-American. He merely saw a human being in the eyes of John Walker Lindh. "I have a son that's exactly the same age as John Walker Lindh," Earle said. "I was really relating to that as a father. I saw that kid on TV. He was strapped to board, a skinny 20-year-old kid, and I had a skinny 20-year-old kid of my own at the time."
Earle's skinny little kid, Justin Townes Earle, is now 26 and he'll be playing at the Winnipeg Folk Festival this week. "He's been playing since he was 13 or 14," Earle said. "He was one of those post modern Nirvana fans. He was too young to have been a Nirvana fan when Cobain was alive. The acoustic thing, for him, kind of started from listening to the Nirvana Unplugged thing on MTV. Cobain was doing what he called 'Where Did You Sleep Last Night' and I always called 'In the Pines.' My son was talking about how much he liked that song and I told him it was a Leadbelly song. He got into my records and my Leadbelly records are right next to my Lighting Hopkins records. He sort of went from there." Earle also had video recordings of some of these roots players, including Lightning Hopkins. "He could literally watch those and watch where they were putting their fingers. He plays that stuff really well."
But six years ago, Steve Earle steeled himself for the onslaught that his songwriting would produce. Even before he wrote the lyrics, he ignored advice from fellow musician Elvis Costello and others not to write it. "I knew people were going to freak out," Earle remembered. "I had to make a conscious decision to write it anyway. I wrote it because I was genuinely inspired to do it." Still, he knew that he would not be understood. "There are a lot of people out there who only listen to every third word. At that point in time, most people were reacting to the reaction of a handful of people whose job is to overreact to stuff for the entertainment value of overreacting, the Rush Limbaughs, the New York Post.....I mean, if you're not pissing off the New York Post like I did, then you're not doing your job."
Though Earle's latest recording, Washington Square Serenade, doesn't have a song like "John Walker's Blues" on it, the album is no less stirring. His "City of Immigrants" was written to remind TV pundits who rail against immigration that this country was founded by and continues to prosper because of immigrants. And, "Oxycontin Blues," which is probably the most rootsy cut on this album, is about the widespread addiction of this painkiller in the South where it's known as Hillbilly Heroin.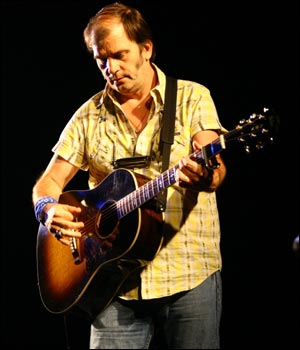 "Before everybody learned the word from Rush Limbaugh, it was in the news," Earle said. "I lived in Tennessee for 32 years. It was in the news in Tennessee, Kentucky, and Virginia. People were crushing it up and either eating it or injecting it or snorting it, and they would die. Tennessee is one of the most landlocked states in the United States; it borders seven other states. It has just never had a particularly dependable supply of class A narcotics. It's always been that way. They've always been expensive and hard to get them in there....Dilaudid was the drug of choice when I was using. Nowadays, it's OxyContin."
Earle is currently touring with his wife, Alison Moorer, (Mrs. Earle number seven, by the way).
He will bring a bus load of instruments: a bouzouki, a mandolin, harmonica, tamboura, harmonium, several guitars including a resonator guitar and a 12 string, and his trusty banjo, a copy of an old White Lady open backed model made by Bart Rider made it. "I only know how to play the kind of banjo that scares sheep. It's a very, very primitive instrument in my hands," Earle said. All of these instruments were used on Washington Square Serenade.
His shows will also feature a club DJ, which you would never expect from an organic roots performer like Earle. However, he does have a very good reason for bringing this guy along. "The way we arrived at this record was over beats," Earle explained. "I recorded loops for the most part and played most of the instruments myself. Much of that I could have done solo, and that would have been fine. But for 'Satellite Radio' and 'Way Down in the Hall,' I just couldn't figure out how I was going to do them live. Then, John King, who produced the record and was also a DJ, suggested that I get a DJ. As it turned out my monitor engineer was a club DJ, and we started experimenting with it, and it works. You just have to see it."
Earle sees another album in the near future, as well as a lot more acting. "I'm doing a film in the fall," he said. "And I'll probably be acting more because I'm starting to get asked to. I like doing it, and the insurance is better."
But he keeps songwriting ever most in his creative repertoire. "Still, my day job is making records and writing songs. But all the other stuff, I bring back to my home-base craft. I found that it makes it better."
Steve Earle grabs life and wrings as much meaning—and stories - out of it as he can, giving this Renaissance rebel a deep understanding of the human heart and human hunger. Catch Earle live in his new tour or savor his latest album Washington Square Serenade.