The storied bluegrass quintet Yonder Mountain String Band showered The Catalyst of downtown Santa Cruz, CA in full form on Wednesday night, March 23rd.
One week into their spring tour, Yonder and opening act Polecat are hitting on all cylinders. When asked about up and coming artists Dave Johnston, founding member and banjo player for Yonder, said they haven't jammed with Polecat – yet.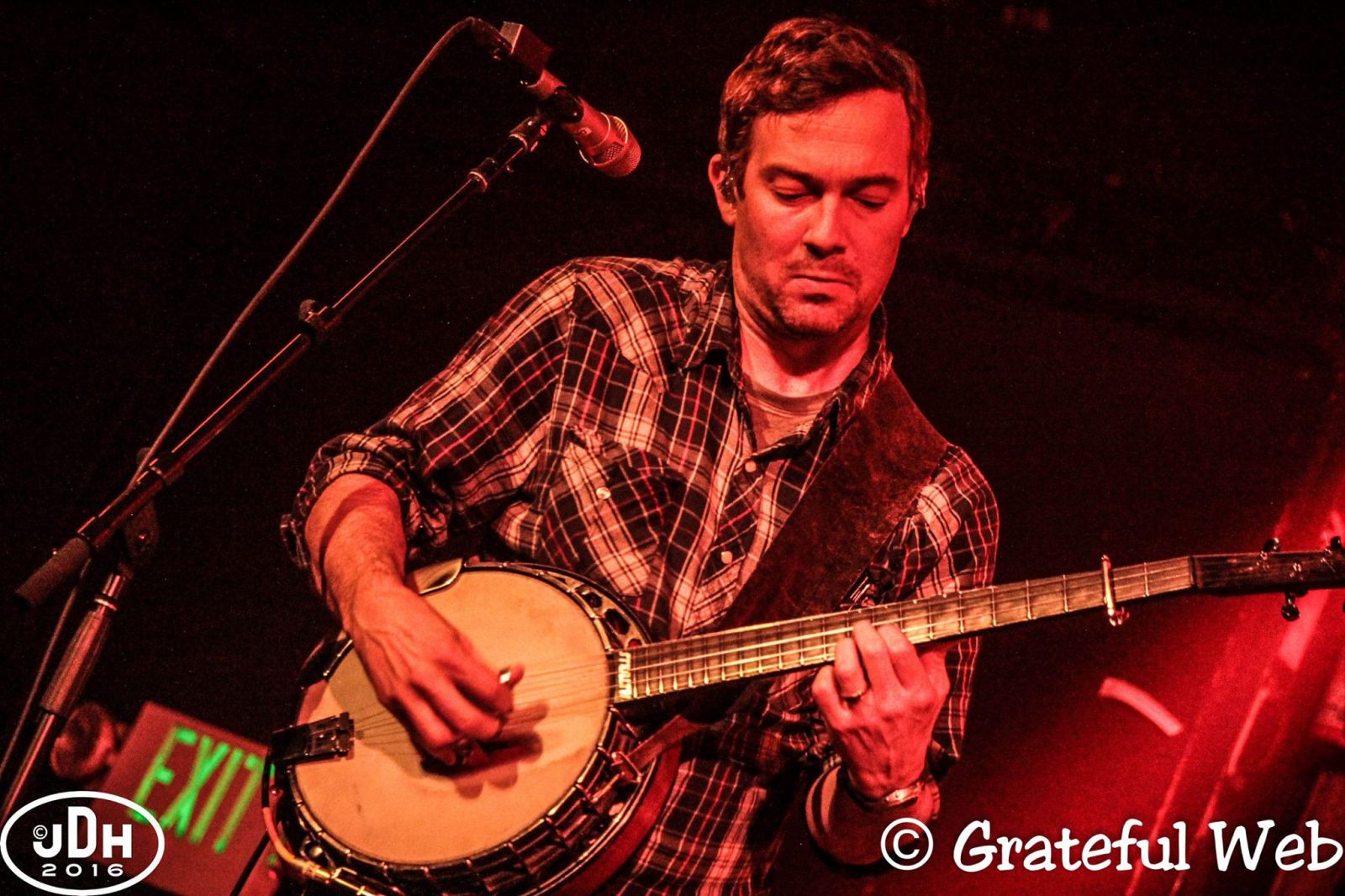 "But I foresee that happening in the near future" said Johnston. It's always fun to share musical ideas and styles with people."
Blending a variety of styles is nothing new for the veteran musicians. Although violinist Allie Kral and mandolinist Jacob Jolliff are both the newcomers (as of nearly two years ago) the group has 18 years of legacy behind it. But only since the addition of Kral and Jolliff has Yonder qualified as a traditional bluegrass band.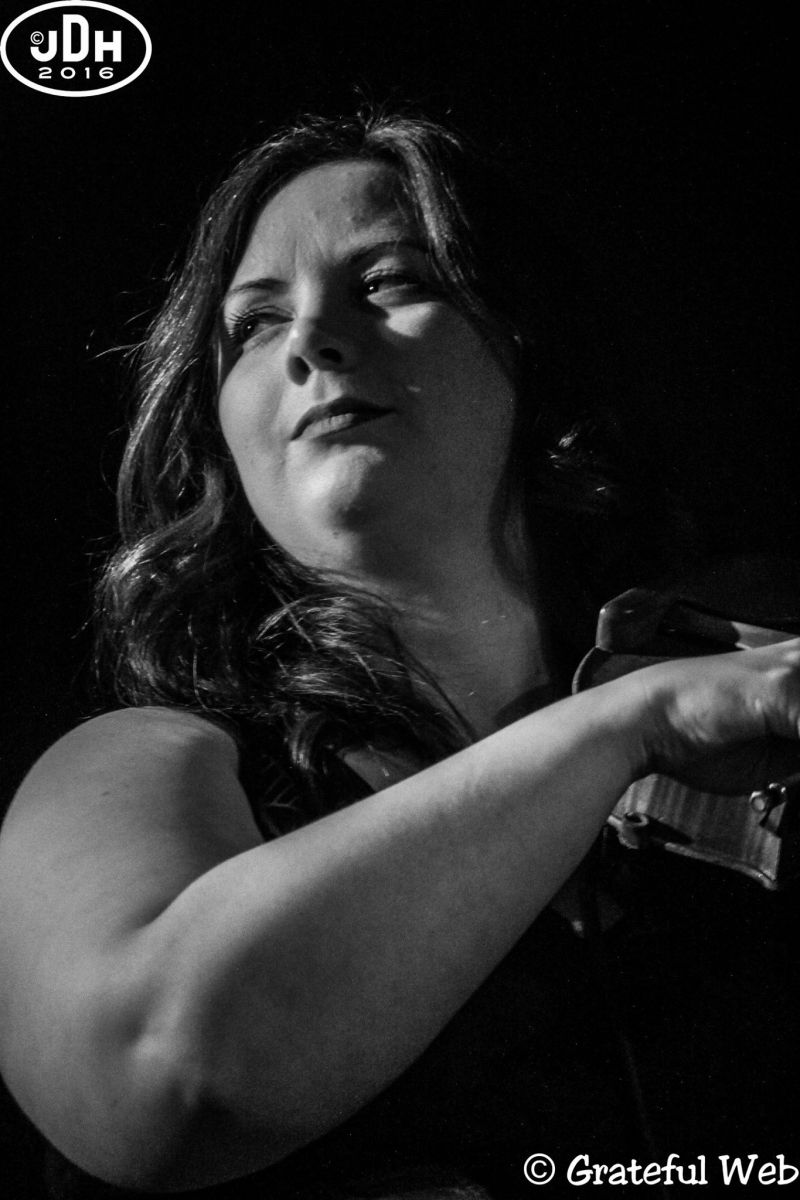 With a laugh at the notion of Yonder falling under definition of a 'traditional' bluegrass band, Johnston acknowledges it is reflected only in the instrument lineup.
"We hadn't really fleshed it out in detail, but we have played with several different fiddle players throughout the course of our career," Johnston said. "We never thought to make it a permanent addition until we met with Allie, and she is committed to helping out and it's been a really great relationship. We really dig the traditional bluegrass vibe, you know, but we don't really feel that we're all that traditional."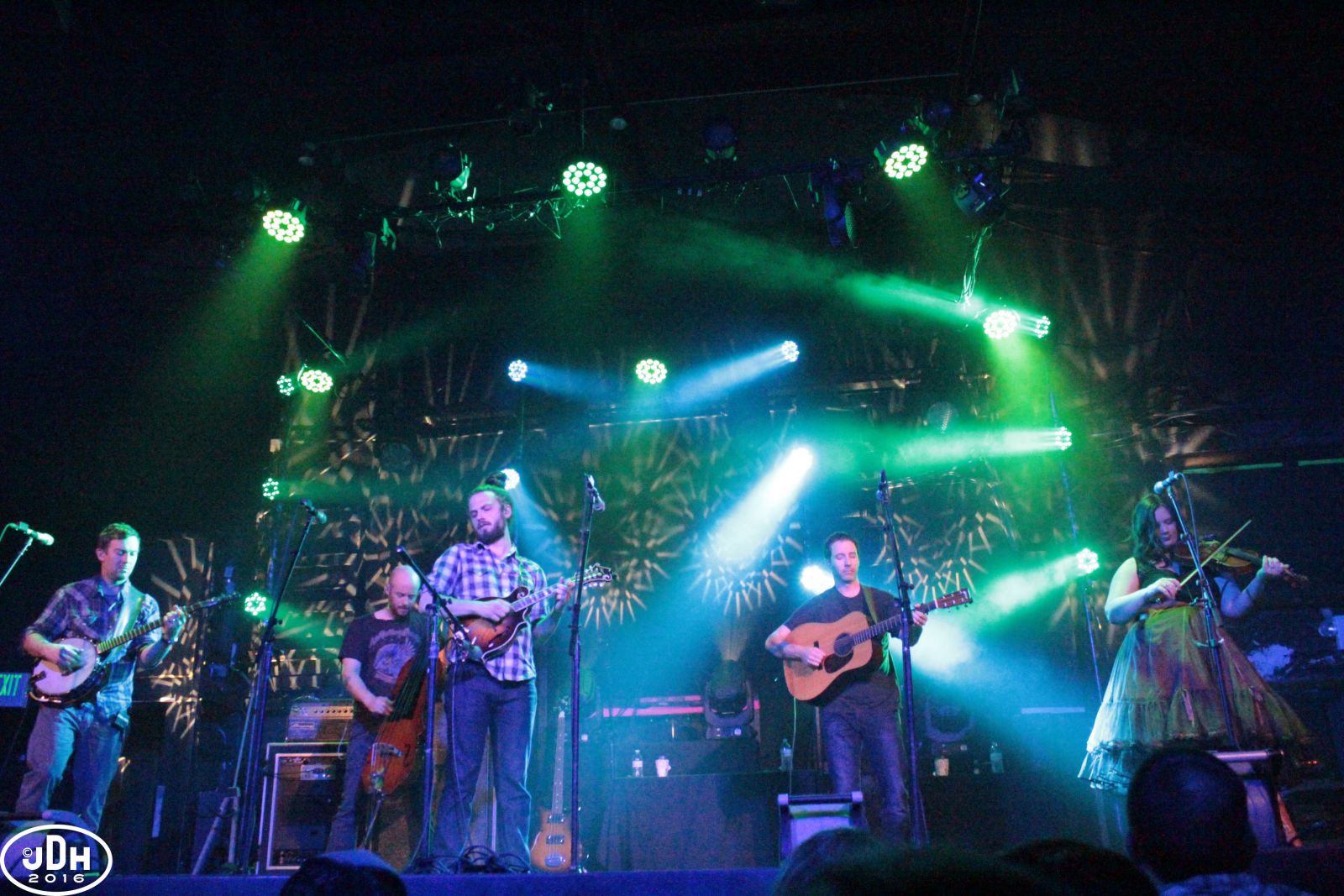 Certainly nobody familiar with Yonder would limit them to traditional, either. Their signature blending of stringed mountain instruments with infectiously danceable disco grooves mesh well with nearly any style, and according to Johnston, the response to the enriched sound on the road has been great.
"The response feels really good and the chemistry onstage is really exciting," he said. "It's sort of like, it makes you feel young again to take those kind of musical chances, it's really good. We're having a great time."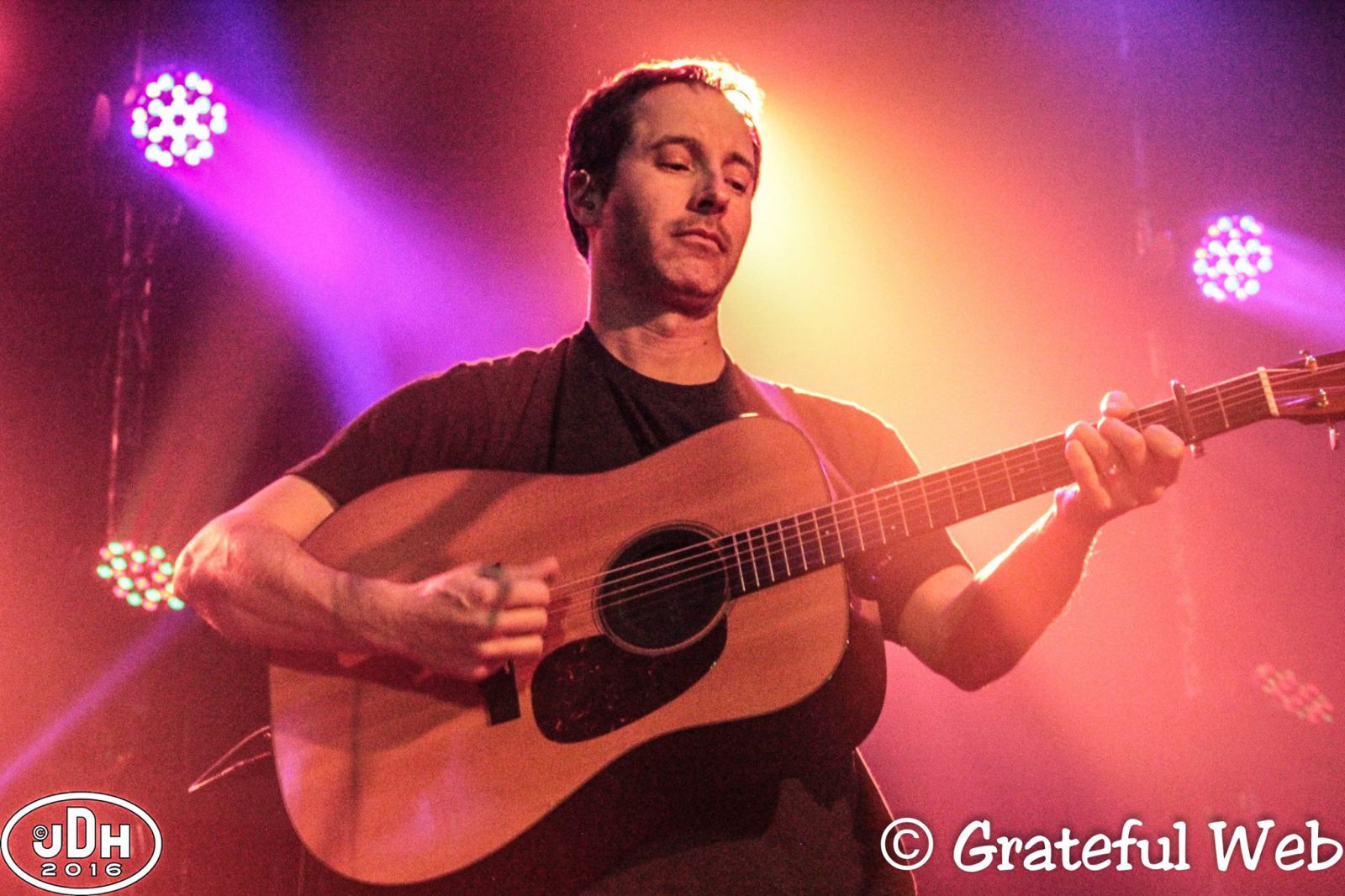 And they proved it in Santa Cruz.
Walking onstage at 9:25 PM, Johnston, Kral, Jolliff, bassist Ben Kaufmann and guitarist Adam Aijala wasted no time getting the show going by launching from a brief noise intro into "The End Is Not In Sight" from the Amazing Rhythm Aces' 1976 album Too Stuffed To Jump.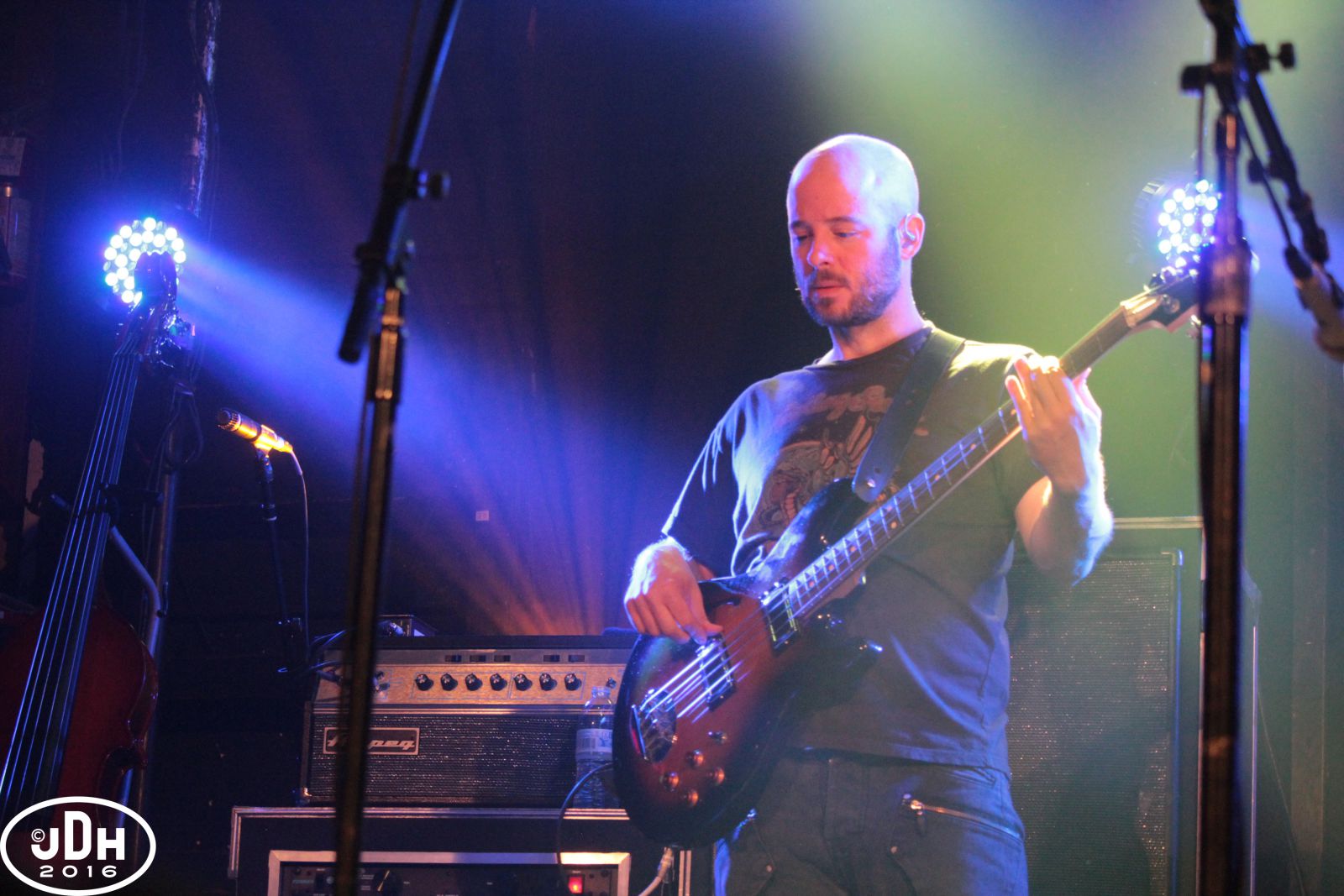 "My Gal", Yonder's take on the traditional bluegrass tune "Charming Betsy" is featured on the first installment live album series Mountain Tracks and saw the first lengthy jam of the evening before slipping into the comfort of "A Father's Arms" from 2001's sophomore studio effort Town By Town.
Yonder moved deeper into nostalgia and comfort with a unique take on "Son Of A Gun", the alt-rock grunge tune by The Vaselines and popularized by Nirvana. A standalone run through of "New Deal Train" arrived next, followed by one of the most fun sections of the set list.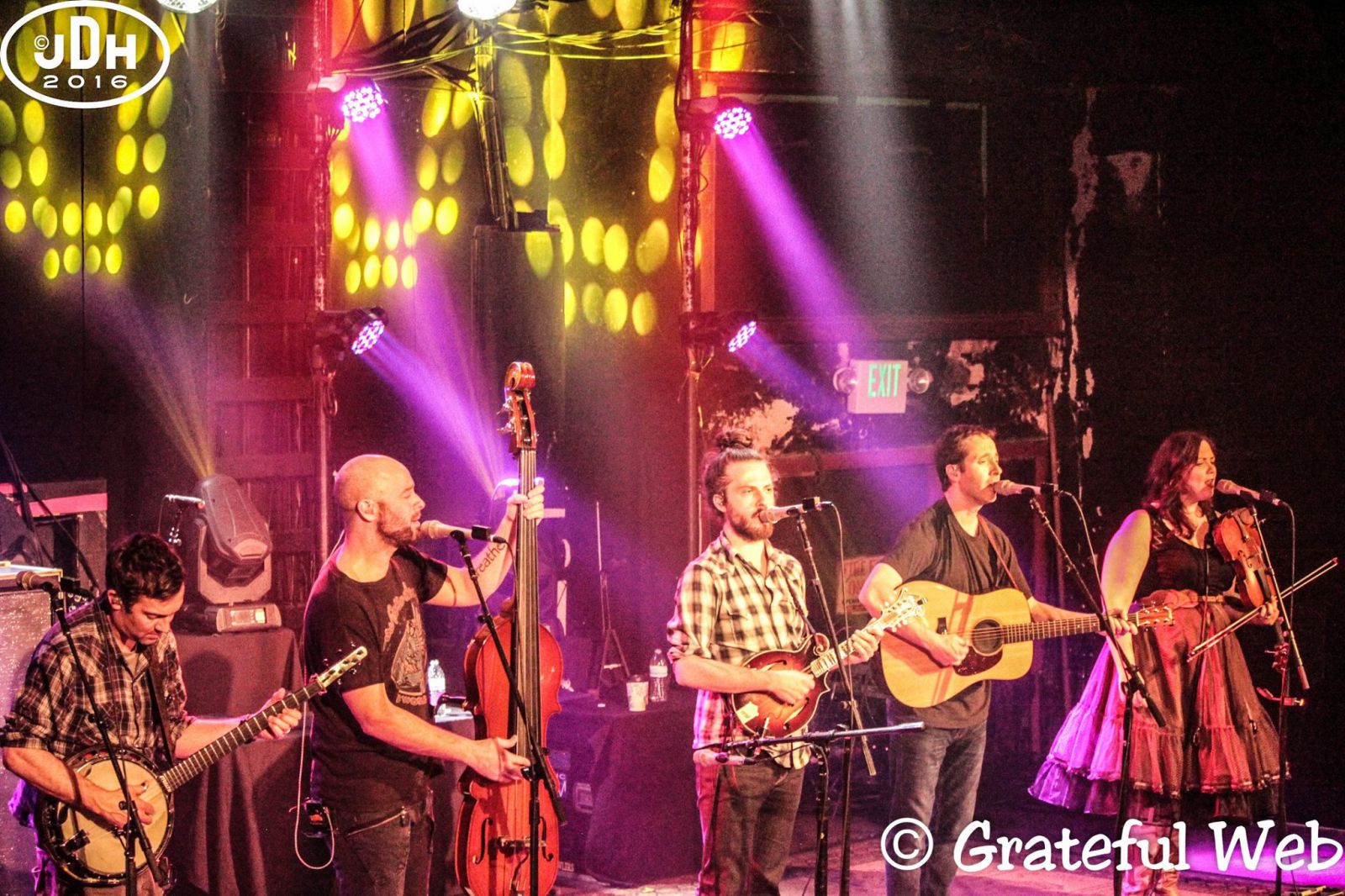 An innocuous, slow beginning with "Honestly", at the middle section of the 7+ minute tune off of 2009's release The Show they drastically sped up the tempo and segued into a cover of alternative-Americana tune "Sideshow Blues" by Todd Snider. Once again, as the middle section of the song approached, Yonder switched gears a third time and segued into a Johnston-led Flatt and Scruggs tune "Polka On The Banjo".
Featuring a heavy, slow driving monotonous bass lie from Kaufmann, Johnston's banjo skills took the center stage. He even almost forgot a few of the words because of his highly emotive playing. Aijala, Kral and Johnston were trading licks and coaxing faster riffs from each other before the song exploded back into "Sideshow Blues" and back again into "Honestly" for an exhilarating half an hour of non-stop picking and otherworldly vocal harmonies smack dab in the middle of the show.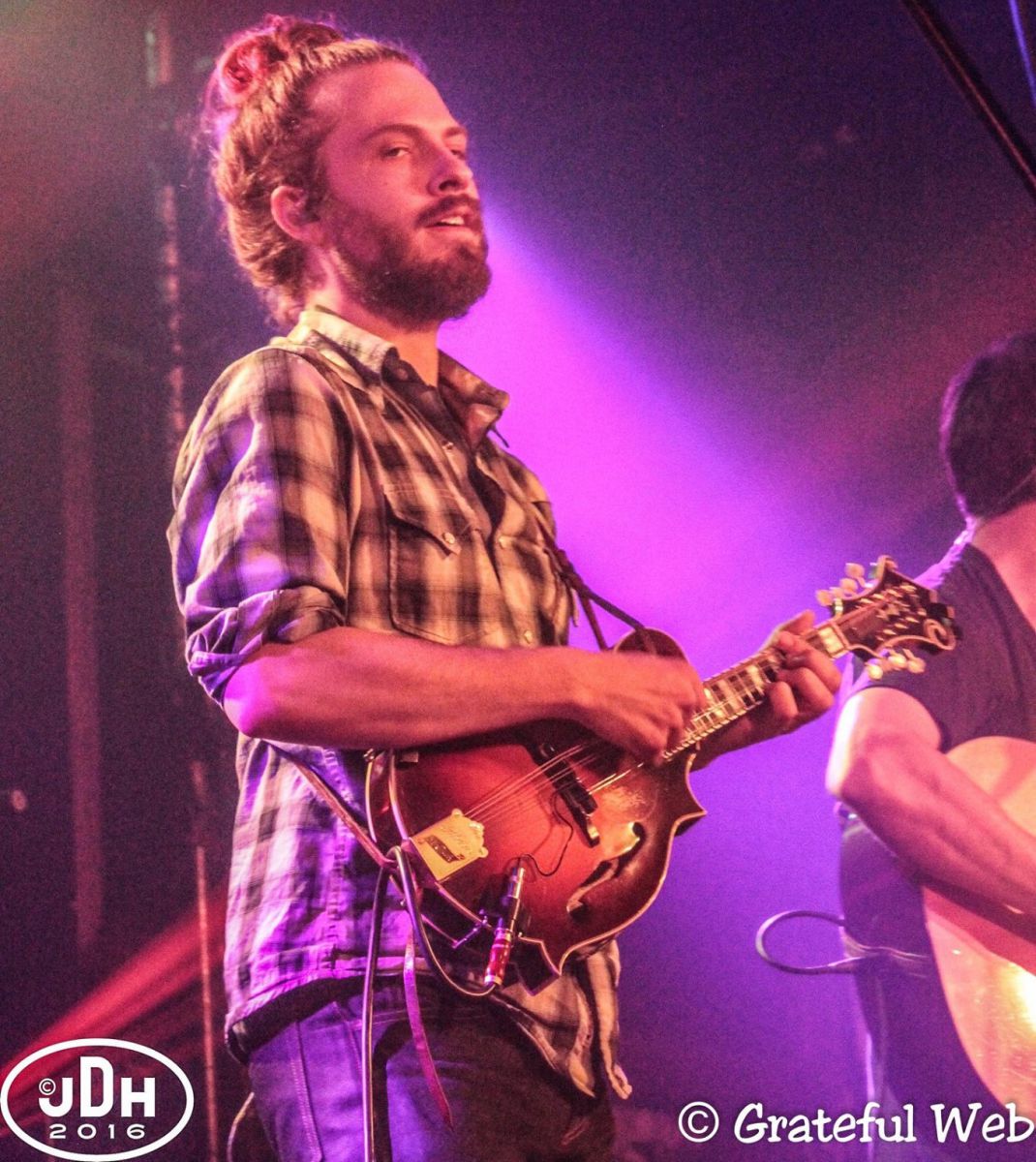 But the action was far from over as Jolliff took vox duties on Gordon Lightfoot's 1966 tune "I'm Not Sayin'" for the 14th play since it debuted in Yonder's rotation two years ago. Another track from 2009's The Show, the band moved into "Isolate".
"We love coming here to Santa Cruz. It's a for real farmer's market here," said Johnston. "We've been walking around, smelling lilac and ocean air, drinking lots of coffee. This song is about those kinda feelings."
Kaufmann set his stand-up bass aside and picked up a standard electric bass to give a more concentrated punch to the low end to the tune. One of the slowest tracks of the evening, "Isolate" provided a brief wave of chill as the single set show had no indication of coming to a complete stop at any point in the evening.
"White Freightliner Blues", the next cover tune to be blessed by the distinct mountain disco twang of Yonder Mountain String Band is a road song by the great Townes Van Zandt. Furious fretwork from all five members were on heavy display across the next two songs as well, "Not Far Away" and "Jail Song".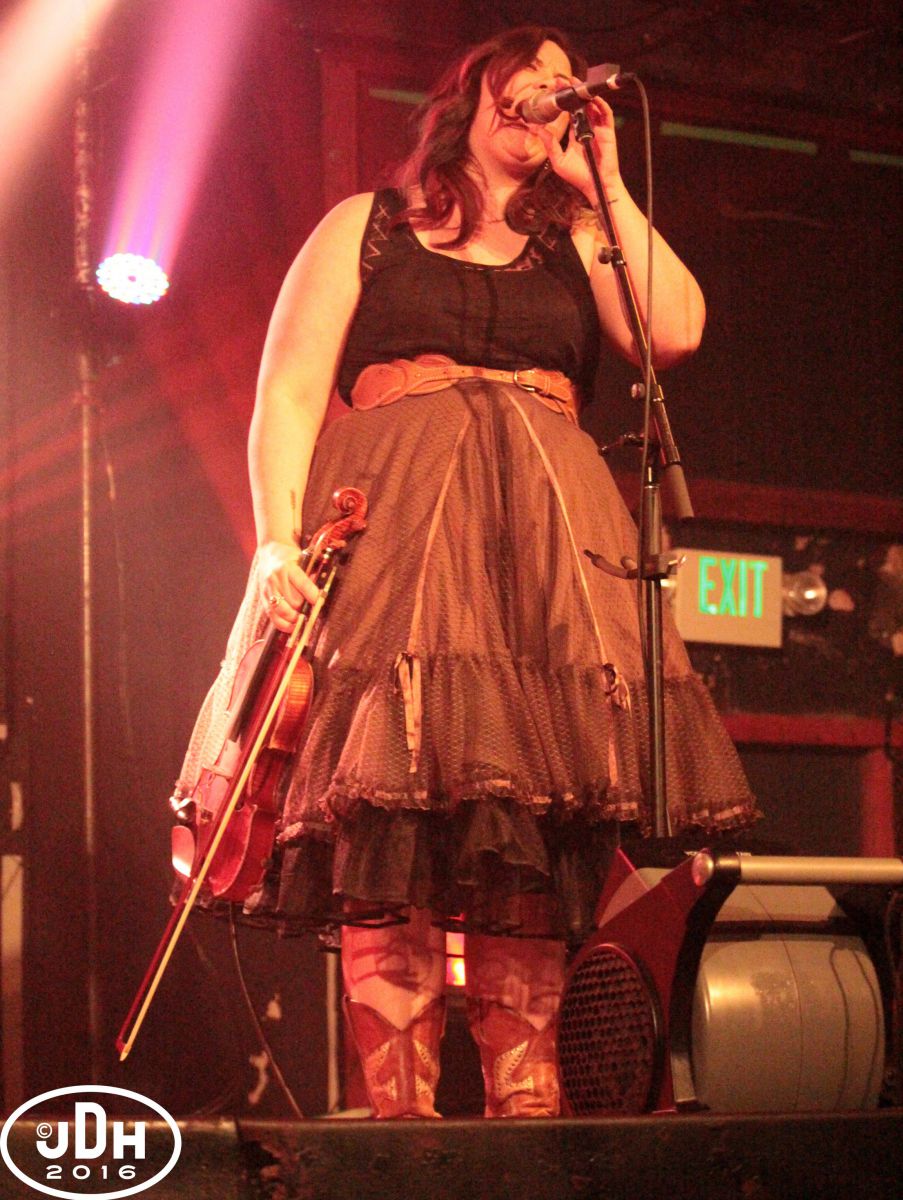 The rock-steady walking bass line of "Gilpin Swing" was a real treat for the West Coast club. Although it peaked in play count last year at 12, it typically makes three or less appearances per year if any at all. "Finally Saw The Light" is another classic Yonder track that was once one of their most played, but as been seeing fewer and fewer plays over the years.
The Rolling Stones' classic hit "Torn And Frayed" made its first appearance of the year and 12th overall since debuting a year and one month prior. The rock n' roll swing of the song carried into the Yonder Mountain rendition with character and ease.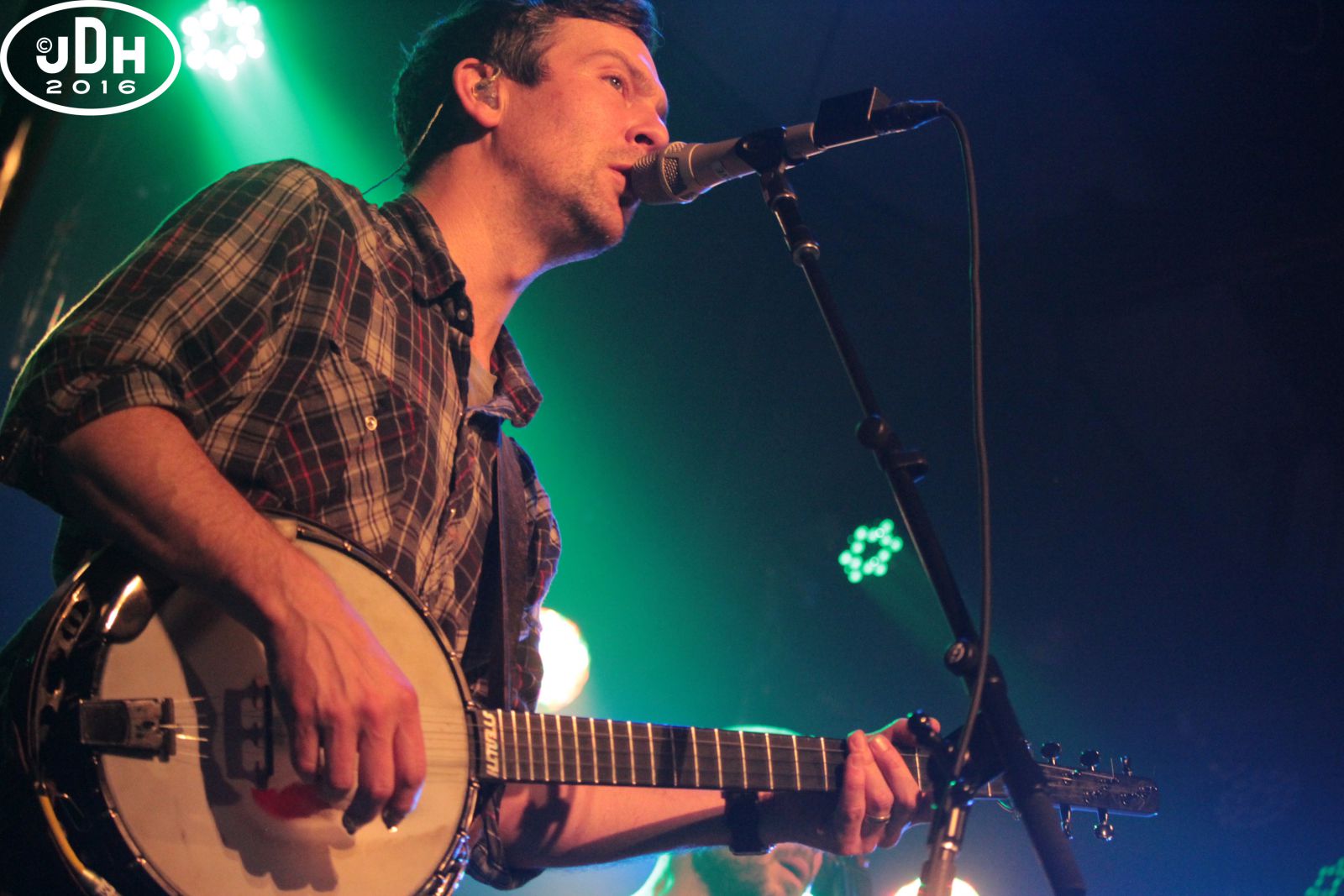 On the phone with Johnston the week before, an interesting fact that arose was that Yonder Mountain String Band had performed at the Democratic National Convention in Denver 2008 where Barack Obama secured the Democratic nomination for the presidency of the United States for Yonder's first and final foray into the world of politics.
"Yea, there was a number of forces at work there," Johnston said. "But you didn't have to have your finger on the pulse of too many political ideas to understand that was a really historic moment and we thought it was a great moment in American politics where we sort of walked the walk for a little bit there." Not more than two weeks following the conversation, Yonder's peers from Kalamazoo, MI Greensky Bluegrass took up the gauntlet at Senator Bernie Sanders' campaign rally in Seattle, WA.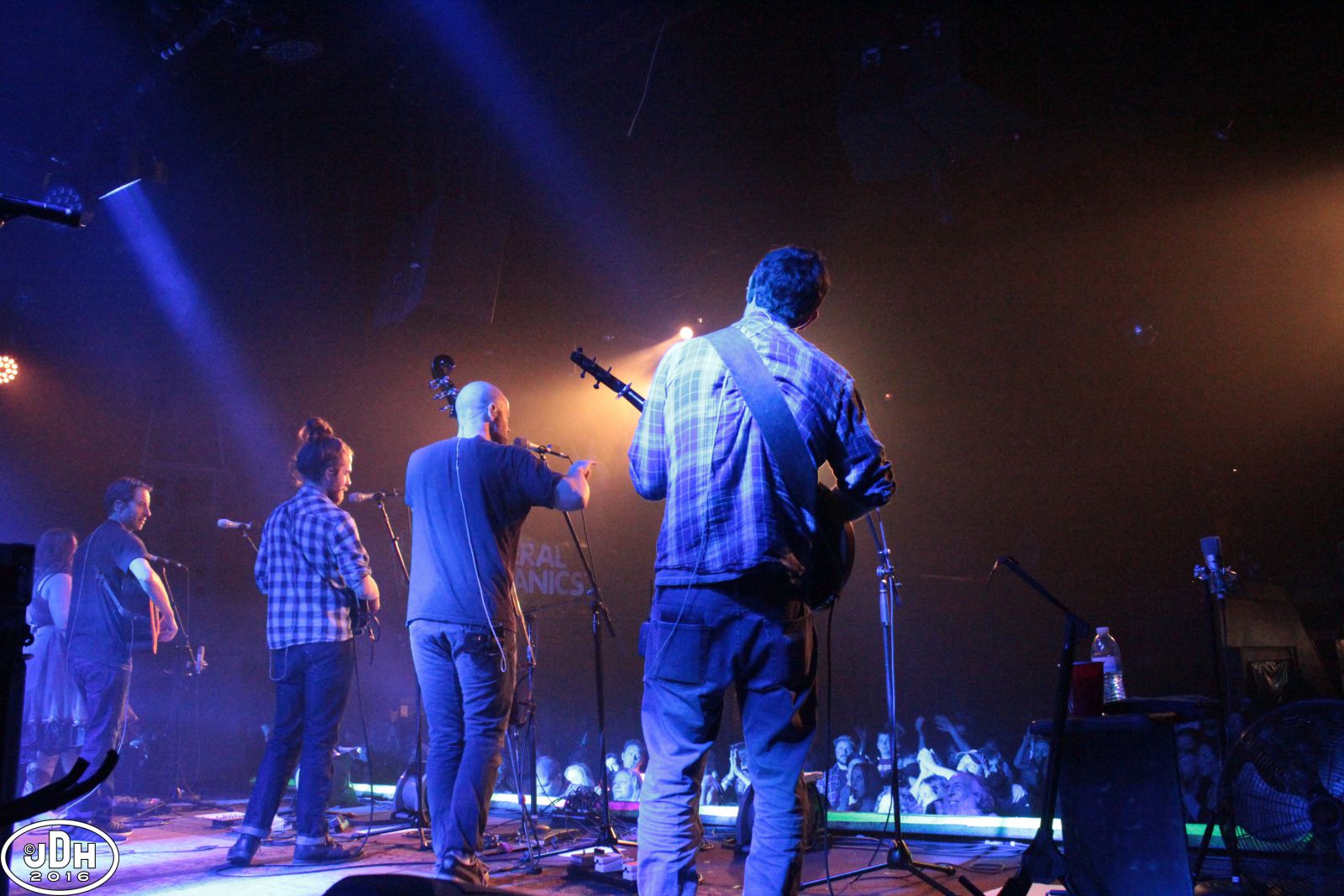 "Rambler's Anthem", one of the band's earliest tunes set the stage for the final piece of music. Each musician held nothing back, from a hard transition into "Kentucky Mandolin" that saw a droning banjo tone from Johnston and the steady thump of the guitar and bass urged Jolliff along in a race with Kral.
Kaufmann took over for an extended bass solo before Jolliff responded by turning on the overdrive and bringing the song back into "Rambler's Anthem" and ended the Wednesday evening show at quarter after 11:00 PM.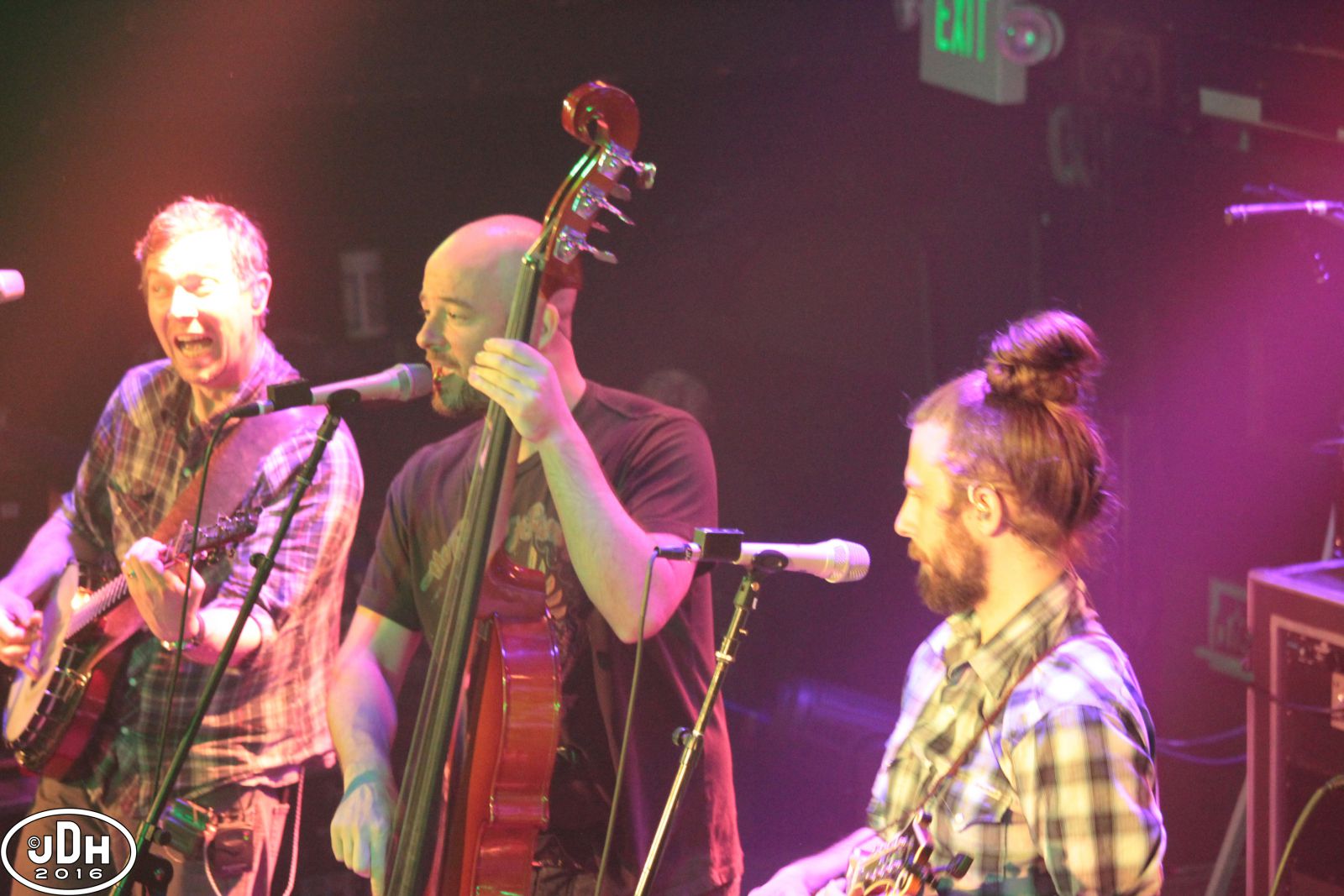 But don't be fooled, they returned to the stage minutes later with all the gratitude and energy of two hours prior, and bust straight into a three cover song encore beginning with Clint Ballard Jr,'s 1963 tune "You're No Good", popularized by Linda Ronstandt in 1975. The title track of the Faces' 1973 album Ooh La La followed, as did an impromptu inclusion of "20 Faces" by punk rock legends The Misfits from their 1982 release, Among Us.
Yonder Mountain String Band continues their tour into the second week of April with support from Horseshoes & Handgrenades, concluding at The Pageant in St. Louis, MO on April 9.
2016-03-23 Yonder Mountain String Band @ The Catalyst, Santa Cruz, CA
One Set: 9:25 PM – 11:15 PM
Set 1: The End Is Not In Sight > My Gal, A Father's Arms, Son of a Gun, New Deal Train, Honestly > Sideshow Blues> Polka On The Banjo> Sideshow Blues> Honestly, I'm Not Sayin', Isolate, White Freightliner, Not Far Away, Jail Song, Gilpin Swing, Finally Saw The Light, Torn and Frayed, Rambler's Anthem> Kentucky Mandolin> Rambler's Anthem
Encore: You're No Good, Ooh La La, 20 Eyes