Jackson Browne on October 26 headlined a rousing and inspiring benefit in Sacramento, in support of California's Yes on Prop. 62 / Repeal the Death Penalty election effort. The legendary singer/songwriter has advocated musically for positive social change initiatives since the 1970s. During the course of the entire show, Browne was as affable and funny as he was skillful, performing each tune with great dedication and reverence. During his 90-plus minute set, Browne accompanied himself on piano and myriad acoustic and electric guitars, and didn't miss a note. He was also self-effacing and swayed far from the set list he had on the floor in front of him. At one point during the final few numbers, he amusingly scolded himself, saying "I'm doing the opposite of a professionally sculpted set."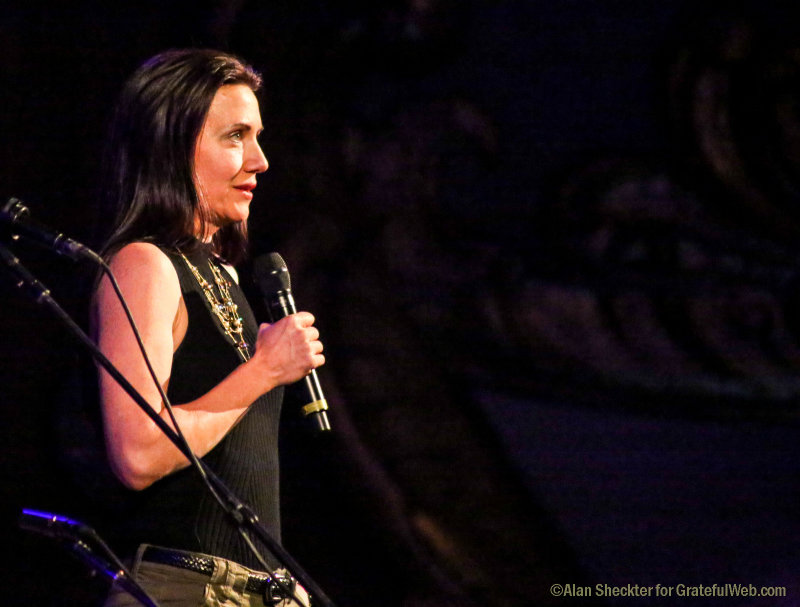 Dionne Wilson, who spoke before Browne's set, is the widow of a police officer killed in the line of duty in 2005, but supports that abolishment of the death penalty in California. She said to the attentive crowd, "Some people say the death penalty is the ultimate justice. But to me, the ultimate justice is making sure crime victims get the services they need and we can't do that if we waste $150 million a year on a failed system that does nothing to increase public safety and that only delivers 'justice' to less than 1% of all crime victim family members."
Browne's material included a few tracks from Browne's 2014 album, "Standing on the Breach'' as well as career-spanning old favorites such as "Running on Empty," "Late for the Sky," "The Pretender," "In the Shape of a Heart," and I'm Alive." He also delivered Warren Zevon's "Monkey Wash Donkey Rinse," Bob Dylan's "License to Kill," and a rousing version of Steve Van Zandt's "I Am A Patriot."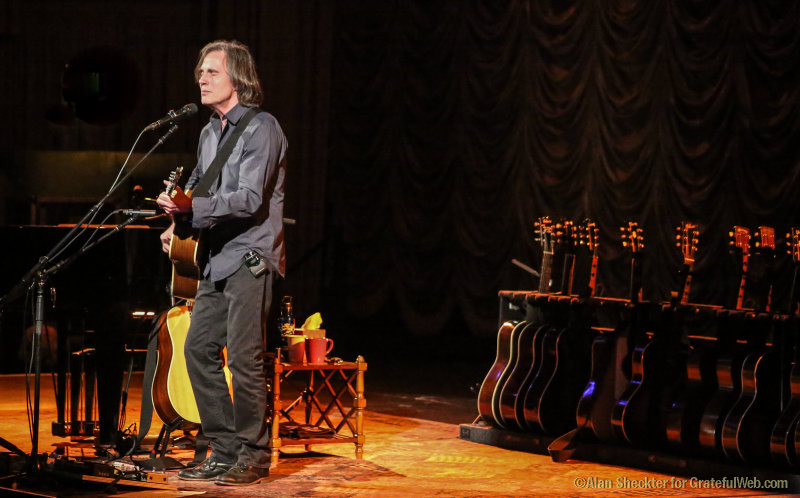 Clearly, politically, Browne still calls 'em like he sees 'em. From the current's CD's "I'm Long Way Around," he sang in skewering fashion: "It's a little hard keeping track of what's gone wrong / The covenant unravels, and the news just rolls along / I could feel my memory letting go some two or three disasters ago / It's hard to say which did more ill / Citizens United or the Gulf oil spill."
A Bob Dylan song Browne chose to perform, noting that Dylan was the latest Nobel Laureate, included this hard-hitting, Election-2016-appropriate message: "Now, he's hell-bent for destruction / he's afraid and confused / And his brain has been mismanaged with great skill / All he believes are his eyes / And his eyes, they just tell him lies." Possibly more endearing to the crowd was Browne's story of the time he spent in Havana with famed Cuban revolutionary singer/songwriter Carlos Varela. Browne translated Verela's "Walls and Doors," which includes the declaration, "There can be freedom, only when nobody owns it."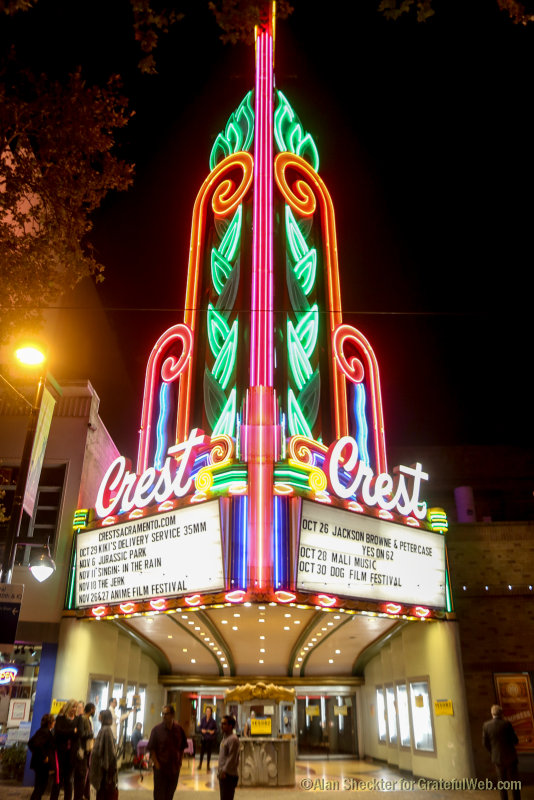 But the favorites of the night were the old songs of sensitivity, love, and personal struggles that concertgoers have held dear for decades. In "Rosie," for example, which dates back to 1977, people, some with their eyes closed, swayed softly in their chairs as Browne delivered such life-lesson lyrics as, "Of all the times that I've been burned / By now you'd think I'd have learned / That it's who you look like / Not who you are."
Browne's canon of material is quite extensive, if judged only by the breadth of different song titles that eager fans requested to be performed. A couple of tunes, such as the old love song, "Rosie," were carried out. People to the left, right, and directly in front of him barked out their favorites prompting Browne to liken it to an auction. He really didn't seem to mind; however. He was humbled by the process and said that he appreciated it. "They're all MY songs," he said proudly and a little sheepishly.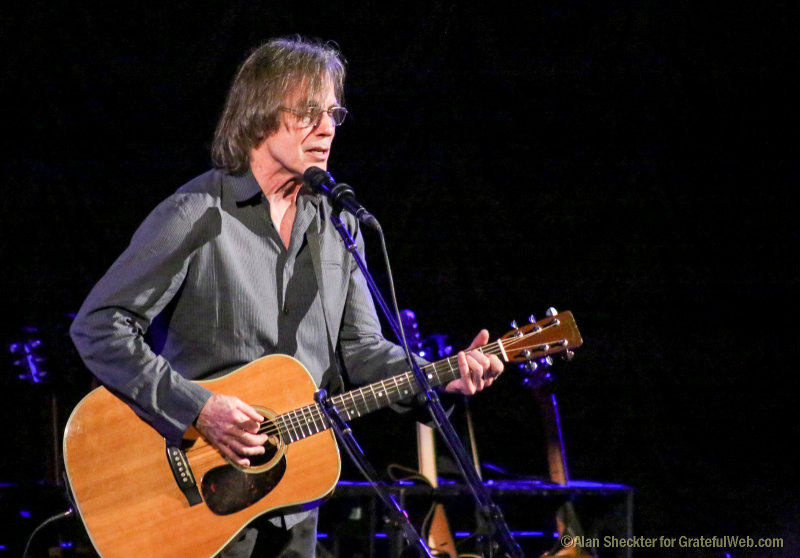 He thanked the Yes on Prop 62 activists and also thanked "everyone who's working so hard on this election." He thought for a second and joked, "Well, not EVERYONE!" He then mentioned that a lot of people say that everyone should vote, no matter who they vote for. "I'm not going to say that," Browne proclaimed. "It really DOES matter who you vote for," garnering laughs and more applause.
Also on the bill was veteran singer-songwriting troubadour Peter Case, who laudably regaled the crowd during his warmup set. Case, a friend of Browne's for more than 30 years, is a fairly unsung great American musical minstrel. Strumming and finger picking with a bold clarity that showcased distinctly the high end and bass end of his guitar, Case also sang with an emotional, slightly rough vocal delivery that added to his dynamic journeyman's charm. Case's compelling set, which included material from of his latest project, "Highway 62," began the show with an obscure eight-verse Bob Dylan song that dates back to 1963, "Long Time Gone."
His set also included the thoroughly apropos – for this night – "Pelican Bay," a prison-plight ballad that he introduced by saying," there are 8,000 in solitary there; here's a little toe-tapper about that." In addition, Case delivered "Old Blue Car," a Grammy-nominated song from his self-titled 1986 solo debut; "All Dressed Up (For Trial);" "Ain't Gonna Worry No More," and final song, "Put Down the Gun."