Before the luxury of pushing a button or selecting a setting to fabricate a sound or sound effect, musicians had to create the sounds they wanted themselves. Portland's indie folk quartet Horse Feathers maintains these older standards, bringing a household hand saw to the instrumental line up and introducing violin bows and drum sticks to surfaces other than those intended. Switching among various instruments in live performance to reproduce those sound qualities from the record, Horse Feathers put on a show that was a treat for the eyes and, aside from a cloak of lethargy that covered the band, an always enjoyable and gratifying listen for the ears.
Made up largely of strings with little use of much percussion and piano, the band lends itself both on stage and in the studio to a very quiet, acoustic sound. Though dependant on the weaving together of each instrument, much of the depth Horse Feathers achieves in their folk sound owes to multi-instrumentalist Sam Cooper. While some songs feature Cooper on violin alongside Nathan Crockett and Catherine Odell on cello, the greater part of his playing, and what contributes to the blue-grassy sound of the band, takes place on the banjo. Played next to a violin, cello, and acoustic guitar, the banjo makes for the twang that gives Horse Feathers a stronger, more full sound that adds not only flavor, but support.
Cooper is also the man behind the bits of percussion and piano that come intermittently into their songs, making for a fun juggling act to see in live performance that is also revealing of how the band makes and achieves those little nuanced sounds. Bringing quips of banjo and violin into multiple songs, Cooper was often sitting behind his drums gripping a drum stick between his teeth or holding tight to a violin underneath his chin as he changed back and forth between piano, banjo, violin and drums.
Aside from his teeth, Cooper's drum sticks also met the metal stands of the drum set that hold it together. Next to the bass drum, cymbals, and some tambourine, the thin poles supporting the drum set were the only other percussion, Cooper hitting the sticks against their hollowed out bodies. Steadying a cymbal and running a violin bow across its thin edge, Cooper brought a more eerie sound to the otherwise mellow, calming set. Crockett added a more solemn sound to the atmosphere, using a violin bow on a simple hand saw. Bending the saw while simultaneously pulling the bow across its edge, as done on "Cascades," Crockett produced an even more eerie sound not unlike that of the theremin.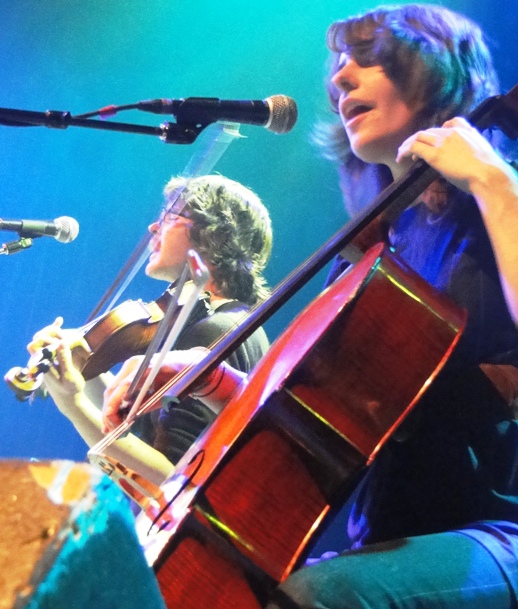 Though by way of these techniques Horse Feathers brought to life the cold, grave sound of "House With No Home" and the light, jaunty timbre of "Thistled Spring," they did so with a lackluster quality of energy. Technical difficulties with the violin got the show off to a slow start, after which the music came into full swing, but not with its ample potential. Not only was the instrumentation deficient of force, but so too were Justin Ringle's soft vocals in the same way not met with a sense of vigor. The quartet did their parts and played them well, but lacked a drive that, in its absence, made for a hollow performance that was wholly delightful overall, but neglected the feeling of fullness and depth. Potential energy gave way to climatic points in each song, but lost that excitement with each verse leading to and coming down from that peak. Emotion that was missing from the show reared its head during the encore, only to be unfortunately dismissed by two broken guitar strings in a row, yielding that song unable to be performed and forcing the band to pick up instead with an unexpected cover of Nirvana's "Drain You."
The last Colorado saw of Horse Feathers prior was at the Hi-Dive last March, where the group walked through the crowd to get onto the tightly packed stage barley large enough to fit them all plus their instruments. Fox Theatre heard those same songs Friday night, only in the absence of the spark behind it that made their Denver performance last spring so arousing. Live performance is changed and varied in this regard, but the music created is not. Despite the cloud of listlessness that held them down, Horse Feathers brought their folk melodies and a warm home atmosphere to their set, creating and reproducing sound by their own means with clever of objects and their surroundings.