For more than a decade Marco Benevento has been amassing an extensive résumé of composition and collaboration, sparking the interest of a seemingly endless list of acclaimed musicians, including Carl Newman, Mark Eitzel and Matt Chamberlain, all leading to collaborative efforts.
Forthcoming album, TigerFace, due September 11 on The Royal Potato Family, was recorded and mixed by Tom Biller (Silversun Pickups, Elliot Smith, Fiona Apple) and Bryce Goggin (Pavement, Antony & The Johnsons, Akron/Family). His fourth studio album to date, it represents Benevento's next jaunty step in the exploration and evolution of his precise yet freewheeling piano-driven songs. Over the course of the ten track effort, the pianist incorporates a myriad of sonic color and melody, while calling upon musicians like drummers Matt Chamberlain (Brad Mehldau, Bill Frisell), John McEntire (Tortoise, The Sea & The Cake) and Andrew Barr (The Barr Brothers), bassists Dave Dreiwitz (Ween), Reed Mathis (Tea Leaf Green) and Mike Gordon (Phish), violinist Ali Helnwein (Traction Avenue Chamber Orchestra) and saxophonist Stuart Bogie (Antibalas, Superhuman Happiness). Additionally, for the first time on record, Benevento uses vocals, inviting Kalmia Traver (Rubblebucket) to sing on two tracks. "This man is really on to something special," says Traver, describing the recording process as "a blast of yes-wave amazing fun energy--there were no 'NOs,' only lots of laughter, belting and joyousness.'
Benevento's previous releases, Between the Needle and Nightfall [2010], Me Not Me [2009] and Invisible Baby [2008] have reached critical acclaim from the likes of NPR, The Village Voice, The Los Angeles Times and Relix. Rolling Stone's David Fricke described his music as, "deceptively rich, catchy melodies and straight-ahead grooves that expand with subtle mounting gestures." In addition to leading a successful career as a solo artist, heavy attention has also been given to his group projects like Garage A Trois, Surprise Me Mr. Davis and The Benevento-Russo Duo.
With a triumphant return to the limelight, Benevento shows a different side of himself on TigerFace. "I blindly and fearlessly opened up some doors to different sounds on my record during the course of two years," Benevento explains, "TigerFace is the beginnings of a new, more melody driven sound with the focus on the impact of the song from start to finish."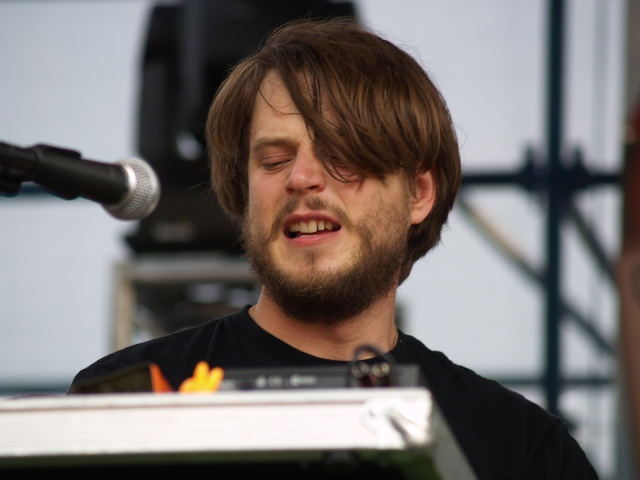 Be sure to catch Marco Benevento at upcoming tour dates and festival appearances this summer. Plans for a cross country U.S. tour this Fall and Winter in support of TigerFace will be announced shortly.
-
TigerFace Track Listing:
1. Limbs Of A Pine (featuring Kalmia Traver of Rubblebucket)
2. This Is How It Goes (featuring Kalmia Traver of Rubblebucket)
3. Fireworks
4. Going West
5. Eagle Rock
6. Soma
7. Do What She Told You
8. Escape Horse
9. Basilicata
10. This Is How It Goes (Instrumental)
Upcoming Appearances:
6.29 :: Fairfield, IA :: Café Paradiso
6.30 :: Iowa City, IA :: Iowa City Jazz Festival
7.08 :: Quincy, CA :: High Sierra Music Festival
7.11 :: New York, NY :: Hudson Square Music Festival ***FREE***
7.27 :: Floyd, VA :: Floyd Fest
7.28 :: Asbury Park, NJ :: The Press Room
8.01 :: Denver, CO :: Dazzle
8.02 :: Denver, CO :: Dazzle
8.03 :: Telluride, CO :: Telluride Jazz Festival
8.10 :: Turin, NY :: moe.down
9.14 :: San Rafael, CA :: Terrapin Crossroads