Chris Robinson, front man for The Black Crowes, has been touring around with a band he calls The Chris Robinson Brotherhood. It's wonderful to see such a prominent figure like Robinson play in intimate venues like the Fox, close up, starting from scratch. The Brotherhood sounds a lot like The Grateful Dead. Apt since Robinson recently toured as part of a trio with Bob Weir, front man for The Dead, and singer/songwriter Jackie Greene. The Brotherhood is tight, and they boogie and rock n' roll. It sounds bluesy and soulful and, with the keys, it's even jazzy at times. And several people that I talked to at the show felt that this authentic display of music is Robinson's best work thus far.
Robinson is lead vocals and rhythm (and sometimes lead) guitar. Neal Casal is on lead guitar and vocals. Adam MacDougall is on keys and vocals. George Sluppick is on drums. And Mark Dutton is playing a vintage looking bass and vocals.
Incense smoldered as it leaned out of an owl shaped holder perched on the stage where The Brotherhood appeared, looking like a pack of genuine hippies. They began playing a song called Tomorrow Blues. A lyric I like from the song goes, "Been on the road so long my shoes turned to sand." They transitioned into a minor jam and into Mother of Stone, i.e., the Chris Robinson and New Earth Mud song.
After Mother of Stone, Robinson greeted the audience with his signature charm and wit, something about having been on "frontier adventures" and being able to sit around the campfire "to share our musical tale."
Then the band took on Bob Dylan's Tough Mama, which had a funky sound. Robinson impressively helped on lead guitar, and the music grooved. After Tough Mama, we heard a sad beautiful contemplative Brotherhood song called Beware. Then, after a song that sounded like Little Feat, Brotherhood went into a cover called Hello L.A., Bye Bye Birmingham. A lyric goes:
I ran out of transportation funds, I had to hitchhike
I caught me a ride with a tattooed dude on a motorbike
People gonna know when I'm in town
Heads are gonna turn when they hear my sound
Nancy Sinatra had also covered Hello L.A., Bye Bye Birmingham too –fun.

Next, they played a great Crowes song, Appaloosa from 2009s Before the Frost…Until the Freeze. After that they finished the set with a song called Tulsa Yesterday. Again, people experiencing this show were reminded of The Dead. We were on a journey: instrumentals, harmonizing, multiple changes on keys and guitar, "space," poetic guitar work, thumping beats, and guitar driven jams that – when Chris and Neal play together – are as real as the Allman Bros.
The second set jumped with Saturday Night in Oak Grove, Louisiana, i.e., a Tony Joe White cover. The following song is called Star or Stone. It seems beautifully written. Maybe I'm reaching here, but lyrically the beginning seems to be an allusion to or simply describe a scene from Christ's story:
I was 13th at the table when the wine was passed around
Amid an air of suspicion my glance was met with callous frowns
After the first few stanzas, the lyrics seem to become a lonesome piece of poetry. Mid-song, the group jammed, and the motoring and souring guitar work was outstanding. The Brotherhood then played Sunday Sound, another New Earth Mud song –"Just like water on the ground, we will find our way!"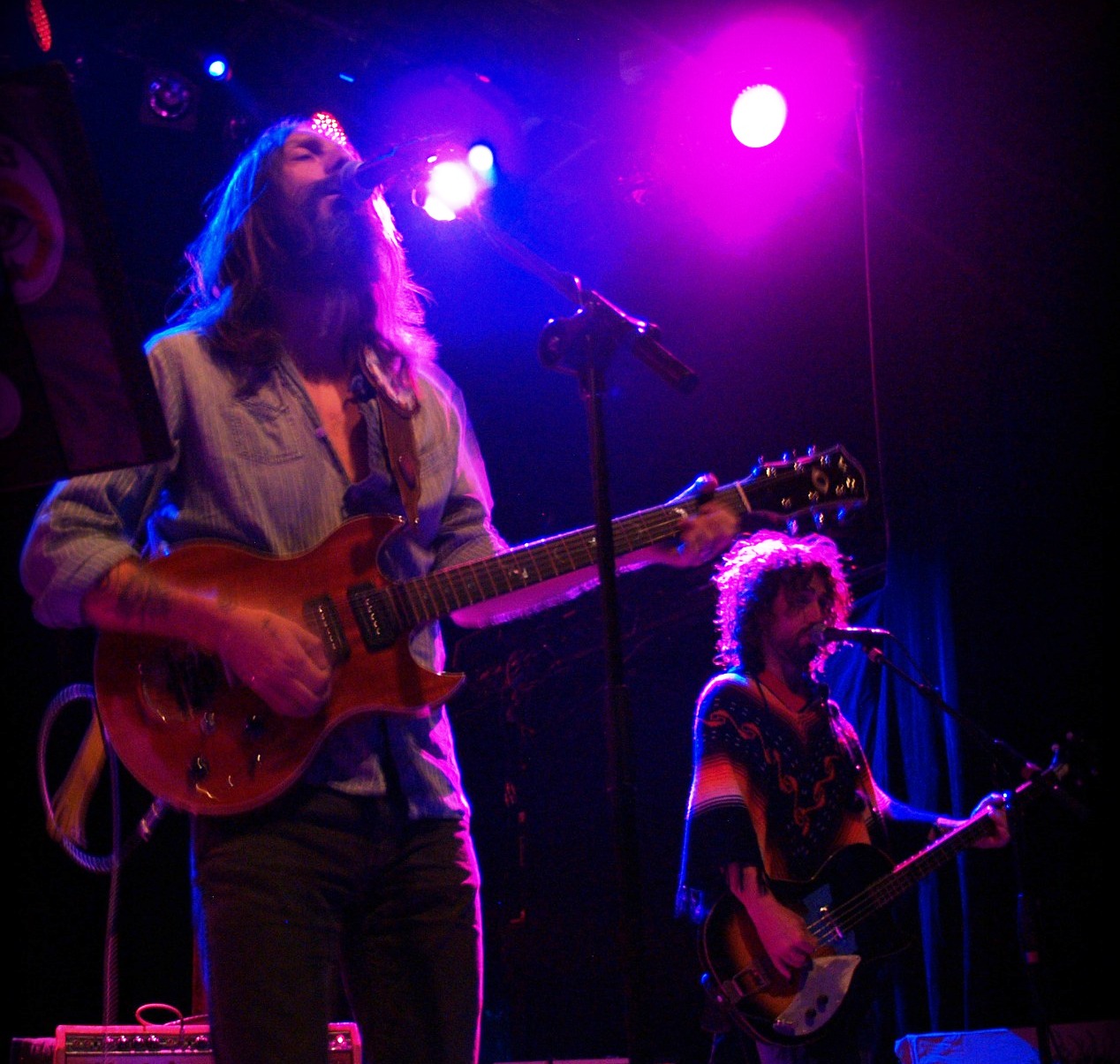 The following song was a definite highlight; they played The Dead's West L.A. Fade Away –the crowd was really digging it!
They played two or three more songs, amongst them was Little Lizzie May, a hot Crowes number, and The Sorrows of a Blue-Eyed Liar, a sober, desperate and beautiful sounding ballad-like song. The last song was Rosalee, which was extended, full of changes and musical twists and turns. The Rosalee keys are funky, and it rocked and rolled, and then there was space – sounding like stardust confetti in the void – and it found its way back, grooving and shaking.
The encore started off instrumentally, with Hot Buttered Biscuit, and I swear, there and throughout the night, especially from that keyboard, I heard Herbie Hancock and Cannonball Adderly in between the windswept guitar rock. Then they covered That's How Strong My Love Is, and it was real good soul. The last one was Muddy Water –rock n' roll, baby!
I know Robinson is a big deal, and he doesn't need to worry; he will always have an audience. However, the feeling is that he's still a very underrated talent. He's got a great distinct voice, and apparently he is quite skilled on his guitar, and he's a great performer who truly does what he's passionate about. The music is both a nod to all great American music and authentic for the now; Robinson and the people he surrounds himself with make it their own. They own it, and it feels great to be apart of it.