Leftover Salmon is pleased to announce 2013 Spring Tour! Highlights include Suwannee Springfest, three intimate evenings at the Bluebird Theater in Denver, a trip to Texas for Old Settler's Music Festival and the Houston International Festival, and a special run of shows in the southeast. The tour closes at the Howlin' Wolf in New Orleans during Jazzfest!
LOS Fan Ticketing for the Spring 2013 goes on sale February 7th at 10:00am MST.
LoS's New Years Run is now available for download. And Strings & Sol (Tulum, Mexcio) is available NOW for FREE!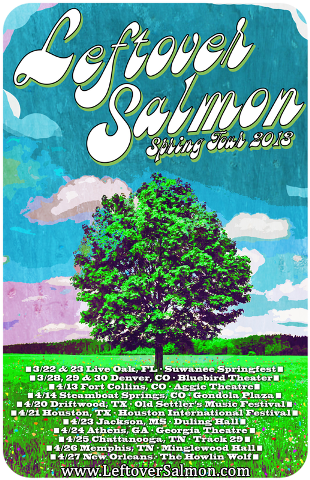 Mountain Stage will be rebroadcasting Leftover Salmon's performance from April 2012; it will hit the airwaves February 8th. Be sure to tune in! Air times vary by station, please check your local listings.

Leftover Salmon Spring Tour Dates
Fri-Sat, March 22-23 Live Oak, FL - Suwannee Springfest
Thu- Sat, March 28-30 Denver, CO - Bluebird Theater
Sat, April 13 Fort Collins, CO - Aggie Theatre
Sun, April 14 Steamboat Springs, CO - Gondola Plaza (Free Show)
Sat April 20 Driftwood, TX - Old Settler's Music Festival
Sun, April 21 Houston, TX - Houston International Airport
Tue, April 23 Jackson, MS - Duling Hall
Wed, April 24 Athens, GA - Georgia Theatre
Thu, April 25 Chattanooga, TN - Track 29
Fri, April 26 Memphis, TN - Minglewood Hall
Sat, April 27 New Orleans, LA - Howlin' Wolf