Justin Ancheta is a music making, social changing, conscious spreading, teacher and artist. His eclectic style of reggae flavored indie-rock, funk and jazz is a down-to-earth and moving music with lyrics that reveal his passion for community, awareness, and change. He has been working on creating a style of music coined 'Folklyrico Americana' – showing his roots from Northern California's Sierra Mountains. Ancheta has played with Joan Baez and opened for the Wailers, Creedence Clearwater Revival, Charles Neville, Ricky Skaggs, and numerous other internationally renowned artists. Ancheta has released five independent albums in the past 4 years, selling over 12,000 CDs without label support. After a successful Kickstarter campaign, Ancheta is to release his first full-length studio album in over five years. He has gained recognition in Northern California, Hawaii, and Europe, and is excited to pursue the dream of making music to inspire a peaceful revolution towards more sustainable societies (notice the plural).
Ancheta's newest CD, 'Plant' is set to be released in April 9, 2013. It was recorded in Northern California at 4 different locations; Grass Valley – Sunsound Studio's, JW Studio's in SF, Lighthouse Recordings in San Anselmo, and Mixed at Hyde Street, Studio C in San Francisco. The songs have been a collection of writings from the past 8 years, since Ancheta has moved to the Bay Area to pursue a musical career. After years of working the streets, selling thousands of CDs hand to hand while playing on warm – cold – and even rainy nights and days, Ancheta simultaneously dove deeper into the music scene of the Bay Area, gaining recognition as a singer, composer, and accomplished classical guitarist and tres player.
He now performs regularly at the top music venues in the Bay Area including Slim's, the Independent, Cafe Du Nord, GAMH, and many others. Ancheta has created multiple albums in the past, solo and with the band 'Pills & Jackets', formerly 'Sinclair', yet this is the first fully produced album he has ever envisioned in this way; styles to create a movement for recognition and acceptance of each other. For a list of lyrics, and a brief description of each song by Justin Ancheta, you can visit: http://justinancheta.bandcamp.com
Busy with the full band project, Ancheta, to keep things rolling with passion, he takes time to play with Cradle Duende (Klezmenco-Hop from San Francisco), Shake Your Peace (Whup-Music), numerous solo shows (Justin Ancheta-Acoustic), as well as sitting in with other local and international touring artists. Ancheta was a featured artist at the Hawaii Spirit Festival 2010 on North Shore Oahu, Wanderlust Festival Lake Tahoe, MannaFest Grass Valley, headlined Barcelona's first Bicycle Music Festival, and was a featured artist at San Francisco's prestigious Yoshi's Jazz Club.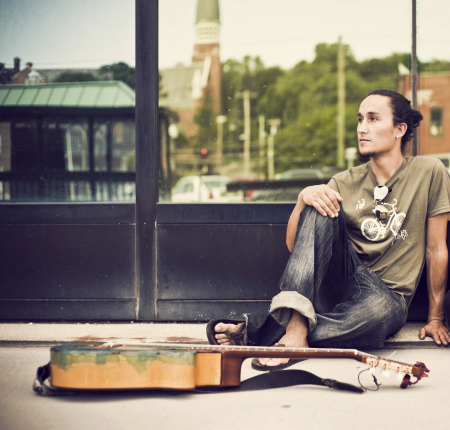 With this eclectic array of musical tastes and styles, Ancheta's new release(s) show a taste for compassion to show the differences between cultures describing the melting-pot effect of his own multi-cultural background of being born-and-raised in northern California. His father is a Filipino/Spanish/American from Hawaii, and Mother an English/Norwegian/American with family roots going back to some of the first settlers on Native American land. While being raised in the Sierra Foothills close to Auburn, California, Ancheta didn't realize his own ethnic background until much later in his life. Now living in San Francisco for the past eight years, he has dove deep into his cultural past, pulling melodies and lyrics from old folk songs from the Philippines, Flamenco from Spain, and the Hawaiian Reggae from Hawaii and Cali roots. This artist is here to represent a piece of time in history where we turn the page to truth, with all the grotesque underbelly, Ancheta hopes to reveal the weakness of the beast and allow for the people to feel true peace and prosperity once again, an image he can only describe when dreaming of old ways of the Natives of this land that he speaks of in his songs.
The new Album is released April 9th, 2013. The featured track 'Better Predicament' focuses on the topic of the turning of the age of Aquarius and seeing what comes from us watching what we feed to the next generations, hoping for the awakening to be seen now – and created now.
And stay tuned for new on the upcoming releases of 'Justin Ancheta Acoustic' as well as 'Cradle Duende' and 'Shake Your Peace' – all due in 2013.