Jorma and Vanessa Kaukonen will open the doors to The Fur Peace Ranch Center for Art & Culture, Meigs County, Ohio in a grand celebration bringing the country the Psylodelic Gallery and the Psylodelic Sit-In. The event will shine a spotlight on the art and installations at the new Psylodelic Gallery and provide a prime opportunity for area representatives to echo the inspirations and goals of the psychedelic era. Big Brother and the Holding Company will perform at 8 p.m. Earlier, Jorma will host an interview with Big Brother and record their historical perspective, which will then be a part of the museum's archives.
The Psylodelic Sit-In will be a combination of booths from a variety of area vendors, merchants, artists, musicians, and activists who can shed light on issues, fixes, and improvements they would like to see happen. The Sit-In will also invite patrons to take part in family-friendly activities like tie-dye workshops, face painting, games, and contributing to an ever-changing art installation – painting "Darwin" the VW Bug.
Skip down the guitar neck sidewalk into the silo filled with posters, clothes, and history. Record your favorite 60's era memory (We know you remember...you just haven't been tellin'!) or paint what's on you mind. Saturday, June 29 from 11 a.m. - 5 p.m.
At The Gallery: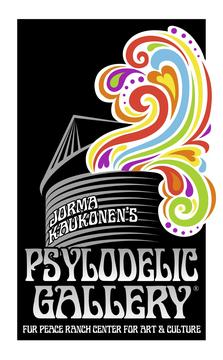 Permanent Exhibits – The gallery displays show posters from some of the best-known acts of the decade, clothing and jewelry worn at Woodstock, original photographs, art prints, guitars, and much more.
Video and Audio Storyboards – Patrons can record their own experiences
"Found Art" Projects – Allowing patrons to create their own unique pieces of art.
Guest Lecturers and Speakers – A series of events will include artist Wes Wilson known for his Fillmore posters commissioned by Bill Graham, musicians, writers, and other influences from the psychedelic era.
Collaboration with Local Schools – field trips, projects and contests on the art, music, literature, clothing, and jewelry of the 1960's. Including using the beat of the songs and the combination of cornstarch, water, and food coloring over a plastic-wrapped speaker for a Psychedelic "non-Newtonian" liquid light transformation right before your eyes.
Community Nights – Films, concert footage, and a liquid light show for all age groups.