Analog Players Society's New EP, CKY to JFK is Available Now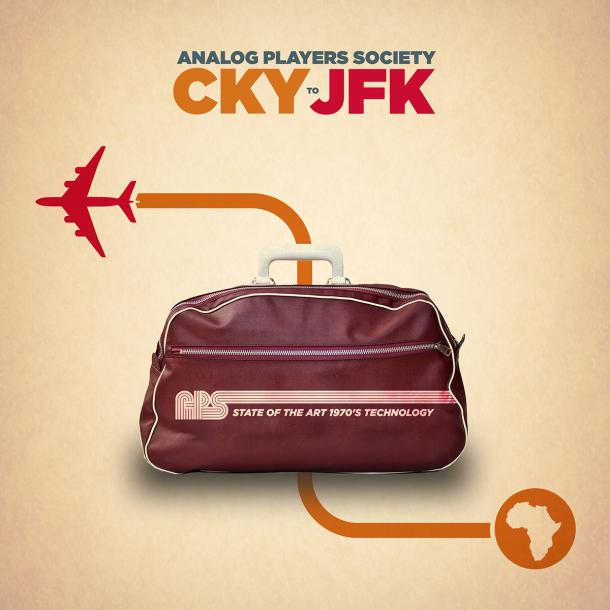 Fresh on the heels of their critically acclaimed Hurricane Season In Brooklyn album, drummer and studio don Amon returns to his Analog Players Society project with a 3 track excavation entitled CKY to JFK Vol. 1.  Setting out to explore his original West African influences, this project is once again a collective effort spearheaded and curated by Amon in his home turf of The Hook Studio and features a revolving cast of singers and musicians close to the cause, this time hailing from the country of Guinea.
Things kick off with "Coule'ba", a foot-stomping track with an infectious guitar lick, a pulsing synth bassline, percussion blasts and the soaring, powerful vocals of Missia Saran Diabate, a well known Guinean vocalist who has made an indelible mark on New York City's West African Jazz scene.  Next up is the live vibe of "Korosi" with its killer drum break, inspired horns, Highlife guitar, deep percussion and call-and-response vocals from Petite Conde and Missia Saran Diabate on backup. Rounding off the EP is "Moula", a driving, spiritual joint with mystical balaphone melodies, sky-high vocals and four to the floor drums. It's a beautiful, hypnotic track that would not sound out of place in a late night Berlin club or a sunrise DJ set at Burning Man.
This is the brilliance of the Analog Players Society – a seamless melding of traditional vibes and instrumentation and razor sharp studio wizardry coupled with modern Dance production in a way only they can do. Watch out for the single from the next album dropping in May – there's much more where this came from!
Tracklisting:
1. Coule'Ba (feat. Missia Saran Diabate)
2. Korosi (feat. Petite Konde & Mamady Kouyate
3. Moula (feat. Missia Saran Dioubate & Famoro Dioubate)
4. Coule'Ba - Version
***
More info:
In 2009, deep in the heart of Red Hook, Brooklyn at The Hook Studio, Amon was laying the foundation for his new project – Analog Players Society. He came to The Hook Studio the year before as a new partner. The studio was raw and intriguing. He was fresh from 4 years of playing as the resident percussionist for Afrokinetic and hungry to get back to recording music. Up until that time, he had been messing around with electronic / drum-centric material but it wasn't satisfying his artistic desire to play real music with other musicians. He was tired of working "in-the-box". His new studio digs put him in an incredibly creative space with a revolving door of great musicians. He came to The Hook Studio by way of Peter Fand, a fellow student of M'bemba Bangoura and M'bemba's best student and mentor to Amon, Michael Markus. As you can imagine, they did a ton of West African music, and it was AMAZING! They were lucky to be recording and making music with master musicians and living legends from Guinea and Mali.
MISSIA SARAN DIABATE – An incredibly powerful vocalist. Well-known in Guinea, West Africa and in New York in the havens of West African Jazz such as: Barbes, Zinc Bar, and The Shrine. A Guinean version of Tina Turner comes to mind.
MAMADY KOUYATE – Super Tropical Jali Band, Bembeya Jazz Orchestra, Mandingo Ambassadors. A Legendary Guitar virtuoso straight from the amazing birth of afro-Jazz in Guinea West Africa during the 60's and 70's This master musician also toured the globe with the world renowned Bembeya Jazz Orchestra. Later he was granted political asylum and now lives in New York City where he leads his own group The Mandingo Ambassadors.
FAMORO DIOUBATE was born in Conakry, Guinea into a griot family He is the grandson of El Hadj Djelli Sory Kouyate, a living legend of the Mandeng balafon. Famoro played in several groups across West Africa including Mory Kante's orchestra. Here in the states he leads his band Kakande and produces a variety of West African talent, truly, too many acts to name.