Jonas Friddle & The Majority Release 'Use Your Voice' on July 16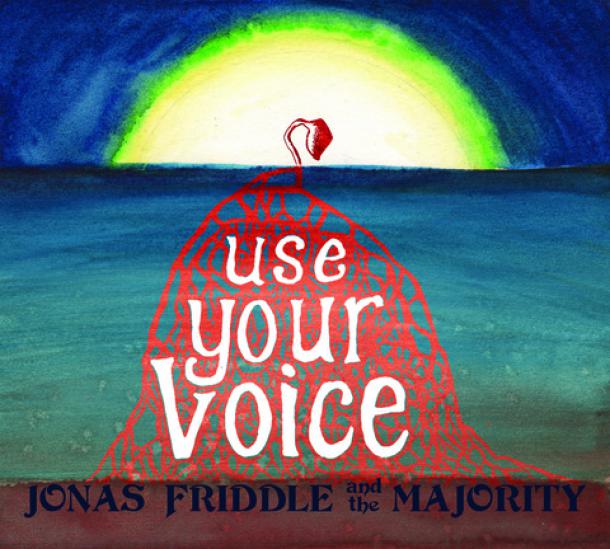 The Windy City has been a hotbed of diverse musical talent for more than a century, building jazz, blues, folk, country and rock scenes that have spawned some of music's most enduring talents. The newest ingredient in this musical melting pot is Jonas Friddle and The Majority, a seven-piece band who met through Chicago's Old Town School of Folk Music. On July 16, the band will release their third album, Use Your Voice, an engaging follow up to last year's release of Belle de Louisville and SyncoPony, a pair of promising records.
Friddle & The Majority play "orchestral folk" along the lines of Lake Street Dive and Joy Kills Sorrow, punching up their acoustic, roots-based sound with horns and a string section. This blending of instruments and styles—in addition to the wide spectrum of influence that each musician brings to the band—allows them to put their unique touch on old-time standards like "Keep My Skillet Good and Greasy" and "Black Eyed Suzie," while originals like "Use Your Voice" and "Biscuit Baking Blues" display not only the band's technical prowess, but Friddle's award-winning skill as a lyricist (in 2012, the band won the folk category at the John Lennon Songwriting Contest and received an honorable mention at the Telluride Troubadour Contest).
With a rapidly filling calendar--an album release show at Martyrs' is scheduled for July 19; two days later, the band will perform at celebrity chef Rick Bayless' Fiesta Fundraiser to benefit local family farms—Jonas Friddle and The Majority are poised to have a breakout summer as they bring their genre-melding sound to a wider audience and add their own chapter to Chicago's musical history.
TOUR DATES
July 19, 9 p.m.: Martyrs (tickets are $10 in advance, $12 at the door, 21+)
July 21, 5-9 p.m. Fiesta Fundraiser at Rick Bayless' Home and Garden (rickbayless.com)
August 31, 7:30 p.m.: City Winery (all ages)