Real Gone Music continues to chart regions of unexplored musical space with its September 3 fleet of releases, which features a legendary concert by one of the biggest bands of the '70s alongside two acts improbably gaining fame 40 years after the fact, two underappreciated female singers of the '60s, a country contrarian pushing against the Nashville Sound force field and the missing piece in the late-'70s East Coast power pop and new wave scene. Jefferson Starship's July 1975 concert in New York's Central Park drew 100,000 people to hear the band on the eve of the release of its wildly successful album Red Octopus; Real Gone's double-CD includes the complete concert, long cherished by bootleggers for its incendiary performances. Soul diva Claudia Lennear won the hearts of Mick Jagger and David Bowie; now, fans won over by her performance in in the new documentary 20 Feet from Stardom can check out her only solo record, Phew! And Jackson 5 soundalikes Ponderosa Twins Plus One have improbably gained newfound fame recently from Kanye West's prominent sample of their song "Bound" on his new album Yeezus -- our release features their lone original album plus four bonus tracks, all never on CD before.
Then, Real Gone changes course for one of the label's specialties, female singers of the '60s. She could coo love songs or belt it out with the best of the female rockers; now, Jo Ann Campbell's complete Cameo recordings see their first-ever reissue, including rare singles and unreleased material. Hailed as "The Voice of the '60s" and "The Pepsi Girl," Joanie Sommers was another amazingly versatile '60s songbird; Come Alive! -- The Complete Columbia Recordings features all of the recordings she cut for the Columbia label, all new to CD. Also on Columbia, Stonewall Jackson's hardcore honky-tonk recordings of the '60s and '70s seemed positively radical in an era dominated by the smooth Nashville Sound. Real Gone's Original Greatest Hits collects 24 of his most enduring sides. And the label's September 3 slate concludes with a collection over five years in the making. The Paley Brothers: The Complete Recordings adds 11 unreleased tracks to the long-coveted album that Andy and Jonathan Paley released on the Sire label in 1978, including a track the duo recorded with Phil Spector. A power pop essential.

New York City 1975. The city is teetering on bankruptcy, mere months away from President Ford's infamous "Drop dead" speech. And over 100,000 well-lubricated fans attend a free concert by Jefferson Starship in Central Park. What could go wrong?

Actually, unless you were a tree, not much (a constant theme of the concert is threats by the police and park staff to shut down the show unless fans get out of the trees, and the Starship and the concert sponsor, WNEW-FM, had to pony up for park repairs after the event). Jefferson Starship: "Live in Central Park NYC May 12, 1975" presents the band on the eve of the release of Red Octopus, mere months away from ascending commercial heights never attained by the Airplane, and they are absolutely on fire -- there's a reason this concert ranks among the most treasured bootlegs in Airplane or Starship tape collector circles. The material ranges from songs off of their debut Dragonfly ("Ride the Tiger," "Caroline") to tunes from the forthcoming Red Octopus ("Play on Love," "Fast Buck Freddie") to Airplane faves "White Rabbit," "Somebody to Love" and "Volunteers," performed by the early Starship line-up of Paul Kantner, Grace Slick, Marty Balin, David Freiberg, Craig Chaquico, Pete Sears, John Barbata and Papa John Creach. The Kantner-Slick-Balin vocal dynamics have rarely been better than on this recording, and guitarist Chaquico particularly shines; it being the '70s, there are also long drum and bass solos and a bit of the anarchic spirit of mid-'70s New York City seeps into the show as well. The scene is captured by professional photographer Allan Tannenbaum (photographer/author of New York in the '70s), who was at the gig and supplies photos (including the cover shot) for this collection, while Richie Unterberger's notes -- featuring exclusive quotes from Jefferson Starship pilot Paul Kantner -- set the stage for the band playing the biggest gig imaginable. The complete concert on two CDs.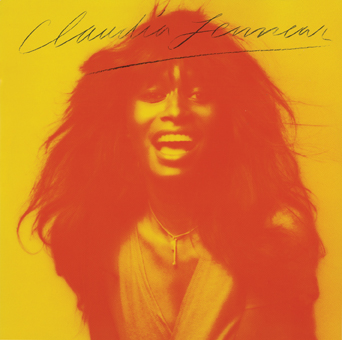 Calling Claudia Lennear's appearance in 20 Feet from Stardom, the documentary about the great unsung backup singers in rock 'n' roll, a "star turn" may be a contradiction in terms, but if you find her riveting on screen you're in good company -- not only did she inspire Mick Jagger to write "Brown Sugar" (and David Bowie to write "Lady Grinning Soul"), but Jagger calls her "very hot" and a "beautiful girl" in the film! Claudia made her reputation singing as one of the "Shelter People" that Leon Russell used as session musicians on his Shelter label; she also sang on Joe Cocker's Mad Dogs and Englishmen tour and at George Harrison's Concert for Bangla Desh among many other projects (there was also that, ahem, photo spread in Playboy). But for those seeking a pure taste of her singular talent, her 1973 album "Phew", her only solo release, is the place to be; side one features her with members of Jim Dickinson's Dixie Flyers and Ry Cooder, side two finds her singing songs written and arranged by the great Allen Toussaint, with such legends as Jim Keltner and Spooner Oldham along for the funky ride. Our Real Gone reissue features a non-LP bonus track and notes by Pat Thomas featuring quotes from Claudia herself. CD debut and an extremely timely one.

Until Kanye West prominently used a sample of their song "Bound" on his latest album Yeezus, Ponderosa Twins Plus One had been languishing in obscurity for about 40 years, but it sure didn't seem like that was their fate back when they got started in the early '70s. Composed of two sets of identical twins (Alfred and Alvin Pelham, Keith and Kirk Gardner) and "plus one" Ricky Spicer, the Cleveland-based act caught the attention of O'Jays member Bobby Massey, who cut six sides with the group and shopped them to Sylvia Robinson, owner of All Platinum Records (later Sugar Hill). Robinson loved them, signed them to a distribution deal, and set about grooming them to be the next Jackson 5, putting them on tour with the All Platinum/Stang roster composed of the Moments, the Whatnauts, Lonnie Youngblood, Linda Jones and others. But, while their first three singles all hit the charts, and they had an exciting stage act that, with its sexual element, showed the boys to be mature beyond their years, Ponderosa Twins Plus One never took off, and all five members were out of the music business by 1975. Released in 1971, "2+2+1=Ponderosa Twins Plus One" collected the initial six tracks cut with Bobby Massey plus six more produced by All Platinum house producer Michael Burton; we've added four non-LP singles to this CD debut as bonus tracks. Liner notes by Bill Dahl explore how this prodigiously talented outfit's career went off the tracks and why latter-day artists are rediscovering their music.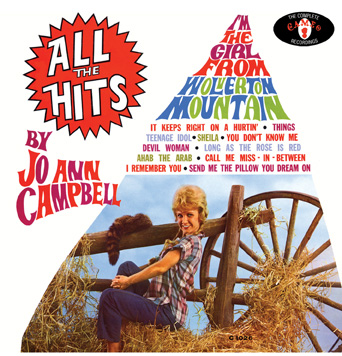 Alan Freed introduced Jo Ann Campbell as "our little blonde bombshell" in his jukebox movie Go Johnny Go, but Campbell had a lot more going for her than just her good looks. Almost alone among female singers of her day, Campbell was capable of singing dreamy pop songs one moment and belting out rockers with a set of pipes that rivaled Wanda Jackson's the next. Jo Ann's Gone and ABC recordings have been anthologized, but now ABKCO Music & Records and Real Gone have teamed up to release her recordings for the Cameo label. "All the Hits -- Her Complete Cameo Recordings" includes her 1962 album All the Hits, in stereo save for her hit "(I'm the Girl from) Wolverton Mountain," plus seven mono bonus sides (five singles and two unreleased tracks), carefully assembled by Abkco's Chief Audio Engineer Teri Landi from the original analog master tapes and annotated by Ed Osborne with copious photos.

Capable of singing jazz, pop and rock 'n' roll with equal aplomb, Joanie Sommers was one of the most accomplished and versatile singers of her generation, so much so that at various times she was hailed as "The Voice of the '60s" and "The Pepsi Girl" (after contributing vocals to several jingles for the soft drink brand). However, while her work for the Warner Bros. label has been thoroughly reissued (most notably by another Real Gone release, The Complete Warner Bros. Singles), her subsequent recordings for the Columbia label have remained untouched in the digital age...until now. "Come Alive! -- the Complete Columbia Recordings" includes the complete stereo version of Joanie's 1966 album Come Alive! -- a title derived from a Pepsi ad campaign of the era -- plus nine non-LP single sides, such as her Top 10 Adult Contemporary rendition of "Alfie" and a trio of solo tunes from On The Flip Side, the Burt Bacharach-Hal David TV musical she starred in with Rick Nelson. All nine bonus tracks make their CD debut -- and four are previously unreleased. Plus there's even an original Joanie 1960s Pepsi radio jingle of "Come Alive!" Joanie's manager Alan Eichler contributes liner notes featuring quotes from the singer herself, with photos from her private archive. This was the last album Joanie recorded in the 1960s; it's a key part of her legacy.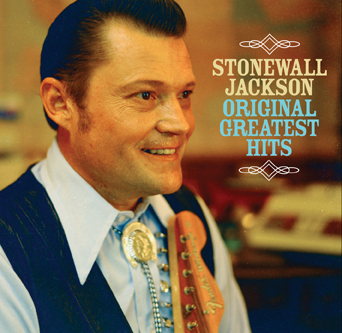 Nothing ever came easy for Stonewall Jackson; his dad died before he was born, he ran away from home when he was 14, and finally made it to Music City in 1956 at age 24, just as the Nashville Sound was taking hold with its strings and choruses. Which, of course, was 100% opposite from the kind of hardcore, honky-tonk country that Stonewall played, but he stuck to his guns, and had a bunch of hits nonetheless, which is a real testament to how good this guy was. You'll find the top two dozen tracks on Stonewall Jackson: "Original Greatest Hits", all original Columbia recordings featuring such #1 hits as "Waterloo" and "B.J. the D.J.," together with a revealing essay by Colin Escott containing quotes from the man himself and photos. The definitive Stonewall Jackson collection, and it's not even close.

For power pop fans and aficionados of the mid-to-late-'70s Boston and downtown New York scenes, news that at last a CD is coming out containing ALL of the sides The Paley Brothers released on the Sire label would be reason enough for rejoicing. But news that said CD also contains 11 unreleased bonus tracks drawn straight from the band's archives...well, that's cause for a national holiday among certain quarters of rock 'n' roll fandom! Andy Paley was the lead singer and songwriter for the legendary Boston band the Sidewinders and played with the Modern Lovers, while Jonathan was a member of CBGB's fixture Mong before the siblings formed the Paley Brothers in 1975, and were signed to Sire Records soon thereafter. However, while the band was a favorite of Sire label owner Seymour Stein, and their good looks put them on the covers of teeny bopper magazines, the Paley Brothers only recorded one LP and several singles of sweetly harmonious power pop for Sire that have since become serious cult classics. The brothers then went their separate ways: Andy went on to produce and/or write for such acts as Madonna, k.d. lang, Brian Wilson, Jerry Lee Lewis, Elton John, Brenda Lee, Little Richard, and SpongeBob SquarePants, and Jonathan played with and/or produced such bands as the Nervous Eaters, the Dogmatics, Band 19, Skirt, Shrapnel, Classic Ruins, and the Reflectors as well as composing for soundtracks. Now, 35 years after the release of their lone album, the Paley Brothers are back with "The Complete Recordings", a collection of 26 tracks they compiled and polished in the studio, their complete recordings including the entire 1978 self-titled release on Sire produced by Earl Mankey and the singles they recorded for the label produced by Jimmy Iovine, plus the version of "Come On Let's Go" they recorded with the Ramones that was on the Rock and Roll High School soundtrack; the song "Jacques Cousteau" they recorded under the name The Young Jacques; and 11 unreleased tracks, highlighted by two from their 1978 Madison Square Garden gig opening for Shaun Cassidy and a track they recorded for Sire, "Baby, Let's Stick Together," that was produced by none other than Phil Spector. Gene Sculatti's liner notes include copious quotes from the Paley Brothers, testimonials from such luminaries as Seymour Stein, Brian Wilson and Debbie Harry, and photos from their private archive.