Once again members of the Disco Biscuits come to Colorado in one shape or another to play for a very dedicated fan base. On two mid-week days in the middle of July, Disco Biscuit fans and fans of electronic music in general packed the Fox Theater for two pretty different shows. Both shows involved an all-star cast of very talented musicians, but although the core of Marc Brownstein and Aron Magner (Disco Biscuits) remained the same both nights, the two shows were very different to me.
On the first night, Wednesday, July, 17, Electron thoroughly impressed the nearly sold out crowd. Electron is a side project of Marc Brownstein and Aron Magner, which includes current lineup members Mike Greenfield (Lotus) on drums and Tom Hamilton (Brothers Past, American Babies) on guitar. Previous incarnations of this formation that Brownstein started back in 2000 included Joe Russo (Benevento/Russo Duo, Furthur) on drums. Marc Brownstein is a motivated musician to say the least. He is fronting three different bands playing in Colorado on three nights in a row, after playing Camp Bisco, which is a large scale music festival started by the main band he is in, The Disco Biscuits. He also is a founding member of HeadCount, which gets people registered to vote. Electron holds a special place in his heart because it is the first band to play his rock opera entitled, Chemical Warfare Brigade.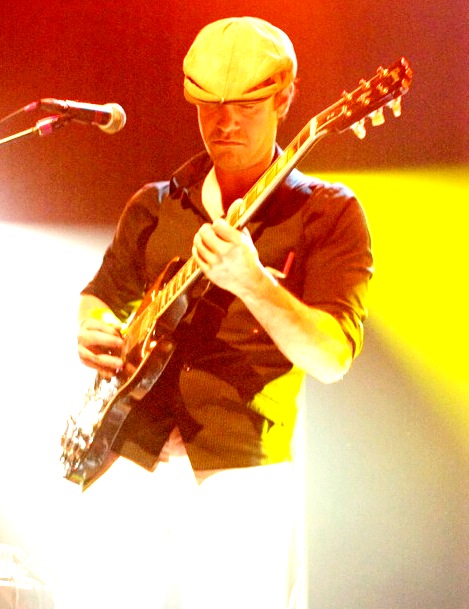 The majority of the Electron show was a series of Disco Biscuits songs, which was a really brilliant display by mostly Tom Hamilton. He totally killed it on this night. I have seen Tommy perform several times in Philadelphia with Brothers Past and the American Babies, but I have never seen him like I did on this night. His playing was remarkable. I knew that he had the skill to play a large variety of guitar styles, but I have never seen him play like he did. When they played Biscuit's songs, he sounded like Barber. When they covered Grateful Dead or Pink Floyd, which they did a lot of, he sounded exactly like Jerry Garcia and David Gilmore. And of course, he plays with a sound that is all his own.
On Thursday, July, 18th, the Gigantic Underground Conspiracy played to a very different crowd believe it or not. The band, The Magic Beans opened up both nights, and to be honest, they have potential, but they are young, and have some work to do. The arrogance of one of their guitar players on stage turned me off a lot. His foil, the other guitar player was pretty impressive. The crowd difference stemmed from the fact that many of their fans came the second night that were not there on the first night. That made the dynamic of the crowd much different. At one point, a very young fan spotted bass player for STS9 David Murphy in the crowd, and a steady stream of adoring eighteen year olds basically lined up to shake his hand in the middle of the show. Murph eventually sat in on bass as well as Alex B did of Paper Diamond. This was an even larger all-star cast as the night before. On this night, it was Brownstein, Magner (Disco Biscuits), Dominic Lalli and Jeremy Salken (Big Gigantic), Chris Michetti (RAQ, Conspirator), and Ben Baruch (Underground Orchestra).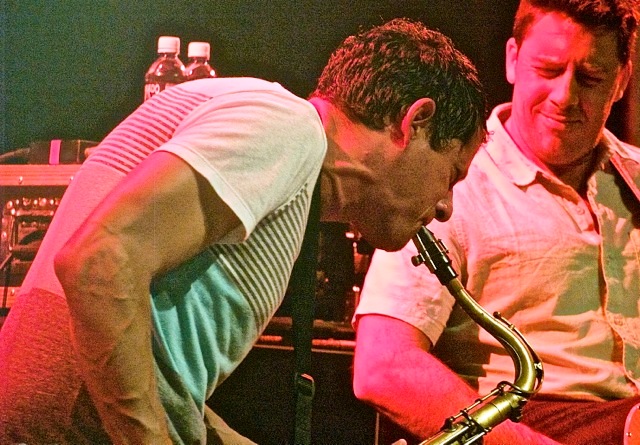 The pace of the night started on fire. The opening song was a hard display of gut wrenching, building, crescendos that continuously erupted into madness. The song was never ending and probably the best of the night. As the night went on the beats got louder and the music got lower to a point where I could not really hear Michetti nearly as much as I wanted to because Lalli's dubstep beats took over the air space. There was one point where I could not even hear the drums that loudly. On the other hand, Lalli's efforts on the saxophone were impeccable. His sweat dripping solos were intense and made the young crowd go crazy. People were screaming for him all night. Someone even had a balloon saxophone he kept playing throughout the show mimicking the Big Gigantic super star. Both shows were a lot of fun, and although I did not see Conspirator at Red Rocks on the night that followed, I think I preferred the Electron show the best. I would have never guessed that the before the shows because I am a huge fan of Chris Michetti. I have seen many RAQ shows and even Biscuit shows when he sat in for Barber, and I just love how he plays the guitar. I wished that he was louder all night, and Hamilton shocked me with his precision and quickness.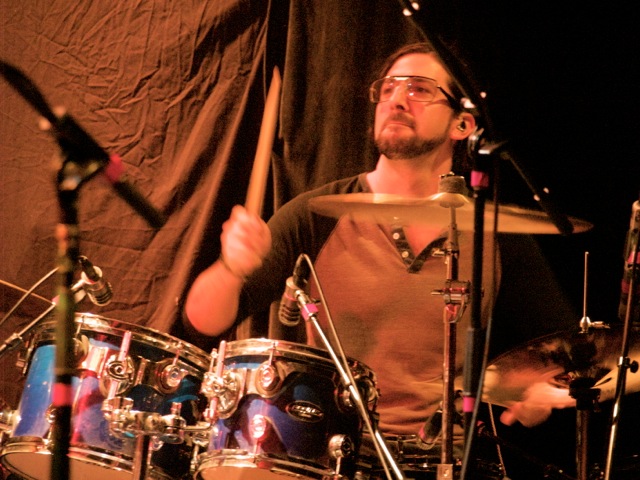 I think it is safe to say that whatever Brownstein does musically is a must see. He is a hard worker who is very fan friendly and hard to dislike. His stage presence and musical brilliance captivates audiences while basically inventing a sound that has crowds dancing like crazy no matter what he thumps out. It will be interesting to see how all of these bands develop. The Disco Biscuits have a few shows planned out for late summer/fall, but it is safe to say that they have slowed down the amount of shows that they play annually. Thank goodness for the side projects to keep their dedicated fan base dancing.