Grammy-nominated band, The Infamous Stringdusters will launch their 2013 American Rivers Tour with a very special show at Salt Lake City's The Depot on Wednesday, July 31 – opening night of Outdoor Retailer Summer Market. ORSM badge-holders can stop by the Patagonia booth (13027) to purchase day of show tickets. The $20 price includes a free Patagonia T- Shirt.
--

Show details are as follows:
Wednesday, July 31 @ 8:00 PM (Doors @ 7:00 PM)
with special guest Benyaro
The Depot
400 West South Temple Salt Lake City, UT
Tickets $20, ($1 from every ticket to be donated to American Rivers)
21+ Welcome
801-355-5522 or visit www.depotslc.com for more information

The Infamous Stringdusters are among today's new generation of eco- ambassadors who are helping to build awareness and create action for a greener tomorrow. The Infamous Stringdusters' 2013 American Rivers Tour - being supported by Patagonia, Osprey, Klean Kanteen and Moab Brewery - is yet another example of how this talented band is seamlessly and authentically integrating two things they love most: great music and outdoor living. The epic summer music adventure is stopping through, and winding down, some of America's wildest and most beloved rivers and surrounding communities.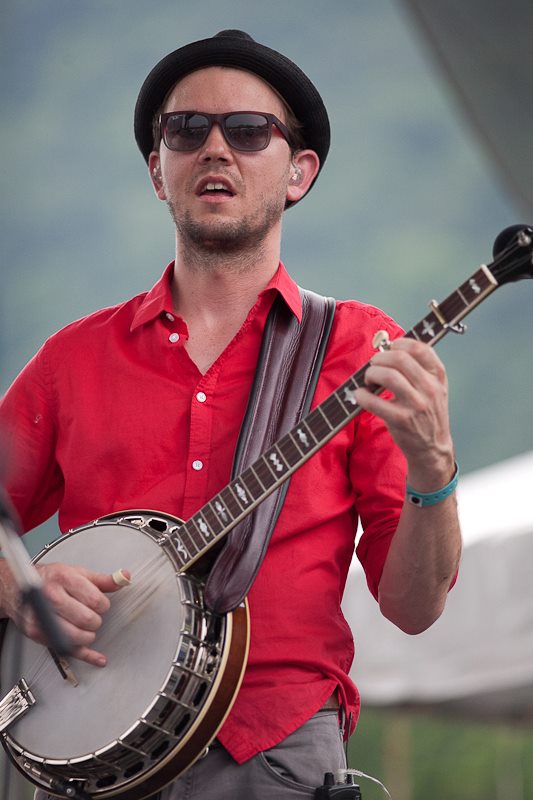 For the journey, The Infamous Stringdusters are partnering with the nation's leading river conservation organization, American Rivers, currently celebrating its 40th anniversary - to raise money and awareness for protecting and restoring rivers and clean water nationwide. Fans can look for announcements on river cleanups with the band and other ways to engage in river conservation efforts.

Immediately following the band's tour, all five members of The Infamous Stringdusters will bag up their instruments in specially designed waterproof cases, grab their fishing rods and backcountry packs, and head out on a 6-day trip float down the Middle Fork of the Salmon River with Idaho River Adventures. Staff from American Rivers and a film crew will join the band for an off-the-grid outdoor music adventure of a lifetime: campfire jams, fishing and hiking along one of the country's original Wild and Scenic rivers, and educational and thought provoking talks on why, and how, to help preserve our nation's waterways. Look in fall 2013 for news on the release of the band's documentation of what's sure to be memorable river journey.

On October 11-13, 2013, the band celebrates the 4th installment of The Festy Experience, their annual more-than-music festival. Hailed for being a truly unique celebration of music and outdoor living, The Festy is hosted each year on the private Concert Ground at Devils Backbone Brewing Company, an idyllic, intimate natural setting near the band's home base of Charlottesville, Virginia. In addition to a carefully-curated lineup of bands, The Festy offers a variety of outdoor activities including the popular Blue Ridge Burn (a 5k/10k trail race that winds through campground trails built by 'Dusters member Travis Book)), tasty local food vendors, and international award winning microbrews on tap throughout the festival. There is not a single plastic cup to be found at The Festy – a reusable pint-sized Klean Kanteen cup is included in each camping pass sold. Artists joining The Infamous Stringdusters for the 2013 Fest Experience include JJ Grey & Mofro, The John Scofield Uberjam Band, Chris Thile and Michael Daves, Nicki Bluhm and The Gramblers, and others. Visit www.thefesty.com for full artist lineup and tickets.

2013 American Rivers Tour Itinerary:
Wednesday, July 31 The Depot Salt Lake City, UT for Outdoor Retailer Celebration
Thursday, August 1 Colorado River State Park Fruita, CO
Friday, August 2 – Saturday August 3 State Bridge Bond, CO
Sunday, August 4 – Mishawaka Bellevue, CO
Wednesday, August 7 Knitting Factory Boise, ID
Thursday, August 8 Great Northern Whitefish,MT
Friday, August 9 The Hive Sandpoint, ID
Saturday, August 10 Big Sky Brewery Missoula, MT
Sunday, August 11 Grand Targhee Bluegrass Festival Alta, WY
(August 15 – 20 Idaho River Adventures – Middle Fork)
And:
Friday, October 11 - Sunday, October 13 The Festy Experience at Devils Backbone Roseland VA

Additional dates to be announced.