9th annual Last Waltz - Revisited performed by Polytoxic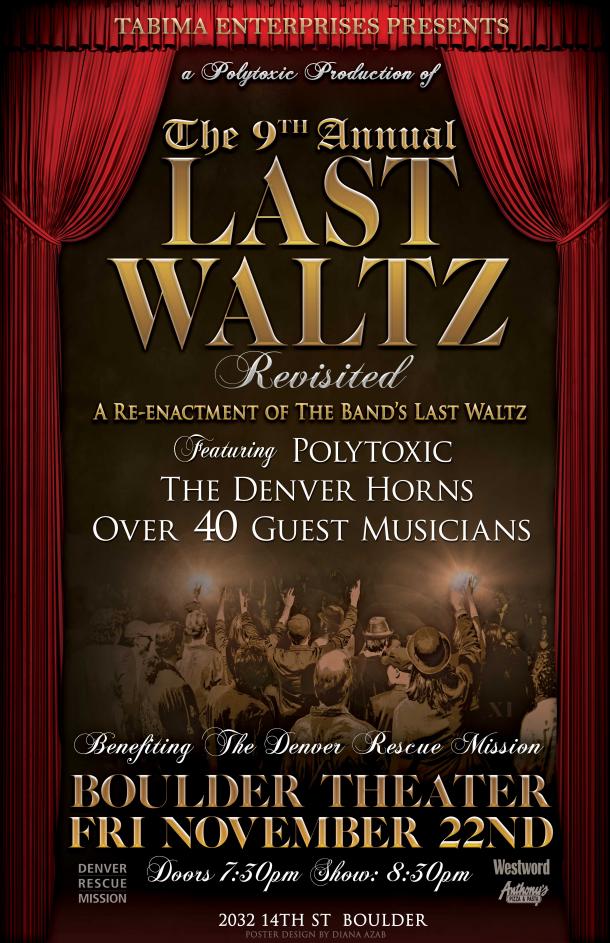 Westword, Anthony's Pizza and Pasta & Z2 Entertainment are proud to present The Last Waltz Revisited performed by Polytoxic at the Boulder Theater on Friday, November 22nd, 2013.  Tickets go on sale Friday, September 13th at 10:00 am for $15.00 in advance and $17.50 day of show.
THE LAST WALTZ – Revisited (9th Annual)
•     Culminates a canned food/desired hygiene items drive for the Denver Rescue Mission
•     FREE Special Artwork Poster with a Donation of Canned Food Items. Bring cans to the Venues Day of Show and receive the Special Poster.
•     Portion of Proceeds to Benefit the Denver Rescue Mission.
The Ninth Annual Last Waltz - Revisited will showcase members of Polytoxic together with 40+ musicians from across Colorado; this show has become an annual tradition, bringing the community together to kick-off the holiday season. The musicians will perform the music of The Band and recreate their historical performance, The Last Waltz.
The Last Waltz - Revisited is performed both in Boulder and in Denver and with the support of sponsors Anthony's Pizza & Pasta and The Westword, we are again reaching out and seeking to give back to the community by supporting the Denver Rescue Mission. We will donate a portion of the shows' proceeds to the Denver Rescue Mission, and in addition the Denver performance will also have a Canned Food items and/or a Desired Hygiene items Drive.
Also, any fan that brings 9 or more canned food items to the venue (on the day of the show) a FREE Special Artwork Poster.
We invite you to share this special night with our musical family and participate in our efforts to help the Denver Rescue Mission to assist needy families during this Holiday Season. So get out and support the Last Waltz – Revisited.
We can't wait to see all you music fans and hope you will join us for this musical event and support a worthy cause. Please get your tickets early as the show has sold-out in the past!