Saturday was a wonderful day! It started with sunshine, birds and bluegrass and ended with stars, hippies and bluegrass. The day promised to be a great one just because of the fact it was the last day of the festival. The lineup was just as good as the other days, leaving nobody disappointed. I think the only person who was sad about Saturday was the nearly-legally-blind dude I met this morning who lost his glasses. Bummer.
Saturday was a day I chose to spend a lot of time at single shows. At music festivals it's difficult to always see an entire set – there's so much to see and we can't shift time to our preferences; so sometimes the individual concert experience suffers. So the first band I chose to see was Elephant Revival. Their set today was much better than the previous day's, mostly due to the fact they didn't have as many sound issues. The band played about six tunes from their new album, Changing Skies, including 'Birds and Stars' and 'Rogue River,' a foot-stomp song that sounds like the night and drinking, and coming up for air. Suffice to say, Elephant Revival's set was amazing and touching. They brought the Shook Twins sisters and Bonnie's sister onstage to sing along with a few songs, including 'Grace of a Woman.'
Next up was Deep Fried Pickle Project, a fun band that features a washtub bass and beautifully designed rectangular guitar. These guys are having fun playing awesome instruments, and they like to do it for a crowd of people. They didn't strike me as a band that's at the point of their music career where they want to be travelling across the universe playing shows every night in a different city. DFPP invited a few members of ClusterPluck to the stage, adding a washboard, banjo and fiddle to fill out their sound. I loved seeing these two groups play together – they were clearly having fun just jamming onstage.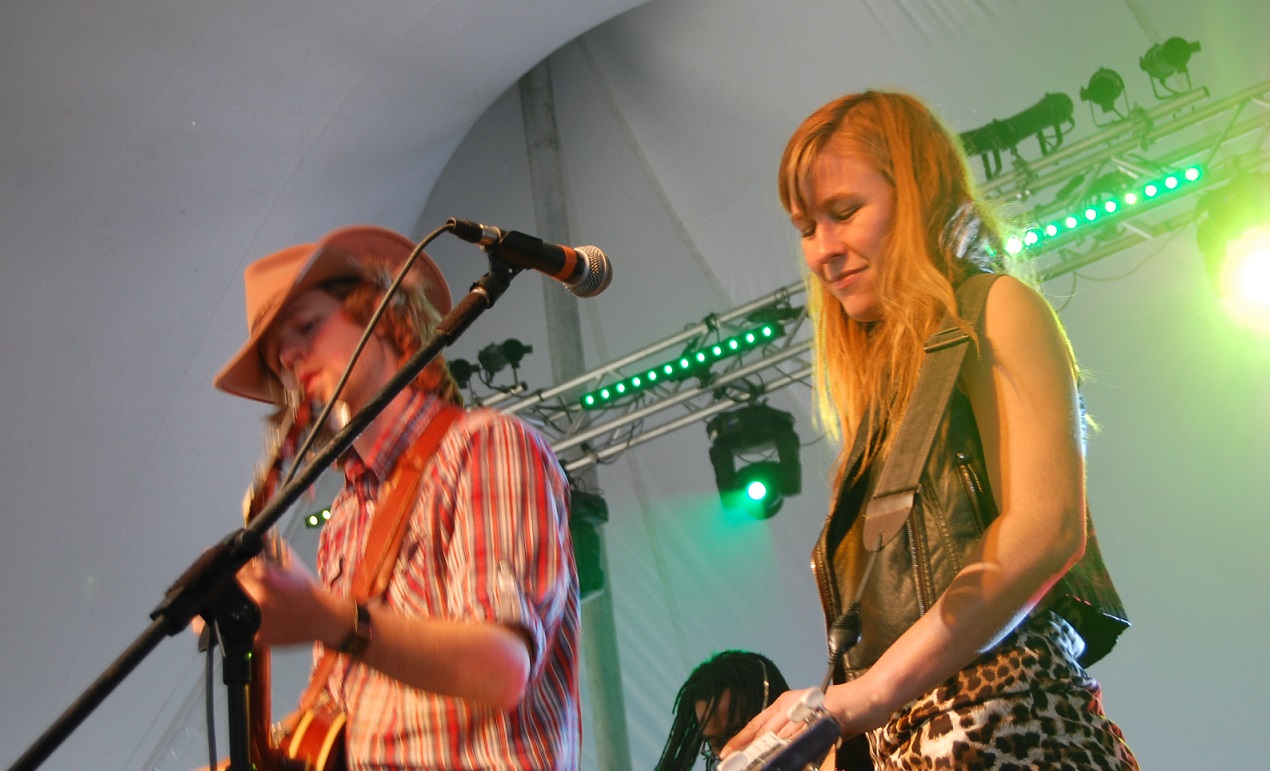 Once Deep Fried Pickle Project ended their set I wandered to the Harvest Tent to catch some of Gangstagrass. Their instrument lineup includes a slide guitar and banjo. I was surprised by how much fun I had at the show! I loved the sound, and I enjoy rap so I guess it makes sense I had fun at the show! The band fit in really well with the Harvest lineup, and there were a lot of people at the show – more than I expected! Later that day I saw Gangstagrass riding a Festi Cab and we exchanged some chats about how awesome they were and how much fun I had at their show; during the press conference I went to on Friday, the sentiment that festivals are so great because it connects you with the people watching your shows was echoed across each band. I imagine most bands feel this way.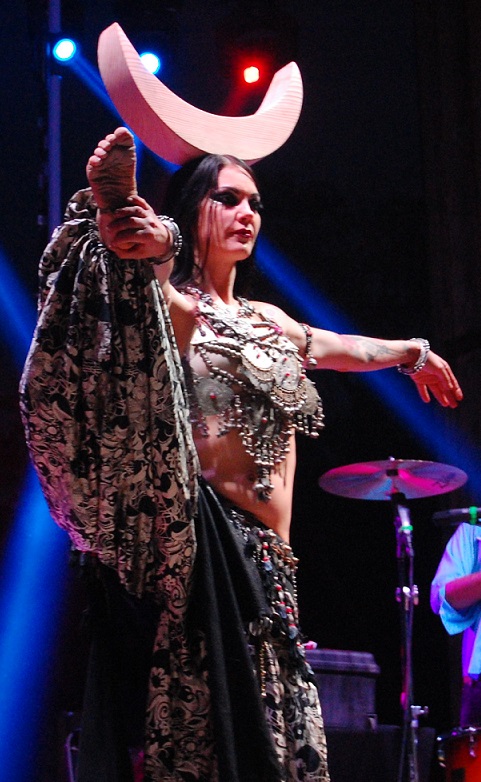 Next up was Beats Antique. I was hoping they would bring their new stage setup for their Main Stage set, but maybe there wasn't time, space or manpower to do that. My absolute favorite part of the Beats Antique set was their cover of 'Get Lucky' by Daft Punk. First off, I love that song and I love Daft Punk. Secondly, any band who covers an awesome song like that gets ten extra points in my book! They also played a song that featured Les Claypool acting as the devil. It was plucky and twangy, just like most of his songs. I can't say I loved the song but I also can't say I didn't like it. A lot of fans turned out for the show, including a girl who was going to pay me $10 to watch her bag while she jumped onstage. Unfortunately, her plan was immediately derailed and I didn't think it fair to ask for the $10. Their show ended with a chaotic barrage of costumed mushrooms, a giant old man statue and enormous fish dancing onstage with the band.
As the sun fell I wandered around trying to decide which show to go to next. I caught the beginning of Ugly Lion, who was playing to an audience of just twelve or so people. Reggae isn't my favorite item on the music platter so I only stayed for a couple of songs, but the crowd grew significantly by the time I left. It's true, time doesn't really exist during music festivals, so how could we be expected to start shows or show up to them on time? (Although sometimes I wish time did exist.) After leaving Ugly Lion I caught what ended up being my favorite show of the whole festival: Shook Twins. Their music is haunting, beautiful, soul, strings, passionate. The harmonies and instrumentation is perfection with a touch of silliness sometimes infused. Bridget Law (fiddler for Elephant Revival) joined the 4-person band for much of their set, and Bonnie Paine and Dango Rose both joined for a few songs. They all played a song by ThaMuseMeant, a band that's no longer together – 'Rubber Ball' and closed the set with a song by John Hartford. The audience for this show was huge, even though they were playing at the smallest stage. Nice touches of the band, besides their sweet skills, were the big golden shaker egg with (I think) a map printed on it and a glittery telephone microphone that added an awesome effect to some of their lyrics.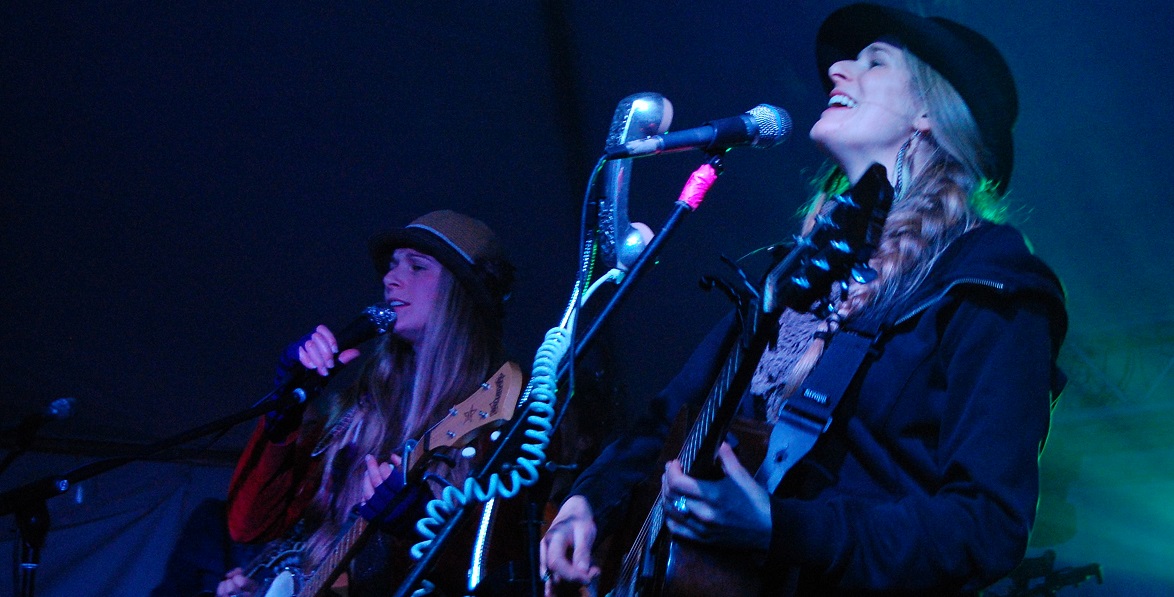 After Shook Twins we headed back to camp and relaxed a bit before Yonder's final set. The crowd was large and ready for a final night with Yonder Mountain String Band. The night air was slightly warmer and much less damp than the previous night so everybody was in wearing costumes, had brought their light-up hula hoops or trucked the kids in on a wagon and wrapped in blankets. The last night of a music festival always feels like a celebration. The energy is electric and vibrant – you can almost touch it. The Yonder set finished with a special appearance from Railroad Earth members. By that time in the night I was ready to settle into my bed of blankets and snuggles. As I feel asleep I heard Everyone Orchestra. Reviews I heard from the show were typical: 'Fantastic.', 'Innovative!', 'The best show I've ever seen.' and 'They ended the show just shredding –everybody was shredding their instruments and it was amazing.' Good reviews, I'd say. I also heard the 'end' of Andy Frasco's set – which actually ended after he played the ending about 10 time and then allegedly sent a bottle of whisky to somebody in the crowd, then crowd surfed to the whisky, took a shot and crowd surfed back. This is quite possibly the best ending to a show I've heard of yet.

My favorite show of the festival, hands down, was Shook Twins. And a close second after that was YMSB's Friday night show. I found a lot of bands I hadn't heard of before – but I'm a quick convert when it comes to music. I saw Star and Micey play one song off-mic in the middle of the crowd and it stole my heart. I also loved She's A Keeper and Hot Buttered Rum ft. Allie Kral. There was only one day that had lots of rain – and that wasn't the worst. We all survived and are better for it now. I am so thankful to have this music festival in my backyard – a quick 45-minute drive. I have met some fantastic musicians, heard amazing bands and met so many people I'm incredibly happy to know. Yonder Mountain String Band's Harvest Music Festival isn't large, but it has a huge heart. It's family friendly and relaxed. The lineup is always perfectly chosen and its diversity is growing. Hope to see you on Mulberry Mountain next year!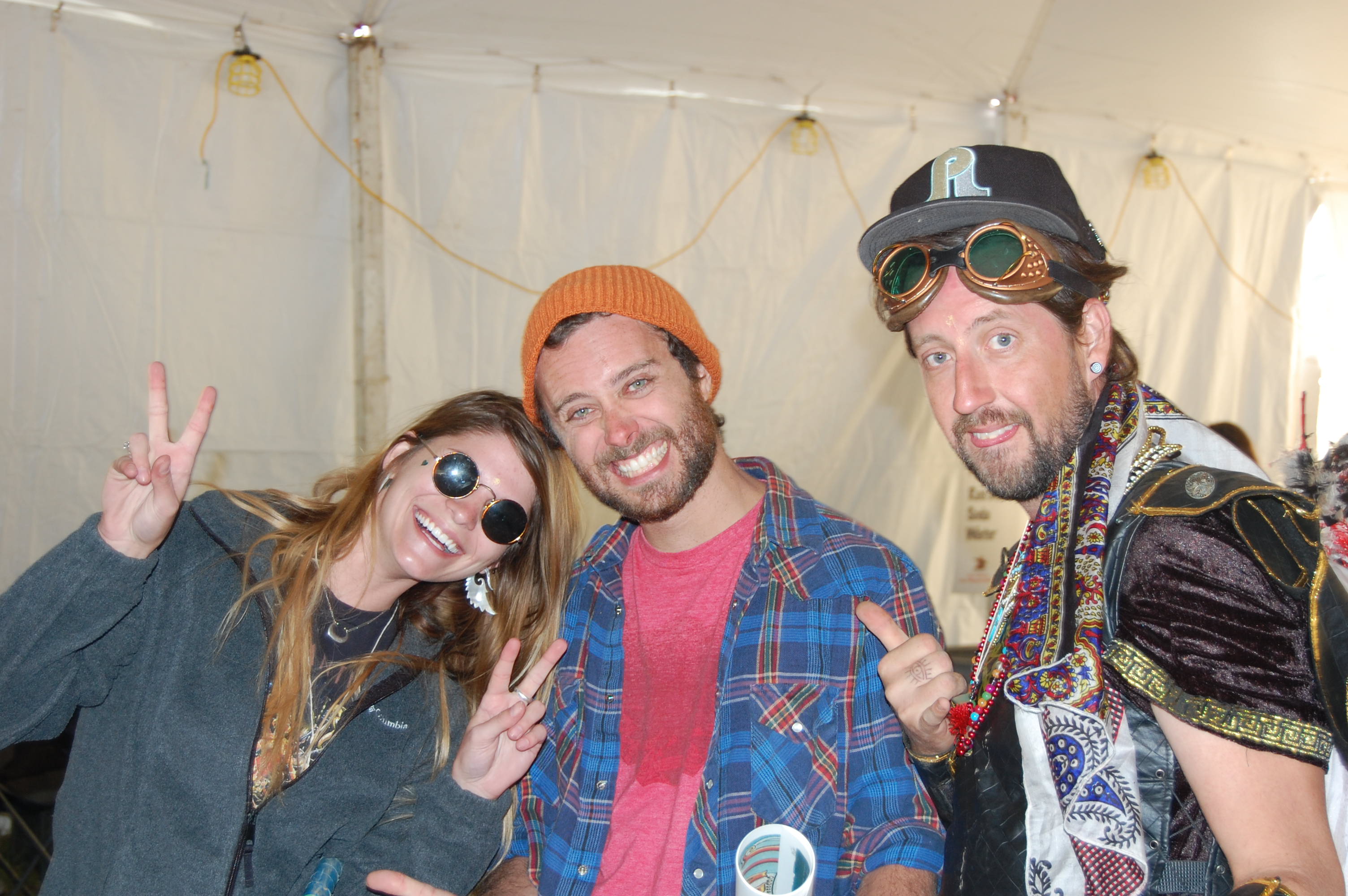 Check out more photos from Harvest Music Festival 2013.