Roosevelt Collier Sits in with Widespread Panic in Miami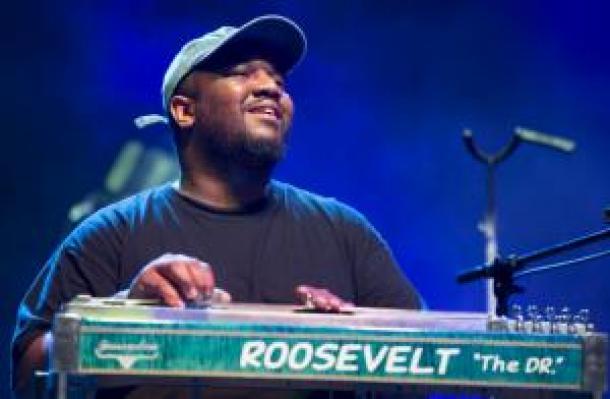 Last night in Miami, Roosevelt Collier and the Bobby Lee Rodgers trio opened for Widespread Panic at the Fillmore Miami Beach at the Jackie Gleason Theater. After two powerful sets, Widespread brought Roosevelt and Bobby on stage to shred the encore "Ride Me High."
After Widespread left the stage, Bobby and Roosevelt continued the slide-heavy jams at the Fillmore, hosting an afterparty at the venue's smaller "Backstage" music room (free for anyone with a ticket stub) performing for about 300 people until about 1am.
Tonight, Widespread Panic performs in Jacksonville, FL at the Moran Theatre.  Roosevelt Collier will host his own Jacksonville afterparty "Roosevelt Collier & Friends" just a few blocks from the venue at the Underbelly (113 East Bay Street) with his trio -- bassist Matt Lapham of Shak Nasti and drummer Anthony Cole of Mofro -- and special guest JJ Grey.
Tickets to the Underbelly aftershow are $15, or $10 with a WP ticket stub. The night will kick off with an early set by Grandpa's Cough Medicine at 10pm followed by Roosevelt & friends around 11:30pm.
* don't be surprised to catch Roosevelt on stage with Widespread again tonight as well!
SETLIST: 11/5/2013 Fillmore Miami Beach at the Jackie Gleason Theater
Set 1: Wondering, Send Your Mind, Stop-Go, Solid Rock, Tail Dragger, Hatfield > Cotton Was King, Visiting Day, Thought Sausage > Travelin' Light
Set 2: You Should Be Glad, Proving Ground, Pickin' Up The Pieces, Climb To Safety > Driving Song > Blight > Driving Song > Breathing Slow, Big Wooly Mammoth > Pleas, North
Encore: Ride Me High*
* with Roosevelt Collier and Bobby Lee Rodgers