Last September a devastating "100 Year Flood" about fifty years overdue devastated parts of Colorado, in particular Boulder County. The historic town of Lyons, a beautiful gateway town to Rocky Mountain National Park and precious wilderness was affected worse than most. The St. Vrain River and other waterways turned the town into a riverbed, destroying and displacing many homes and lives. One of the worst hits was the Planet Bluegrass Ranch. Festivarians celebrated their 41st Rockygrass Festival last summer a little over a month later the property was underwater. Outpouring support lifted the spirits of Craig Ferguson, owner of the Ranch and year-round resident. Next summer the property will host their beloved RockyGrass Festival and Folks Festival to the thrill of the bluegrass community and locals. It's no secret that Yonder Mountain String Band holds a high regard with Planet Bluegrass, going on their fourteenth consecutive year playing at Telluride Bluegrass Festival. When Yonder made the fourth of their monstrous five night run at the Boulder Theater a Benefit for Planet Bluegrass it was the first show to sell out months in advance. Arriving at the Boulder Theater there was a noticeably larger age variety, not surprising considering Planet Bluegrass patronage goes back decades.
This was the only night of the run with no announced special guests sitting in. Most notably, bluegrass dobro master Jerry Douglas and the King of Telluride, mandolin player Sam Bush, were special guests on other nights with Yonder and also both yearly players in Planet Bluegrass Festivals. Yonder opened with an impressive rendering of the Grateful Dead's Here Comes Sunshine. Fitting since the songs opening lyrics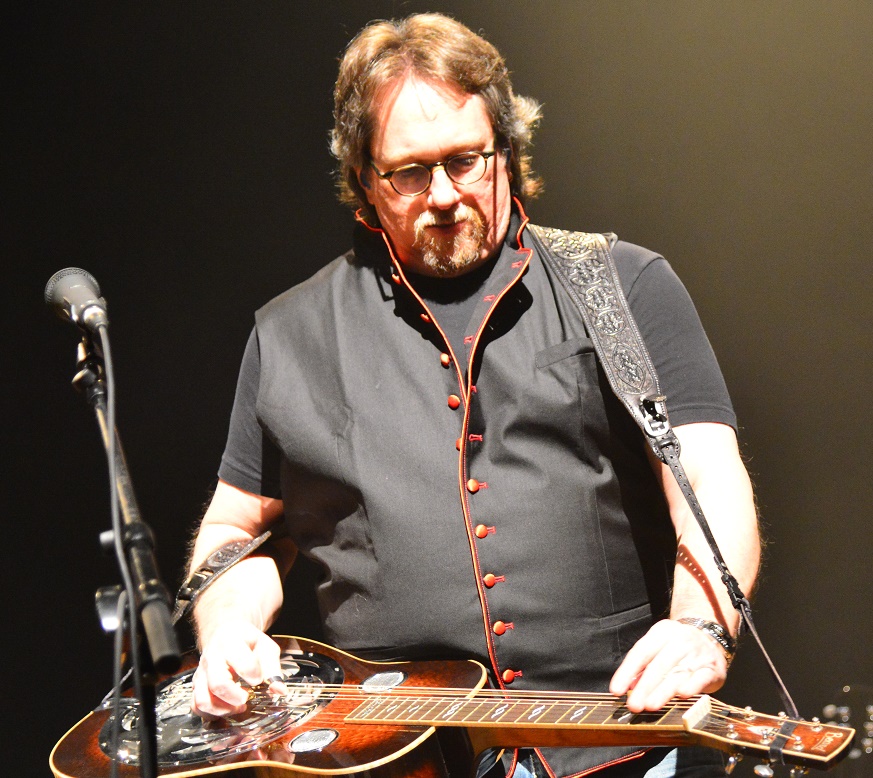 are: "Wake of the flood, laughing water, 49" referencing the flood 1949 in San Francisco. The strong jam platform was a crowd-pleasing opener. Without holding back the boys welcomed Douglas and Bush onstage. They would sit in for most of the show. Follow Me Down to the Riverside, a Yonder original had Sam playing on fiddle to supplement Jeff Austin's mandolin shredding. A familiar tune for all, John Hartford's Up On The Hill Where They Do The Boogie, came next. Perfect for Yonder with Sam & Jerry.
The band shocked everyone when they welcomed John Oates (most notably of Hall and Oates) to sit in. The Planet Bluegrass benefit certainly brought some unexpected guests. John ended his three-song sit in with his classic Had I Known You Better. More guests! Bring out Hot Rize's Nick Forster and Pete "Dr. Banjo" Wernick (who already threw their own flood relief benefit in December) to join in. Flatt & Scruggs "Polka on the Banjo," had Yonder banjo-man Dave Johnston singing a strangely monotone lead and gave him and Wernick a change to exchange banjo licks. Sam & Jerry come back out after a few songs to play the Beatles Come Together with Yonder, Nick and Pete and all close out the first set with the bluegrass romper Little Maggie.
The second set continued to get wilder with heavy contributions from guest performers. Yonder opened solo with Blue Collar Blues before bringing Jerry back out to jam on the Beatles Hey Bulldog with them. Next came a special treat for hardcore fans. Folk singer/songwriter Benny Galloway, who wrote all the lyrics for and performed with Yonder on their Old Hands (2003) album, came out to play a few. They performed Everytime, one of their original collaborations together. My favorite moment of the night was undoubtedly when Sam & Jerry joined the band to play Douglas's original We Hide And Seek. Jerry showcased his incredible dexterity on resonator guitar, as a lead musician. It was the highest energy moment of the night. Yonder left Sam & Jerry onstage together to play a few duet tunes. We were at their mercy as they sored through Mannish Boy, into Sam's favorite medley, Little Feat's Sailin' Shoes into Crossroads. Sam addressed the crowd and thanked everyone for their contributions (including a silent auction and merchandise proceeds) reminding us how valuable Planet Bluegrass is to the Colorado and national music community.
Yonder came back out solo to play a few tunes before welcoming out Bush, Douglas, Forster, Wernick and Oats to jam out the Talking Head's Girlfriend is Better. The full house dance party closed out with a cover of JJ Cale's After Midnight, and it truly was almost 1AM by that point. The crowd beckoned the band back with an impressive encore call. The whole band and guests returned to play a triple encore, closing out the night with Shady Grove. The never-ending guest list and collaborative spirit of the event was certainly inspired by our love and support for Planet Bluegrass. All of these artists owe some of their success and esteem to their years performing at the festivals, and becoming family. We will see a festival season for Planet Bluegrass in 2014 and Yonder is in part to thank.