Sierra Hull Added to "Ashes of Love" Benefit Concert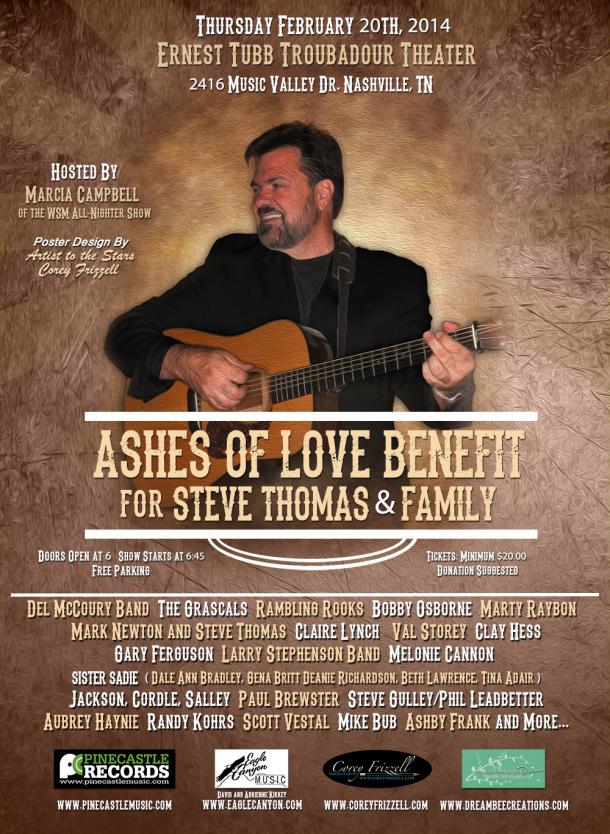 Sierra Hull and Kathy Chiavola have been added to the "Ashes of Love" benefit concert for Steve Thomas & Family taking place Thursday, February 20th at the Ernest Tubb Troubadour Theater located at 2416 Music Valley Drive in Nashville. Parking is free. Doors will open at 6:00 pm and the concert begins at 6:45 pm. Proceeds go to acclaimed Nashville musician Steve Thomas and his wife Janet who suffered extensive house damage from a chimney fire on New Year's Eve.
The "Ashes of Love" concert will be hosted by Marcia Campbell of The WSM All Nighter radio show. Sierra and Kathy join some of the top names in Bluegrass and Country music who will lend their talents: Del McCoury Band; The Grascals; Rambling Rooks; Bobby Osborne; Mark Newton & Steve Thomas; Claire Lynch; Marty Raybon; Sister Sadie (Dale Ann Bradley, Gena Britt, Deanie Richardson, Beth Lawrence, Tina Adair); Gary Ferguson, Larry Stephenson Band; Carl Jackson, Larry Cordle & Jerry Salley; Val Storey; Paul Brewster; Melonie Cannon; Steve Gulley & Phil Leadbetter; Aubrey Haynie; Randy Kohrs; Scott Vestal; Mike Bub; Ashby Frank; Clay Hess; and more.
A suggested minimum $20 donation can be purchased at the door the night of the concert. Friends, family and fans of Steve Thomas can also make online donations via PayPal at Bluegrass Today. The publication recently featured an article with more details on Steve's New Year's Eve nightmare. Mailed donations can be made payable to Steve Thomas and mailed to PO Box 1016, Gallatin, TN. 37066.
The "Ashes of Love" benefit concert is sponsored by:  David and Adrienne Kirkey of Eagle Canyon Music in Lebanon, TN; Pinecastle Records, and Corey Frizzell Portrait Artist.  Event photography will be provided by Dreama Stephenson of dreambeeartphotography.com.