Like at festivals with multiple stages, it's always hard to choose which acts to catch. And the Albuquerque Folk Fest is no exception. In its 16th year, the festival touts being a participatory folk fest and a non-profit public charity event that offers an opportunity for people in the region to taste the folk experience. Having attended other major folk gatherings--Merlefest, the Winnipeg Folk Festival (in its early years), and a slew of bluegrass and old time fests, it is clear to me that Albuquerque offers a unique experience.
Most folk festivals attract musicians and music lovers, both for their concert stages and their workshops. And you still see that the main influence in New Mexico. However, this festival also attracts dance enthusiasts and children who come for special events just for them.
Dance, in particular, is usually quite limited to clogging and square dancing, with maybe a Cajun dance class thrown in. In most cases when it is offered, it's a form of dance that is the central focus of the festival: bluegrass—clogging, Cajun fests—zydeco and waltz. The Albuquerque Folk Fest offers Dance Workshops on everything from tribal belly dance to Hawaiian hula to Klezmer Yiddis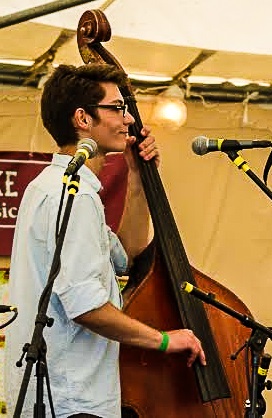 h Dance to Irish Step Dance to Tango and Salsa to English Contra Dance, as well as square dance, two-step, swing, and cross-step waltz. And, yes, there are dance clubs in the city who can extend your introduction to these dances if you seek them out.
As for children's events, there was a Storyteller's Tent (for kids old and young alike) with people sharing folk magic, singing games, Irish dancing, singing exposure for infants and toddlers, improvising music, a uke workshop for kids, and their own youth band scramble (showing up and being put into a band with kids you don't know—the adults do that, too). There was also a Musical Petting Zoo for children to touch and explore the sounds of world instruments. Giant Puppets walked the grounds and interacted with children. And Explora!, an Albuquerque Children's Museum, offered hands-on activities that explored the science of sound and music making.
More than anything, though, the Albuquerque Folk Festival offered great music and workshops for adults. Set up on the grounds of the International Balloon Museum on the west side of the city, tents were scattered all over—three big ones for the main concert stages; smaller ones for all of the workshops and vendors. And some workshops and the tiny Unplugged Stage were inside the museum.
Workshops included all sorts of singing experiences (learning to sing, shape note singing, making harmonies, and a variety of specialty songs—work songs, rounds, cowboy, barbershop, Balkan, Welsh) and instrument fine-tuning (uke, mandolin, banjo, fiddle, jaw harp, tin whistle, guitar finger picking, hammer dulcimer, bodhran, and Klezmer styles).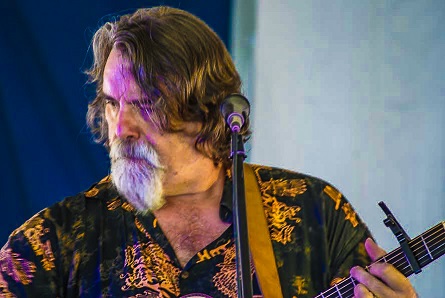 The main stages drew a lot of excellent regional talent but did bring in a few national names: The Canote Brothers from Seattle who appear on NPR, Tim O'Brien and Russell Scott, Birds of Chicago, and Rambling Jack Elliott.
Let me walk you through my day---and please remember that it was really tough trying to choose sometimes.
I started out at the Jemez Stage watching the Mullanys, a family from the East Mountains near Albuquerque. Jim and Marj and their 20-something son Riley on stand up bass offered old time tunes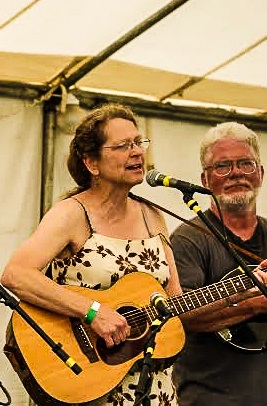 with double fiddles sprinkled here and there. Their songs were often familiar as you'll hear in most folk festivals, but it was their old time harmonies that were a delight to hear. The ending song was an a capella version of an Irish drinking song called "Good Ale" that was led by Riley. His young voice rang out with enough gusto to make any Irish mother cry. But when his parents joined in for the three-part harmonies on the chorus, I felt as if I'd been transported to County Cork myself.
Next up on that stage was the Red Light Ramblers. With a name like that I expected them to do straight up bluegrass, but they surprised me by offering a mix of old time, bluegrass, Irish, and Cajun tunes. The four-piece band consisted of mandolin, standup bass, fiddle, and guitar/banjo players. When these guys decided to do four-part harmonies, I was impressed. I haven't heard those gospelesque harmonies in all the time I've been in New Mexico. But then having overhead a musician later in the day, I found out that many of these players go to Appalachia to find new tunes so it didn't surprise me that they would pick up those wonderful harmonies.
This band also encouraged the audience to join in on the songs. I really appreciated that because it's a sacrilege to do that at a bluegrass festival. But this was very much in keeping with the folk music ethic, making it a community affair. They shared "Banks of the Ohio" and other traditional favorites as well as an Irish sea shanty and a couple of Cajun tunes, including a waltz that I had the pleasure of dancing with a great older gentleman who I found out was a local musician, Michael Coombs, and would be part of an eclectic group later in the day.
The Red Light Ramblers ended their set with "Fox on the Run," the bluegrass standard. One member of the band told me later that it was a Manheim Steamroller tune that had been popular in England and the bluegrass community heard it and claimed it as their own.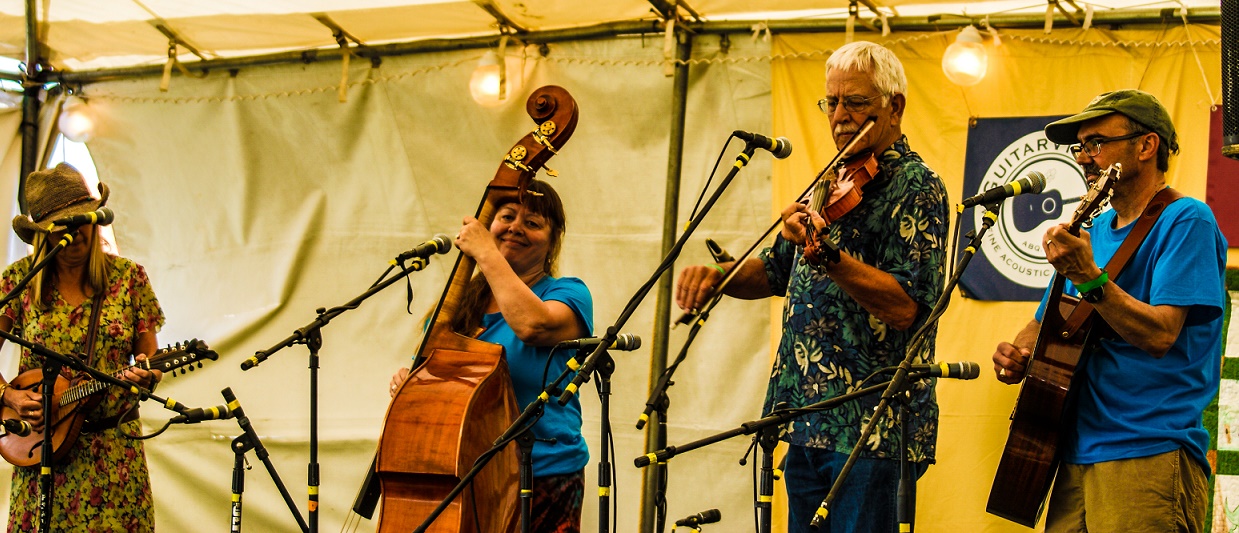 At the Mt Taylor Stage, I caught Paw Coal and the Clinkers, a bluegrass band that plays regularly in Madrid NM (the town the movie Wild Hogs made famous). I'd wanted to see them for a long time and this was a prime opportunity. What I found, though, was they did all sorts of music—cowboy, Civil War tunes, and early New Mexico folk tunes. They are a subdued group like a lot of bluegrass-rooted players, but this four-some did good harmonies and some twists on old favorites like "Mountain Dew" and "Sally Ann" (changing up the chorus calls as it suited them to reflect modern times). They did a twin-fiddle tune that was a traditional northern New Mexico tune, but it sounded more like an Irish jig with some Tejano flavor.
On the Sandia Stage, I was treated to some mighty fine Delta Blues. Even though there are a couple of blues festivals in the region, I haven't really heard the real deal in a long time. This duo of James T. Baker and Raven Redfox delivered. James did all of the interacting with the audience and the singing.
He said he started out playing acoustic blues like the blues founders and connected with Raven because he was also unplugged, playing a resonator guitar. But they both upgraded to amping their guitars because it was the 21st century. James' family is Creole so he says he comes by the blues naturally. He said he couldn't figure out how Raven found it.
This duo played some favorites: "Kansas City," "The Thrill is Gone," and "Sweet Home Chicago. James included several Robert Johnson tunes and a few of James' originals. He stepped away from the stage to let Raven shine on two slide instrumentals he did on electric guitar. And Raven did the same so James could showcase a couple of originals.
I was pleasantly surprised with I talked with these musicians after their set to find out that Raven wasn't local. He's Hidatsa/Arikara and part Lakota, tribes from North Dakota where I lived for over thirty years. It was great making that connection.
I then went over to catch Bufe, this musical mix of song styles and instruments, on the Unplugged Stage. For the most part, this group of musicians played traditional Hispanic tunes with mariachi guitars, a bongo player, fiddles, and various singers. If you haven't heard Hispanic singers before, you're in for a treat, especially mariachi-influenced ones. They have strong, beautiful voices and they belt from the heart. Michael Combs got up and did a couple of fiddle numbers with the group, including a twin fiddle traditional number.
Then four young boys came up with their mariachi guitars and sang "Celito Lindo," that moved every parent in the house. These young ones sang loudly and right on the money. They did the novelty tune, "Down by the Bay," and had everyone laughing. What talent! The oldest might have been twelve and the youngest was probably six. Amazing.
I hurried over to the Sandia Stage and caught a group called Cheap Shots, a six piece band, composed of former or current Folk Festival board members. They did a Paris blues number, an Irish tune with a hammered dulcimer, traditional songs, and an original tune. They invited Gary Libman, the 2014 Folk Festival Director, to sit in with his clarinet on a tune. It was delightful.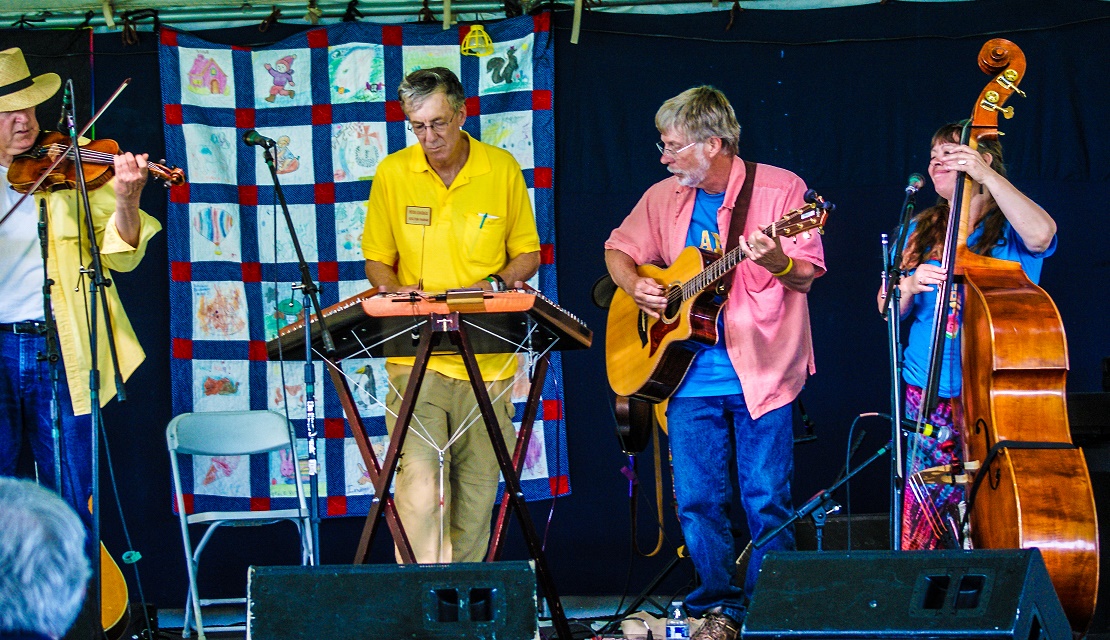 I then ran over to catch most of cowboy singer, Stever Cormier. He did traditional and original Western songs that told stories. I think that's why I like cowboy singers; you get a glimpse of what their lives have been or their grandfathers'. It's a hard life. He was joined by another musician who added great harmonies and mandolin and fiddle to Steve's lead singing and guitar. It was a lovely vocal blend and added depth to his heartfelt songs.
Up next were Tim O'Brien and Russell Scott. I was quite surprise to find that they were touring together. I love both of their work but I was concerned about the differences in voices. Tim, in particular, has a signature voice. But it worked so well. Each supported the other, adding unexpected layers to these songs. Often they switched off leads and backup vocals in the same song. Others they just switched who led.
Their set was often fiery as you'd expect from these professionals who had many road miles in separate careers. Some of the songs began a cappela; others just jumped into the fray of the tune.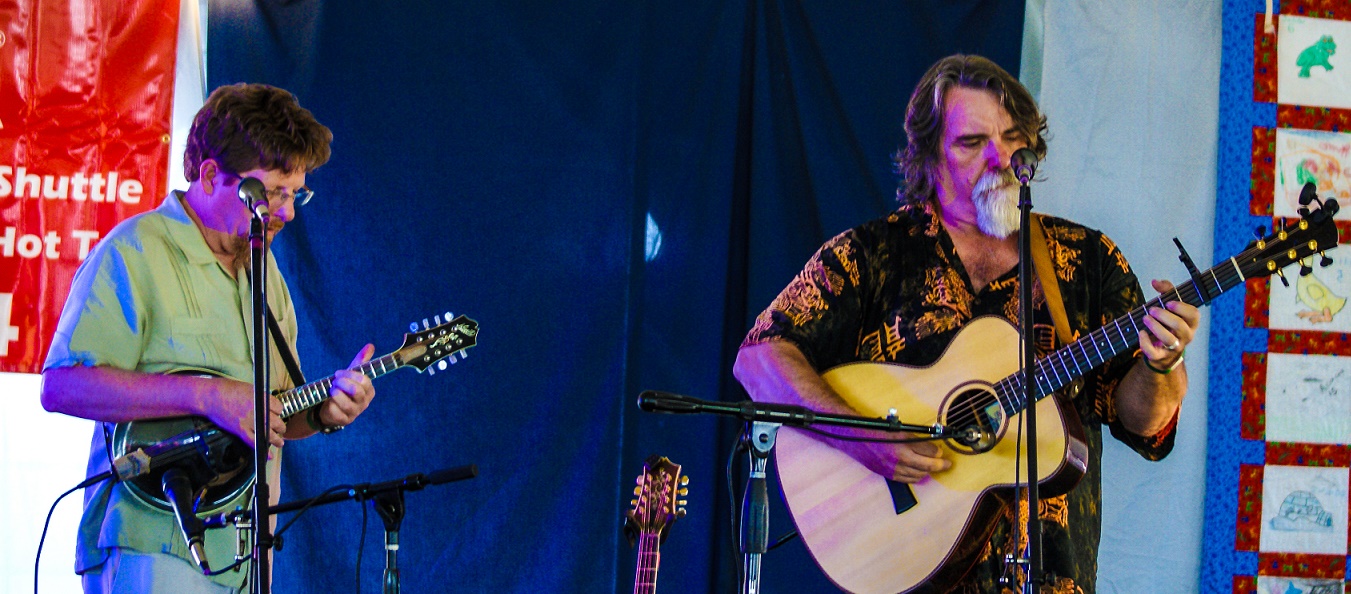 They did drinking songs, Bob Dylan's "Senior," and even an Irish fiddle tune. Tim led a gospel tune, the only one I heard all day, which was a surprise to me. The song was elevated by the counterpoint singing these two did. And Darrell sang a tender, heart song about a man trying that was incredibly moving, coming from this big bear of a man.
The highlight for me was a song about mountain top removal, a coal mining process that's going on all over Appalachia, told from the remover's point of view. It was a country blues tune that was enhanced by Darrell's blues licks on his guitar.
I dashed over to catch the Canote Brothers, a delightful duo from Seattle who I had seen years ago in South Dakota. They have to be the happiest people on earth! Twin brothers, they have a great vocal blend and they are accomplished instrumentalist. But it is their novelty tune set list that keeps audiences coming to see them year after year. I was laughing through most of their set, which is what always happens to me. They did songs like "Wahoo," the Merle Travis tune "When My Baby Double Talks to Me," "My Dog Loves Your Dog," "Foolish Questions," a blues tune called "Identical Twins," and "I'm Happy."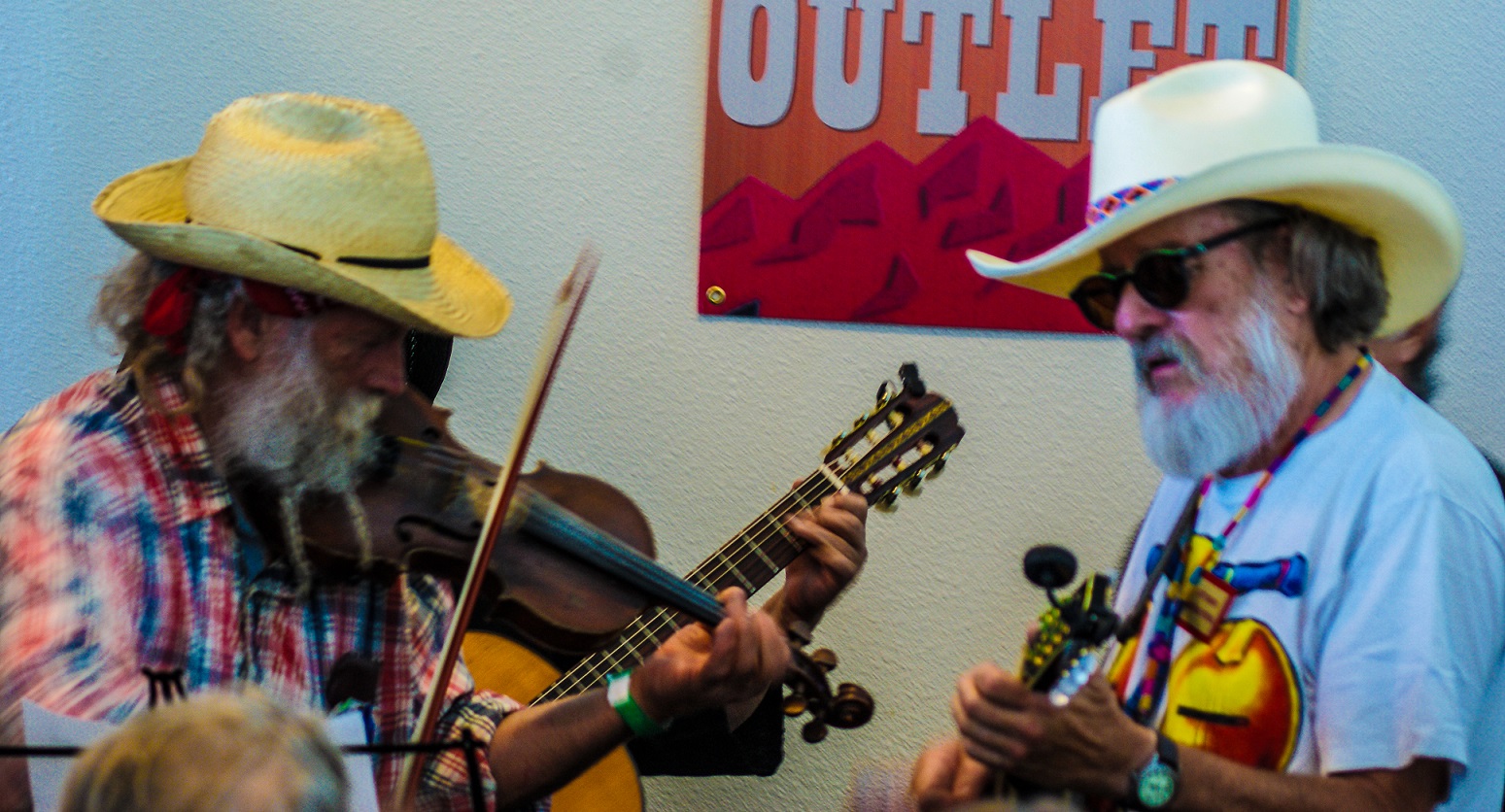 I slipped out to rush over to the Mt Taylor Stage to get a set for Rambling Jack Elliott. I caught a bit of Irish singer Liz Madden's set. She prefaced her original song, "Bring on the Rain," by saying that it rains every time she sings the song, but it was OK in New Mexico because we need the moisture. As she got into the song, the wind picked up. It blew icy with the scent of rain in it. As she sang "Can't imagine what else could go wrong," the wind started whipping the tent canvas and was really blowing the small tent beside it that acted as the musicians' Green Room.
I stepped out and away from the tent as she ended her song. The emcee told everyone to clear the tent. Several men held down the big tent poles that had been sledge hammered into the ground as people left the chairs that were deeply anchored into the soft grass. I had a bad feeling and decided to leave. I saw a few vendors tents had collapsed and headed through the museum where others were gathering to wait out the storm. Windstorms whip up quickly here and can be quite intense. I though the concrete and glass building might not be the best place to be as I approach the museum and saw folding chair on the concrete blowing away.
I went to my car and sat for a bit deciding whether to leave or wait out the storm. I looked up and saw the Mt Taylor tent blow away. I went home and found out the next day the fire marshal had closed the festival minutes after I left. I was disappointed I missed Rambling Jack Elliott and the local band the Rifters that I'd seen at the Rhythms on the Rio Festival in Colorado last year. But I was glad to be safe and I came away with enough musical memories from the Albuquerque Folk Festival to fill me until next year.