Campfire Outdoor Adventure & Music Festival Announces Schedule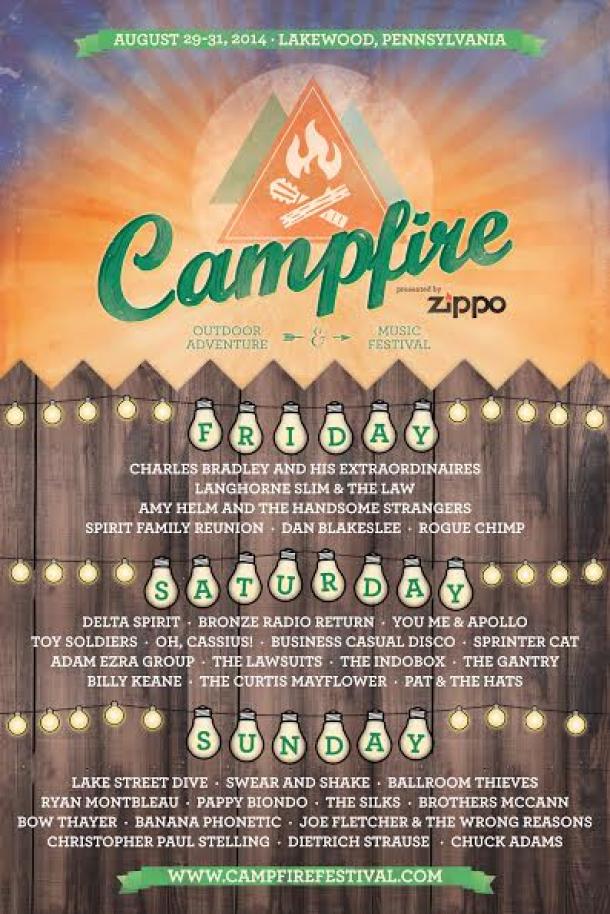 The Campfire Outdoor Adventure & Music Festival presented by Zippo will hold its inaugural event on August 29, 30, and 31, 2014 in Lakewood, PA. The picturesque summer campgrounds, 45 minutes away from the historic site of Woodstock, are the perfect place to play for adults that want to act like kids again.
Friday will be headlined by Charles Bradley and His Extraordinaires, and will also feature performances from Langhorne Slim & The Law, Amy Helm and The Handsome Strangers, Spirit Family Reunion, Dan Blakeslee and Rogue Chimp.  Saturday will showcase You Me & Apollo, Toy Soldiers, Oh, Cassius!, Business Casual Disco, Adam Ezra Group, The Lawsuits, The Indobox, The Gantry, Billy Keane, The Curtis Mayflower, and Pat & The Hats, with headliners Delta Spirit. The festival will close on Sunday with sets from Swear and Shake, Ballroom Thieves, Pappy of Cabinet, The Silks, Bow Thayer, Banana Phonetic, Joe Fletcher & The Wrong Reasons, Christopher Paul Stelling, Dietrich Strause, Chuck Adams, and with Lake Street Dive headlining. Bronze Radio Return, Ryan Montbleau and Brothers McCann will have sets on both Saturday and Sunday, and Sprinter Cat will be the resident "house band" at the beach stage all weekend long.
Festival attendees can enjoy adult versions of their favorite summer camp activities, such as a postcard sending station, a Cabin Spirit contest (hosted by celebrity guest judges!), a corn hole tournament, a Costume Slam Dunk contest and our Campfire Photo Scavenger Hunt and Campfire 5K. Campers can also wind down the end of summer by partaking in a wide variety of sports and recreation activities like basketball, disc golf, kickball, mini-golf, tennis, beach volleyball, wiffelball, canoeing, land and water ziplines, lake obstacle courses (on our awesome Campfire wibit!), rock climbing, ping pong, frisbee and laser tag. Attendees can also kick back and relax at Campfire's private beach and indoor and outdoor pools.
Campfire Festival is also very excited to announce its carefully crafted and extensive yoga program, with an array of workshops including Acrobatic Partner Yoga, Acropuetics Thai Fly Partner Yoga, Upside Down Inversion Lab, Mid-Morning Slow Flow, Surya Namaskar- Salute the Sun, Yogamaya Signature Vinyasa, Advanced Sequence- Inversions and Arm Balances, and Hot and Heavy Power Flow.
Tickets are going fast, and can be purchased on the Campfire Festival website.